Portugal vs Spain Predictions: Stars That Will Lead La Roja into Euro 2012 Final
June 27, 2012

Alex Livesey/Getty Images
After winning Euro 2008 as well as the 2010 World Cup, Spain entered Euro 2012 with very high expectations. The Spaniards have lived up to those expectations so far and are now just two wins away from ultimately meeting them.
The first test for Spain will be its semifinal match against Portugal on Wednesday. The Portuguese will obviously be very dangerous with Cristiano Ronaldo at his best.
Portugal may have the best player in the match, but there is no doubt that Spain is the better overall team. La Roja has a ton of depth and has superstars throughout its starting lineup and on the bench. It is going to take a total team effort in order to overcome the phenomenal play of Ronaldo, but Spain can do it.
Here are three stars that will shine on Wednesday and lead Spain into the Euro final for their second consecutive European Championship.
David Silva
It is hard to pick one player who has stood above the rest for Spain during Euro 2012, but there is no question that midfielder David Silva has been a stand-out performer for La Roja. Silva leads the tournament in assists with three and he has pitched in with a goal as well over four contests.
Spain is so good because each player's talents mesh so well together. Silva is a great example of that, as he integrates fantastically into La Roja's system.
Not only is Silva a threat to score in dangerous areas, but he is one of the premier playmakers in this tournament and in the world. Spain has so many high-quality offensive players that Silva is at his best when he's setting players up rather than trying to score himself.
He has top-end speed, he constantly puts dangerous crosses into the box and his passing acumen is uncanny on through balls. Silva is a great weapon for Spain and Portugal will have to be very wary of him.
Gerard Pique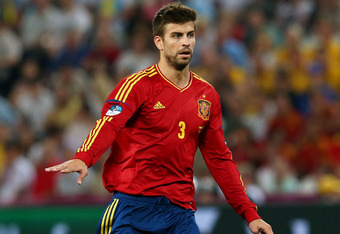 Martin Rose/Getty Images
Scoring will obviously be of the utmost importance for Spain as it doesn't want to have to face Portugal in a penalty shootout. However, preventing Portugal from scoring will be huge for the Spaniards as well.
Most expect La Roja to control the tempo of the match and to carry play for the most part. Having said that, all it takes is for one fluky play to occur and for one goal to be scored to completely change the complexion of the match. That is why the Spaniards can't afford to let Portugal get on the scoreboard at all.
Holding Portugal scoreless won't be an easy task in the least, particularly because of Ronaldo's presence. No matter what Spain does, there is a chance that Ronaldo will slip through the cracks at some point and score.
One of the main players that will be charged with stopping Ronaldo is defender Gerard Pique. He has been solid throughout the tournament and has been a key cog in the Spanish defense that has allowed a mere one goal in four matches.
If Pique stands strong, gets physical with Ronaldo and takes away his space, Spain will be in great shape.
Alex Livesey/Getty Images
He may technically be called a midfielder, but Cesc Fabregas has acted very much like a striker at Euro 2012. The Barcelona star has played a lot in some matches and a little in others, but every time he is on the pitch, he makes a discernible impact.
Fabregas has two goals through four contests, and Spain will look to him for an offensive spark against Portugal. La Roja may need only one goal to advance and there is a good chance that Fabregas could be the one to score it.
The only match that Spain really has struggled in during this tournament was its opener, as it had to come back in order to preserve a 1-1 draw with Italy. The issue was that the Spaniards were relying too much on playmaking midfielders and weren't utilizing finishers. Fabregas ultimately got the equalizer in that match and he has been key to La Roja's offensive attack ever since.
Spain needs to be the aggressor against Portugal and Fabregas will be one of the guys who is counted on to make that happen.
Follow @MikeChiari on Twitter