Portugal vs. Spain Live Stream: Online Viewing Info for Euro 2012 Semifinals
June 27, 2012

Jasper Juinen/Getty Images
A rivalry will be renewed when Portugal and Spain face off for a spot in the UEFA Euro 2012 Final. It's a match that is going to feature some of the most talented players on the planet and should be played at a quick, exciting pace.
Portugal reached this point by surviving the "Group of Death" and then proceeding to eliminate Czech Republic thanks to a terrific header by Cristiano Ronaldo. The team is still looking for its first major championship and are now just two wins away.
On the other hand, Spain have been the kings of international football over the past four years. La Roja won the last European Championships and proceeded to win the 2010 World Cup as well. They would love to keep that streak alive by running the table again.
Anything less than an epic clash between two of Europe's top teams would be a surprise. Here's all the important viewing information for the game followed by some players to watch.
When: Wednesday, June 27 at 2:45 p.m. ET
Where: Donbass Arena in Donetsk, Ukraine
Watch: ESPN
Live Stream: ESPN3.com
Players to Watch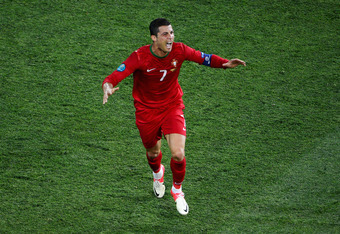 Lars Baron/Getty Images
Cristiano Ronaldo (Portugal)
Ronaldo will have to be the best player on the pitch for Portugal to advance. That's not a secret, especially to Ronaldo since he receives so much criticism any time he has an off night, but it continues to hold true for the Seleccao das Quinas.
He's more than capable of handling the load, of course. The 27-year-old superstar scored 46 goals in 38 league games while leading Real Madrid to the La Liga title this past season. It's that type of dynamic play manager Paulo Bento will be looking for against Spain.
No player is under more pressure among the four remaining teams than Ronaldo. How he handles it will be key. He must remain aggressive in the attacking third and can't worry about what will be said about him after the match. He's struggled with it in the past, so it should be a good test.
Gerard Pique (Spain)
The player charged with making sure Ronaldo doesn't take over the game will be Pique. The Barcelona centre-back has seen his fair share of the striker during the heated El Clasico matches, so he should know all of his tricks by now.
Spain's dynamic midfielders tend to dominate the headlines whenever the team is making a deep tournament run, but the steady back line has been just as important. Their ability to shut down some of the world's best attacks is vital.
Pique will be a busy man throughout the match because every time Portugal gets possession, it will try to find Ronaldo on the counterattack. If the star defender can keep him under control, Spain will be well on its way to another final.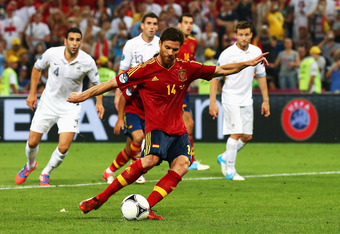 Martin Rose/Getty Images
Xabi Alonso (Spain)
Spain manager Vicente del Bosque has been experimenting with different lineup combinations and formations in an attempt to generate more offense with David Villa sidelined. One constant has been Alonso, who just secured his 100th appearance for the team.
The veteran midfielder was the hero against France, scoring both of the team's goals to earn a berth in the semifinals. He will once again feature prominently on the attack and hopes to carry some of that momentum over from the previous match.
Since La Roja don't have a singular player like Ronaldo leading their offense, it takes smaller contributions from everybody to generate chances. As one of the team's most experienced players, it's time for Alonso to step up and lead the way.