USMNT: 10 Bold Predictions for the Future Under Jurgen Klinsmann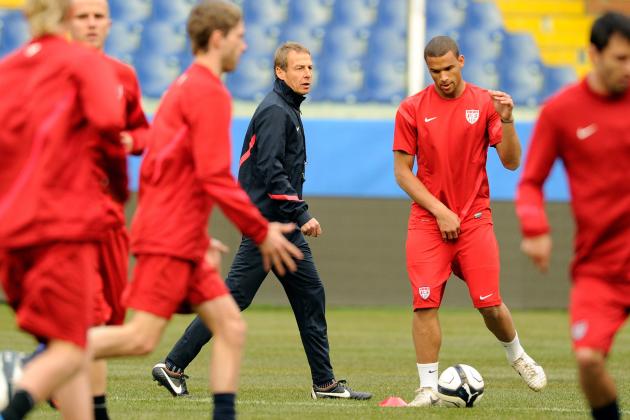 Claudio Villa/Getty Images

Say what you want about Jurgen Klinsmann; just don't call him boring.
Since taking charge of the U.S. men's national team a year ago, he's been one to make news, one way or the other.
His assertions about changing the team's entire style of play, coupled with his larger-than-life persona, have certainly injected a lot of verve into the state of the whole organization.
And while Bob Bradley definitely wasn't boring either, it seems to be a revolutionary era with Klinsmann.
It might take time for some of his more sweeping changes to take effect, but sooner or later, big things will happen during his reign (for better or for worse).
Here's a look at some of the bold things that might very well happen under the Klinsmann reign.
Begin Slideshow

»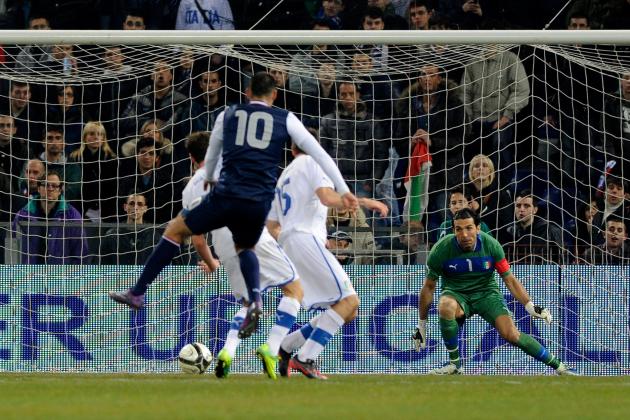 Claudio Villa/Getty Images

Oh wait, this already happened!
The U.S. was notoriously bad on European soil for decades, failing again and again (think 2006 World Cup).
Yet they broke through earlier this year against Italy when Clint Dempsey's lone goal proved enough to beat Italy on Italian soil (who, ironically, won the 2006 World Cup).
This is not to say that the team has totally overcome the specter of winning in Europe. There will be more losses most likely.
But the breakthrough has occurred. Players can go into similar situations and have more confidence.
And speaking of playing in hostile situations, this brings me to my next point...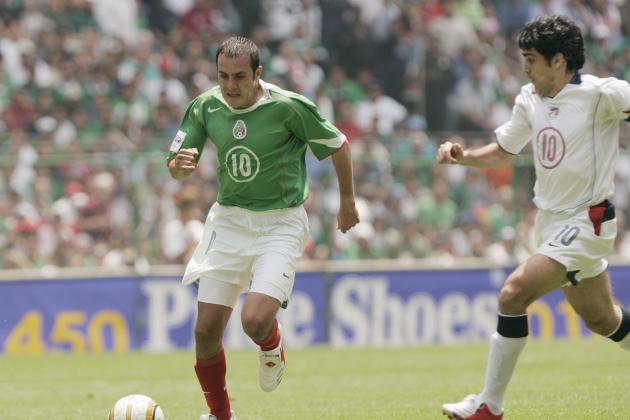 Brian Bahr/Getty Images

The USA will win a game in the vaunted Azteca.
It sounds crazy, since their all-time record there is 0-23-1 (the one tie coming as a 0-0 stalemate in 1997), but I think it will happen.
As good as Mexico has been getting in the last few years, given the rise of players like Javier Hernandez, the U.S. has improved in facing this epicenter of adversary.
And I think that they will get off the mark during Klinsmann's reign.
This will probably drive Mexico fans crazy, given that this has been the only venue in which they can be guaranteed a win against the U.S. in the last 20 years.
But all things come to an end eventually. This is going to happen, even if it is something like 1-0.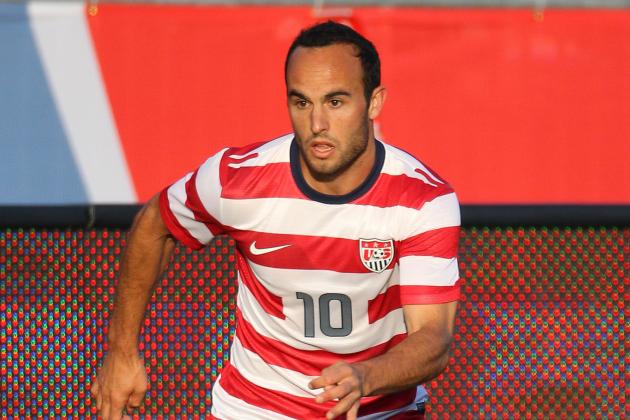 Tom Szczerbowski/Getty Images

It's probably not that bold of a prediction since Donovan is already 30.
In a way, it's probably more of a bold prediction as far as the length of time I believe that Klinsmann will be the coach.
He will last long enough to retire the greatest American player ever (which Donovan will surely be when he retires).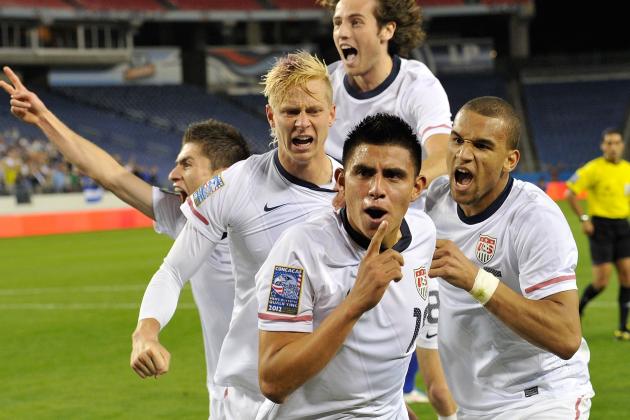 Frederick Breedon/Getty Images

So the joke here is that the next big chance a USA youth team would have is the Olympics, only they didn't qualify.
Embarrassing as that is, I have to say it's not entirely unexpected.
Given the shift in style that Klinsmann has been overseeing, setbacks were inevitable.
For anyone who saw those games, they will remember that the Americans dominated possession and created quite a bit, failing only to convert on their chances (especially against Canada).
However, the youngsters will find their way eventually. It only takes time and patience, and eventually, superior training will win out.
I don't know when or where it will happen, but a U.S. youth team will win a major tournament. And soon.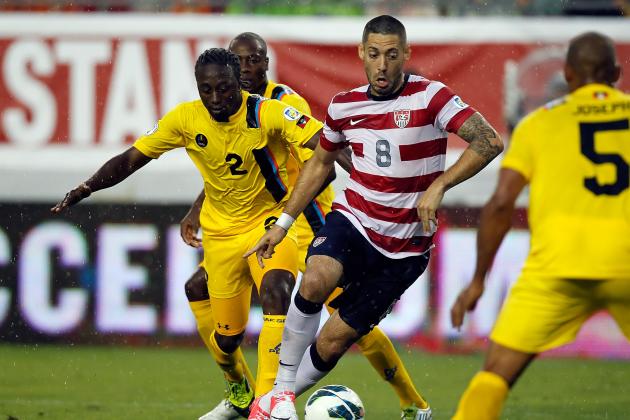 J. Meric/Getty Images

Generally, the U.S. team has defended home soil well in the last 20 years, avoiding bad losses to CONCACAF teams (many of whom the U.S. should beat easily).
That said, they tend to sleepwalk through several of these games every qualifying cycle. And this time, it will come back to bite them.
There will be some Antigua-equivalent where the opposition appears to be a pushover, but in actuality, is well-organized and rearing for a fight.
And they will score a victory against the American team on American soil.
In turn, this will cause...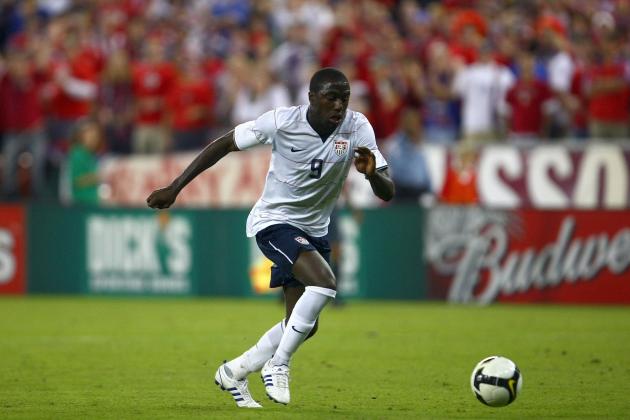 Chris McGrath/Getty Images

Since qualifying for Italia 1990, the U.S. hasn't failed to qualify for a World Cup.
People in younger generations have grown up expecting to see an American team at the world's greatest soccer stage.
For 2014, though, the USA team will get a serious wake-up call.
Things will be a lot closer than people think.
And in the end, they will make Jurgen sweat it.
But, they will qualify. Make no mistake. This will lead to...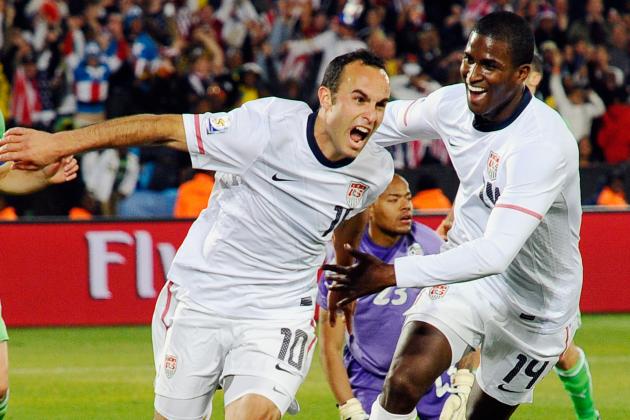 Kevork Djansezian/Getty Images

Once again, the U.S. will win their group at the World Cup in 2014.
In all honesty, the team should have won their group in South Africa handily, but were denied a win against Slovenia for a still unknown reason when Maurice Edu's apparent game-winner was ruled out for...well, you tell me.
But I digress. The Klinsmann formula for Germany in 2006 was to underachieve heavily before the tournament, thus creating a siege mentality within the squad as the press and the public wrote them off.
This created the necessary bond in the team that when the Cup began, they unleashed several masterful performances and earned the respect of their country (who were the host nation).
Since I've already predicted that they will struggle in qualifiers, I'll go the full distance on this prediction and say that Klinsmann will pull the team together just in the nick before the World Cup and inspire them to win their group in back-to-back tournaments for the first time ever.
No predictions as far as where they get, though; I'll save that one for another time.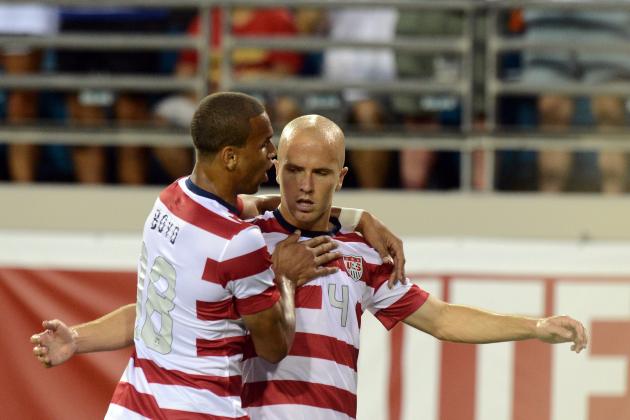 Gary Bogdon/Getty Images

With the profligacy of American forwards at the 2010 World Cup, I suppose this isn't as bold a prediction as it sounds.
Yet 2013 will be a big year, as it is a qualifier season.
And I think American forwards will be outshined once again by their midfield counterparts.
Jozy Altidore, Herculez Gomez and Terrence Boyd all show flashes of potential, but when it comes down to crucial goals, I still trust players like Donovan and Michael Bradley more.
A critical note for this conversation: I'm labeling Clint Dempsey as a forward just to make this prediction truly "bold."
It's not that I don't think Dempsey will score, it's just that I think he will be possibly the only forward who will be scoring.
The team will probably grind out a bunch of 1-0 wins, though, so it might not matter as much.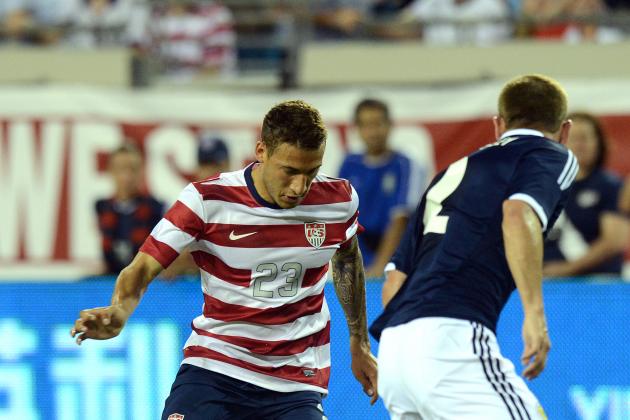 Gary Bogdon/Getty Images

This prediction has less to do with Klinsmann as it does with the number of German-Americans on the team.
Of that group (and it's a talented group), I think one of them will eventually be bought by the Bavarian giants and will hopefully fare better than Landon Donovan did during his short loan there a few seasons ago (when Klinsmann was coach).
My money is on Fabian Johnson, the 24-year-old left back who has shown so much ability in his short time with the U.S. team.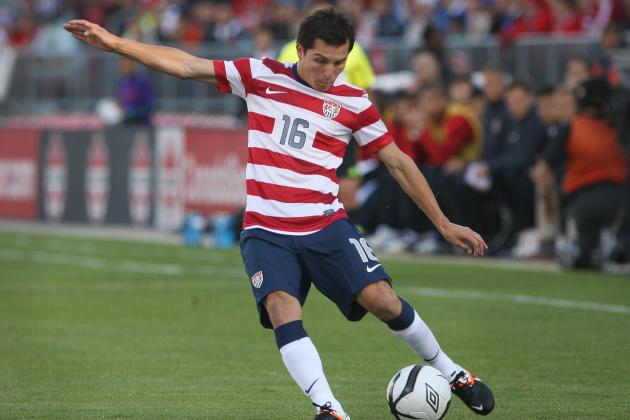 Tom Szczerbowski/Getty Images

Kidding! (Obviously.)
This was joke based on Torres' unlikely start at left back recently. He seems to be a favorite of Klinsmann, and his trial by fire so far out of position proved this to an extent.
Still, I do believe that Klinsmann will continue to play Torres in a variety of roles, as he favors the passing ability and possession capability that Torres brings to the table.
Having him on the field but out of position appears to be preferable to Klinsmann than playing someone more mediocre who plays more often in a given position.