Report Card Grades for Every Positional Unit on Tennessee Titans' Roster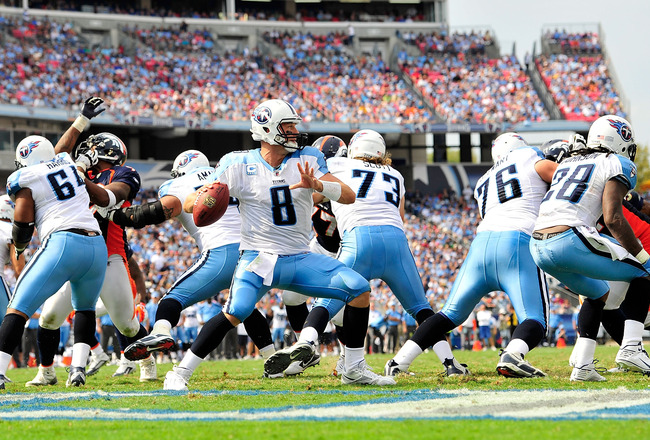 Grant Halverson/Getty Images
The Tennessee Titans surprised a lot of people during the 2011-12 season. The team jumped out to 3-1 record and continued to beat out middling to below-average teams throughout the year, while being dominated by the rest.
It may not sound like a triumph, but many expected the worst going into that season. With the 2012-13 season on the horizon, optimism abounds amongst the team's fans and expectations have improved among pundits.
Ultimately, no one will know for certain how good of a team the Titans will be until the season starts. However, we can take a look at the positional breakdown of the team to find its strengths and weaknesses.
Special Teams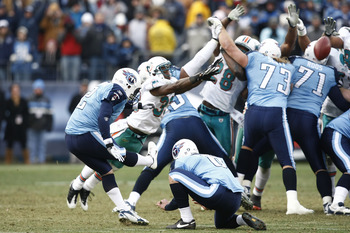 Joe Robbins/Getty Images
Rob Bironas is a picture of consistency as a kicker for the team. For the fifth consecutive season Bironas finished the year with a field goal-kicking percentage of 84.4 percent or better, only missing three field goals in 2011—and it was his second consecutive season with 90-plus percent of field goals made.
Brett Kern has produced been slightly below-average numbers as a punter, but not to a major detriment to the team.
The Titans were top 10 in both kickoff and punt coverage, a top-five kickoff return team and a mid-level punt return unit.
Expect the team to finish with similar number next season.
Grade: B
Offensive Line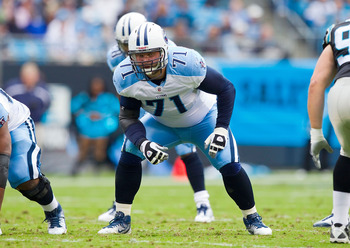 Brian A. Westerholt/Getty Images
The Titans' offensive line has been a major topic of discussion this offseason with people deciding how much of the blame the unit should carry for Chris Johnson's subpar 2011-12 campaign.
Interestingly enough, the unit is not all bad. Only the Buffalo Bills' offensive line unit graded out to be a better pass-blocking team.
It allowed the second fewest sacks while protecting two different style quarterbacks. The run-blocking, however, was nowhere near as good. The interior of the line takes the brunt of the blame for lacking the toughness to clear the way, but only one new name will grace the starting lineup so far: Steve Hutchinson.
Hutchinson is likely a Hall of Fame-level talent who will definitely bring more physicality than the departed Jake Scott and is being counted on to help whoever starts at center—a weak position since Kevin Mawae left the team.
Grade: A-
Defensive Line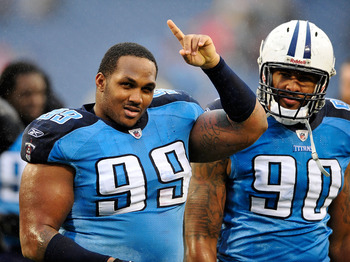 Grant Halverson/Getty Images
While the Titans allowed the second-fewest sacks last year, they also recorded the second-fewest sacks with a mere 28.
Kamerion Wimbley was signed to help remedy that major issue, after the team missed out on any opportunity to pursue Mario Williams in free agency.
Under the new coaching regime, the Titans have maintained the method of deploying a deep rotation of linemen to keep players fresh.
The Titans also fielded a poor run defense—only rookie Jurrell Casey proved to be a standout in the category, both on the team and in the league.
Derrick Morgan's continued recovery from ACL surgery, along with the implementation of DC Jerry Gray's full playbook, will have major bearing on how much this unit improves.
Grade: C-
Tight Ends and Wide Receivers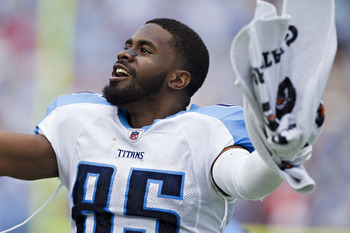 Wesley Hitt/Getty Images
Whoever starts at quarterback will have the most weapons any Titans quarterback has ever had.
Kenny Britt continued to flash ability that could make him one of the league's best receivers for years to come, but he likely won't be 100 percent after tearing his ACL last September.
The Titans spent the 20th overall selection on Kendall Wright to give the team another option if Britt is unable to go and an extremely dangerous slot receiver.

Nate Washington had the best season of his career in Britt's absence, catching 74 balls for 1,023 yards and seven touchdowns last year. Damian Williams did a solid job of covering for Britt, but ultimately he has the potential to be a No. 2 receiver at best in his career.
At tight end Jared Cook was either underutilized or slow to acclimate to the new playbook. He's in the final year of his rookie contract, and the team is counting on him being the Cook we saw at the end of the season rather than the nonexistent option he has otherwise been.
Cook is a very poor blocking talent and, despite his reputation, Craig Stevens has not been an above-average blocker in his career either.
Overall, this is probably the best group of receiving talent the team has had since moving to Tennessee, but there are far too many question marks to be given a top grade.
Grade: B+
Defensive Backs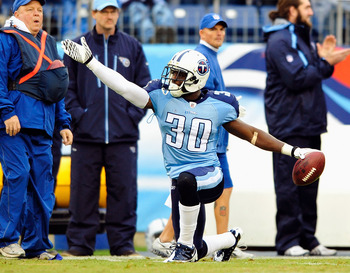 Grant Halverson/Getty Images
The Titans have quietly developed a couple of quality, young cornerbacks over the last couple of years in Jason McCourty and Alterraun Verner.
Both players are adept in pass and run coverage, taking their cues from former longtime Titan Cortland Finnegan. One can only wonder how strong a season the unit might have had if the front seven were even average at pressuring opposing quarterbacks.
There will be more pressure on McCourty and Verner this year as, without Finnegan, they will each be playing larger roles on defense.
At safety, Michael Griffin leaves much to be desired but is still a top-10 talent at the position—showcasing the dearth of talent at the evolving position.
Jordan Babineaux became a fan favorite because of his ability to make big plays and how much better he looked when compared to the past-his-prime Chris Hope. Babineaux, however, is not a a very good at playing the pass or stopping the run.
Overall, the unit lacks experienced depth across the board, with several rookies and second-year players making up the roster. The team has placed an emphasis on getting younger on defense, and let's just say, "Mission accomplished."
Grade: C+
Running Backs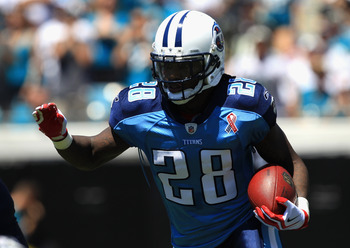 Streeter Lecka/Getty Images
As mentioned before, Chris Johnson did not have a great time during the 2011-12 season.
His contract holdout proved to be a major factor with him not joining the team until the final preseason game and being out of shape for much of the year. Johnson appeared to quit on a lot of plays as well, which drew the ire of fans and analysts during the season.
This year has been the exact opposite, however. Johnson has been training with the team for the first time in his career, rather than in his home town of Orlando, and has added eight to nine pounds of muscle to his frame.
CJ2k may have lost a step since becoming the sixth running back to rush for more than 2,000 yards in a season, but he is still too young to have another season as poor as his 2011-12 campaign.
Behind him the team has Javon Ringer—who is too similar to Johnson, in my opinion—and Jamie Harper, who was brought in to be the team's downhill runner but lacks the physicality to be it.
As long as Johnson is healthy the unit should be just fine.
Grade: A-
Linebackers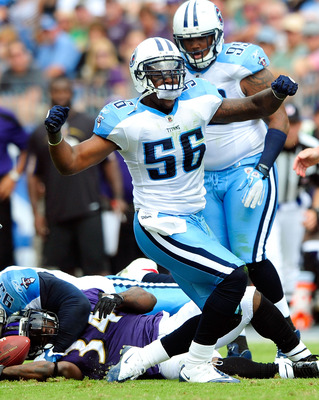 Grant Halverson/Getty Images
Rookie Akeem Ayers was billed as an immediate starter who would be a capable pass-rusher last season. He proved capable of accomplishing one of those feats but only had two sacks during his first season.
Colin McCarthy, also a rookie, had to supplant the ineffective Barrett Ruud and made an immediate impact, showing a penchant for making splash plays along the way. McCarthy proved to be a tackling machine with 63 tackles in only eight starts. McCarthy and Ayers will both be counted on to take a step forward in their respective developments.
Will Witherspoon was the best and most consistent linebacker on the team, which was to be expected with new starters being penciled in at the other two spots. However, despite being arguably the best of the bunch, the 32-year-old Witherspoon's play is declining. The Titans will want second-round speedster Zach Brown to supplant him as quickly as possible.
Brown has the potential to either take over for Witherspoon in the starting lineup or become a quality subpackage player capable of blitzing or staying with the growing number of tight ends being split out to receiver.
Grade: B
Quarterback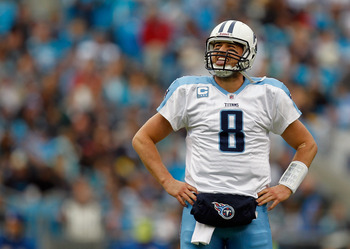 Streeter Lecka/Getty Images
Easily the biggest positional battle for the Titans, Matt Hasselbeck and Jake Locker each offer something different.
The soon-to-be 37-year-old Hasselbeck currently sits atop Tennessee's depth chart, and things will probably stay that way with the team's schedule being so tough during the first four weeks of the season.
He gives the team a much more accurate throwing quarterback, finishing the season with a 61.6 completion percentage, and he has veteran knowledge that can only be gained through experience.
Locker looked terrific in relief of Hasselbeck last season, throwing four touchdowns and no interceptions along with a strong 8.2 YPA, but he completed only 51.5 percent of his passes.
There's only one way for a quarterback to gain experience, however, and at some point coach Mike Munchak will be forced to make the decision to hand over the reins to the team's future signal-caller.
Hasselbeck gives the team its best chance to win early in the season, but I'd wager Locker will finish the season as the team's starting quarterback.
Grade: B-
Keep Reading

Tennessee Titans: Like this team?