NBA Draft 2012: Why Taking Andre Drummond Would Be a Disastrous Choice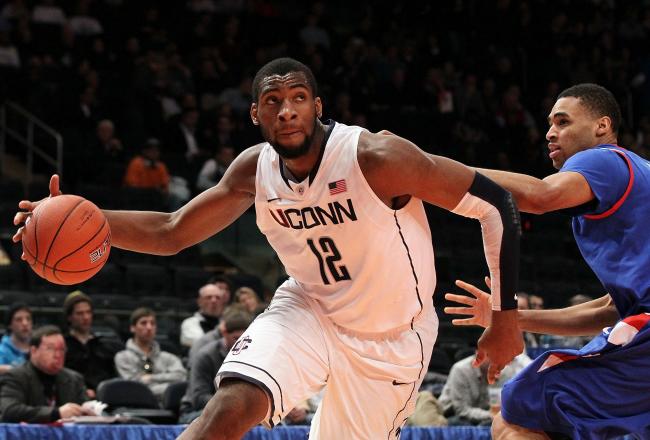 Jim McIsaac/Getty Images
Like every NBA draft, the 2012 version has its fair share of potential busts—none more notable and likely than Andre Drummond.
It is seemingly inevitable that at least one top-10 pick will fail to live up to expectations—Hasheem Thabeet, Michael Beasley, the list goes on and on. That player could underachieve in the pros due to off-court issues, injuries, or the fact that his game simply doesn't translate well from college to the NBA.
With that in mind, here is why drafting Drummond would be the wrong move.
Underwhelming statistics
Through the early stages of mock drafts and prospect predictions, Drummond has been widely considered as a top-10, even a top-five, pick. However, like many prospects before him, Drummond has been highly coveted almost exclusively due to his "potential" rather than his productivity.
Due to his tremendous size combined with great athleticism, Drummond has been deemed as having enormous upside. Those measurable attributes have vaulted him to the upper echelon of most NBA executives' draft boards.
At 6'10'' and 270 pounds, the 18-year-old already has an NBA-ready body. His 7'6.25'' reach is the longest of any player in the draft and he has shown exceptional explosiveness, athleticism and quickness. All that considered, he certainly has the physical attributes of a successful NBA big man.
How will Andre Drummond's NBA career pan out?
However, as most basketball fans know, a player's physical stature can only take him so far. Just look at players like Hakim Warrick, Stromile Swift and Tyrus Thomas. The list of physically gifted, yet underachieving big men is a long one.
How can NBA execs expect Drummond to become a dominant player in the pros against the best basketball players in the world when he was average—at best—during his lone season at UConn?
This past season, the then-freshman put up some awesomely mediocre numbers for the Huskies—10.0 points per game, 7.6 rebounds per game—while scoring 20 or more points just twice all season long. The single bright spot in his game was the shot-blocking ability he displayed by averaging 2.7 blocks per game.
Everyone is expecting Drummond's defensive game to be extremely far ahead of his offensive one, as he is still extremely raw on the offensive side of the court. Drummond even admits to not having a back-to-the-basket game (via Hoopsworld.com), saying, "I don't have a back-to-the-basket game, honestly speaking."
To be an above-average center in the NBA, you must be able to score with your back to the basket. Otherwise, you're essentially a slow, 7-foot wing player who can't shoot.
Another offensive element of basketball that is completely absent from Drummond's game is free-thow shooting. He shot an abysmal 29.5 percent from the charity stripe last season. Yes, you read that right—29.5 percent!
Rather than drooling over Drummond's tremendous physical attributes, NBA execs should take heavily into account his on-court production in order to gauge his potential.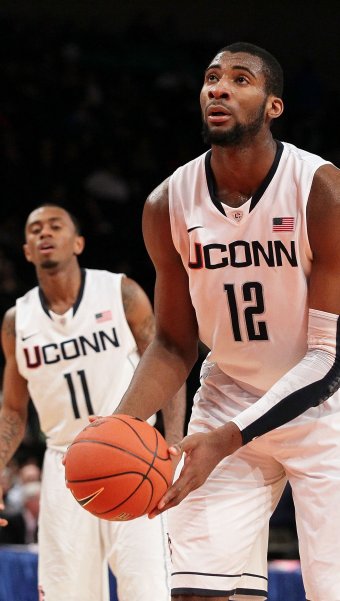 Jim McIsaac/Getty Images
Work ethic
With so many talented players in the NBA today, what separates the good from the great is often a player's work ethic. The best players in the league—Kobe Bryant, LeBron James, Kevin Durant—are non-coincidentally known as the hardest workers.
Drummond's work ethic and motor have continuously been in question ever since his high school days. And this unfortunate trend didn't stop once he arrived at UConn.
His horrific free-throw shooting embodies the lack of effort put forth by the big man. At 29.5 percent, one would assume that Drummond rarely—if ever—practiced his free throws.
However, there is good news on the work ethic front. According to HOOPSWORLD.com's Alex Kennedy, the big man has lost 22 pounds since season's end and has been working on developing some post moves.
Drummond still needs to exhibit a hunger and desire to win on the floor. The last in-game impression people have of him is not a flattering one. In the first round of the NCAA tournament and the biggest game of his short college career, Drummond scored just two points and snatched a measly three rebounds as the Huskies were defeated by the Iowa State Cyclones.
A strong work ethic may be the key ingredient for Drummond. According to HOOPSWORLD.com, "He's extremely athletic and has tremendous upside, said one scout. His work ethic will determine just how good he'll be at the next level."
Drummond will likely be taken in the top 10 of Thursday's draft. However, whatever team selects him will be making a mistake by drafting a lazy (on the court) and offensively-inept big man who seems to be without a desire and need to win—which is vital to succeed in the NBA.
This article is
What is the duplicate article?
Why is this article offensive?
Where is this article plagiarized from?
Why is this article poorly edited?