How the NFL Top 100's Final 10 Players Should Be Ranked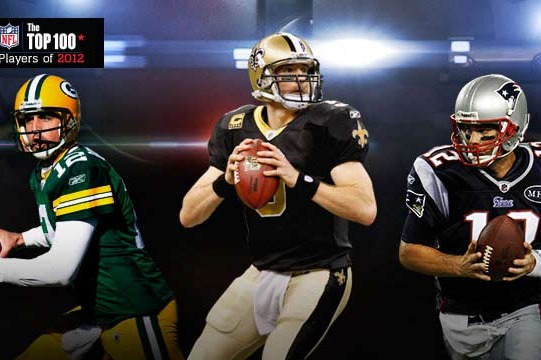 Photo courtesy of NFL Network
With the NFL Network's series "NFL Top 100 Players of 2012" coming to a close on Wednesday night, now seemed the perfect time to fill in the final 10 myself.
As the list was voted by the players, there were several surprises. A few include John Kuhn placing over Marshawn Lynch, and Vonta Leach placing 45th overall ahead of Tony Romo, Mike Wallace and Jake Long to name a few.
On the opposite end, several players whom I thought should have been in the top 10 were not ranked that way. In my eyes Eli Manning, Terrell Suggs and Rob Gronkowski are all top 10 players in the NFL.
Through a process of elimination, the final 10 players can be determined and here's how I believe they should be ranked.
Let me know your personal version of the top 10 in the comments section.
Begin Slideshow

»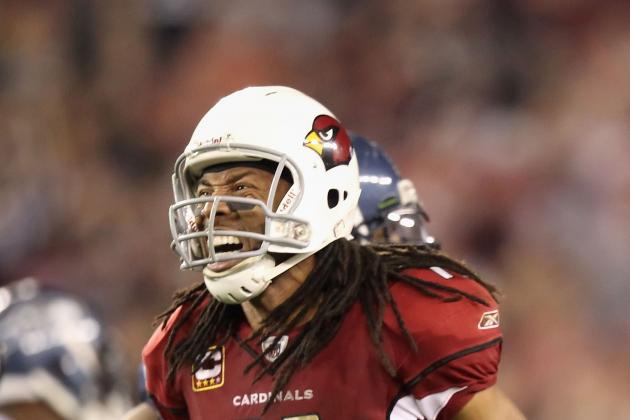 Christian Petersen/Getty Images

2011-12 Stats: 80 receptions, 8 TDs, 1,411 yards
Life certainly hasn't been easy of late for Arizona's all-world receiver Larry Fitzgerald. Since Kurt Warner retired, Fitzgerald has had to deal with mediocre quarterback after mediocre quarterback, severely hampering his play.
However, Fitzgerald hasn't let that affect him like most wide receivers. Instead of complaining or demanding trades, Fitz has put the entire Cardinals organization on his back as he attempts to take them back to the Super Bowl.
Had this list been taken during the Warner-Fitzgerald glory years, Fitzgerald would've surely ranked in the top five and it is a testament to his dedication and talent that he remains in the top 10 despite his situation.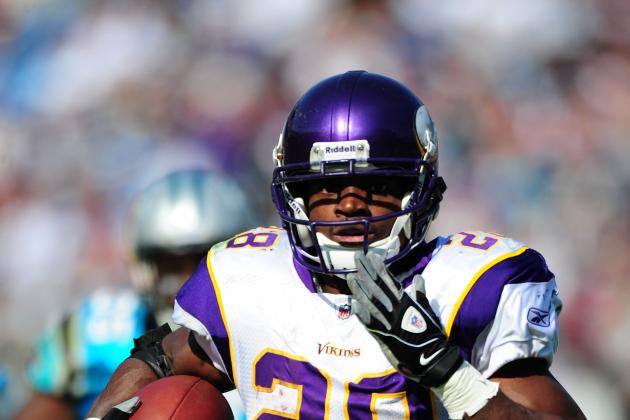 Scott Cunningham/Getty Images

2011-12 Stats: 970 yards, 12 TDs, 4.7 avg
Unfortunately, the NFL's premier running back will be forced to start the season on the PUP list according to ESPN1500.com's Judd Zulgad, as he recovers from his torn ACL.
Prior to the injury, which he suffered 12 games in, Peterson was well on his way to another All-Pro year despite the struggles of the Vikings. While he did have his ups and downs, Peterson's combination of size, strength and shiftiness is what separates him from the rest of the league's running back crop.
With the Vikings in complete rebuilding mode, there shouldn't be a rush to get Peterson back on the field. As the franchise player, Peterson should be given as much time as possible to fully heal.
Hopefully by the start of next year Peterson will be fully healthy and ready to lead the Vikings back into the playoffs.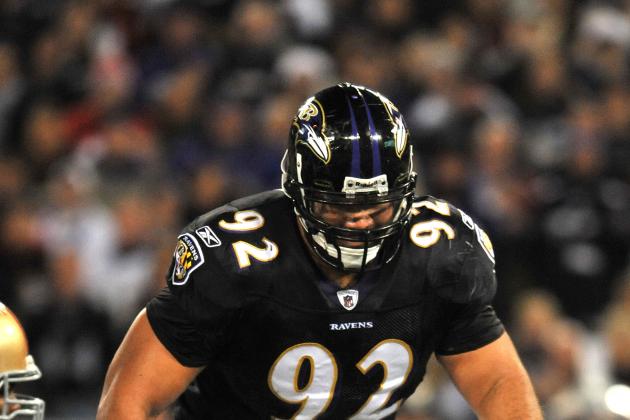 Larry French/Getty Images

2011-12 Stats: 64 tackles, 5 sacks
The anchor to Baltimore's defense is no longer Ray Lewis, it is Haloti Ngata.
A 330-pound wrecking ball in the middle of the defense, Ngata's ability to take on double-teams while stuffing the run and collapsing the pocket make him the best defensive lineman in the game.
What makes Ngata so special is his agility and quickness for a man his size. A former rugby player, Ngata's ability to chase down players and move in space is what makes him elite. Ngata can play everywhere on the defensive line from the 0-technique, 3-technique or the 5, and occasionally even linebacker.
At 28 years of age and with a big contract, we may have yet to see the best from Haloti Ngata.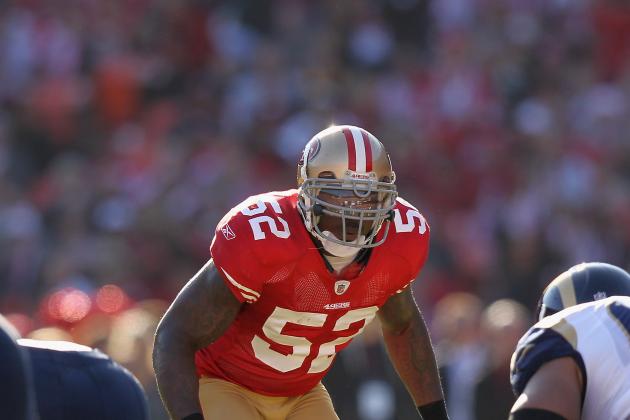 Ezra Shaw/Getty Images

2011-12 Stats: 97 tackles, 2 sacks, 1 INT
The long-time heir to Ray Lewis as the next great middle linebacker, Patrick Willis' play over the last few years has truly made him the best MLB in the league.
The leader of what was arguably the best defense in the league last year, Willis combined with NaVorro Bowman, Justin Smith and Aldon Smith to lead the Niners to a 13-3 record and the NFC Championship Game.
At 6'1'', 240 pounds with 4.4 speed, Willis is an unbelievable combination of size, speed and smarts. Able to bull rush offensive linemen, chase down running backs in space and cover receivers and tight ends are all parts of Willis' all-world ability.
With Willis entering his prime, expect many more accolades to be headed in his direction and I'm sure one day, we'll all be looking for the next Patrick Willis.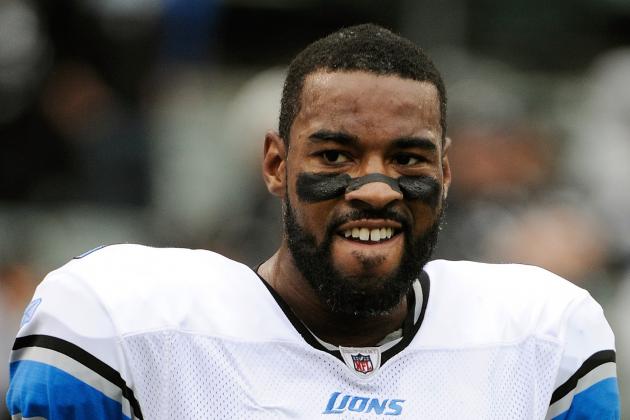 Thearon W. Henderson/Getty Images

2011-12 Stats: 96 receptions, 1,681 yards, 16 TDs
After putting up one of the greatest seasons we've ever seen from a wide receiver, Calvin Johnson will look to get even better this year.
Johnson, or Megatron as he is commonly known as these days, was the primary reason for the Detroit Lions' great season last year. Hooking up with QB Matthew Stafford, Johnson was uncoverable, using his 6'5'', 240-pound body complete with terrific vertical speed and leaping ability to catch touchdown after touchdown.
One of the more popular players in the game, Johnson was recently voted as the cover athlete of the newest Madden video game. Hopefully he doesn't fall victim to the Madden curse as the Lions look to improve on last year's 10-6 record.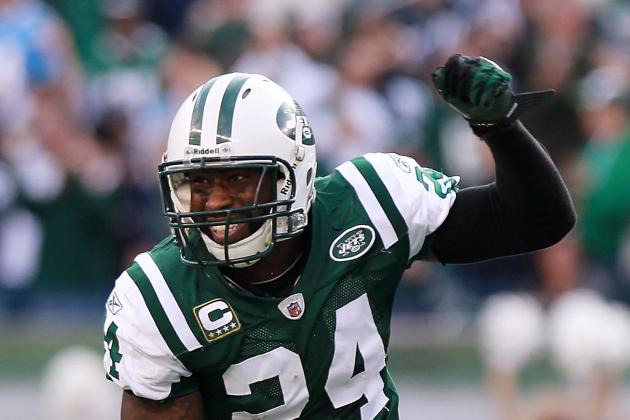 Nick Laham/Getty Images

2011-12 Stats: 52 tackles, 4 INTs
The NFL's premier corner, Darrelle Revis, is perhaps the best cornerback we've seen since Deion Sanders in his prime. A true shutdown corner, Revis' ability to follow and take out the league's best receivers is astonishing, even with all the NFL's new rules making it easier for receivers.
A playmaker on the ball, Revis Island is a receiver's worst nightmare as they know they won't be getting the ball when Revis is on them.
Andre Johnson, Calvin Johnson, Randy Moss, Chad Ochocinco, Marques Colston and Wes Welker are but a number of receivers who have gone head to head with Revis only to fail.
Contract disputes aside, Revis has been a great leader and at only 26 years of age, he seems to be building a resume worthy of Canton.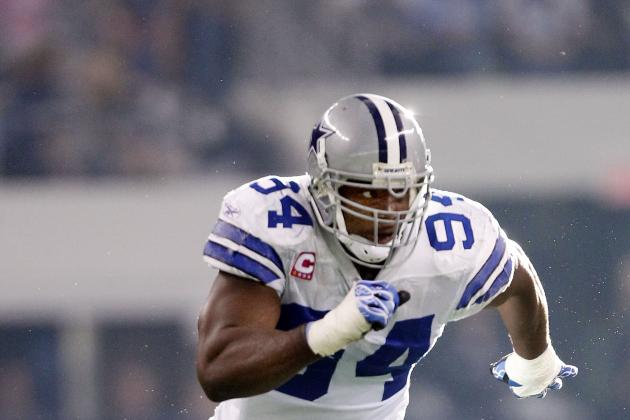 Layne Murdoch/Getty Images

2011-12 Stats: 58 tackles, 19.5 sacks
The NFL's best pass rusher over the last few years, DeMarcus Ware has shown no sign of decline as he continues his onslaught on quarterbacks.
Through seven years in the NFL, Ware has amassed an incredible 99.5 sacks, including double digit sacks every year since his rookie year. An unbelievable combination of speed and strength, Ware's ability to get to the quarterback is unparalleled in the NFL.
Ware, in my eyes the best defensive player in the NFL, has a great chance of breaking the NFL record of most sacks of all time. He also has a great chance of breaking Michael Strahan's record of 22.5 sacks in a season.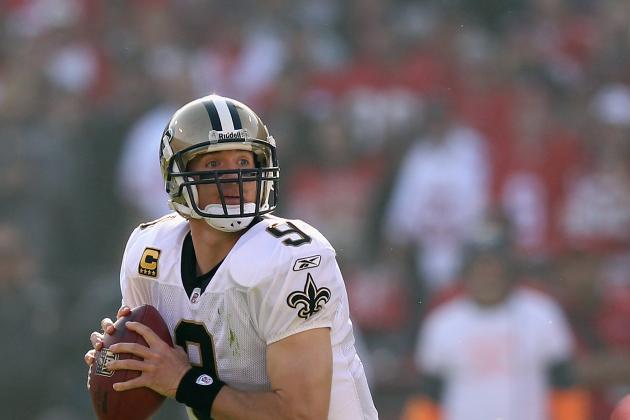 Ezra Shaw/Getty Images

2011-12 Stats: 5,476 yards, 46 TDs, 14 INTs
It's hard to believe that someone who broke Dan Marino's long-standing record of passing yards in a season would only be ranked third; such is the state of the NFL.
One of the most accurate passers in the NFL history, Drew Brees has put together a Hall of Fame career, thanks to his run in New Orleans. A career year last year was marred by an upset loss to San Francisco in the playoffs and several allegations against the Saints in the offseason.
One the NFL's great leaders, Brees' ability to make his teammates better is what makes him truly elite. Despite his small stature, Brees stands tall in the pocket and his delivery is perfect.
With the Saints in disarray following bountygate and Brees' own contract dispute continuing, next year will not be a walk in the park for the 2010 Super Bowl MVP. But if anyone can make the best of the situation, it's Drew Brees, and the Saints will need him at his best.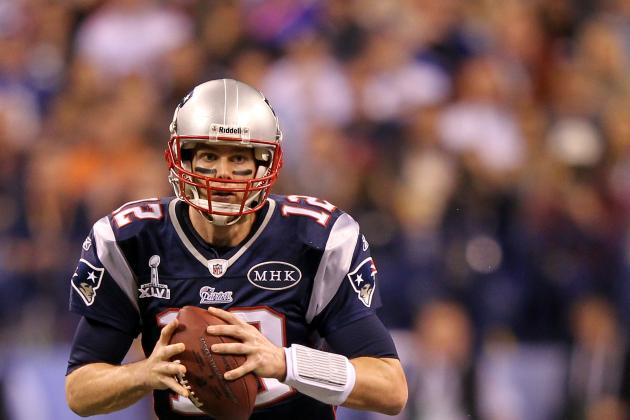 Jamie Squire/Getty Images

2011-12 Stats: 5,235 yards, 39 TDs, 12 INTs
Despite turning 34 prior to the start of the season, Tom Brady still had one of his greatest years. While Drew Brees certainly received most of the attention for it, Brady also passed Dan Marino's passing yardage mark last season along the way to reaching his fifth Super Bowl.
Despite the loss to the Giants, Brady remains one of the best, if not the best quarterback in the league and of all time. A pocket passer in its truest definition, Brady's command of the no-huddle offense and the Patriots offense as a whole is amazing to watch.
Last year's No. 1-ranked player, Brady will be 35 by the time the season rolls around this year. Going on record as saying he wants to play for another 10 years, Brady will look to add another ring to the three he has already.
The Patriots will go as Tom Brady goes this year, as they look to improve on last year's season and win it all this time.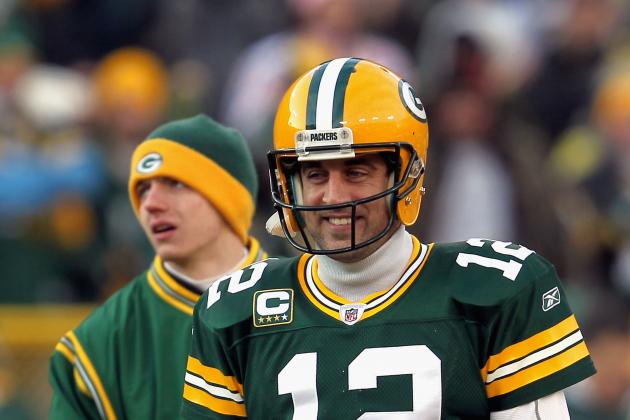 Jonathan Daniel/Getty Images

2011-12 Stats: 4,646 yards, 45 TDs, 6 INTs
The NFL's reigning MVP, Aaron Rodgers is in my opinion, the best player in the league. Following the Super Bowl win two seasons ago, Rodgers followed it up with one of the greatest seasons in NFL history for a quarterback. Throwing for 45 touchdowns, Rodgers set a mark for passer rating in a season with 122.5.
With the Packers flirting with a 16-0 season for most of last year, Rodgers looked invincible slicing apart defense after defense with a precision we haven't seen in a while. Combining a rocket arm with great mobility, Rodgers will enter the next season as the best player in the NFL.
A stinging loss to the Giants at home will leave a bitter taste for the Packers and their fans, so you can expect Rodgers to come out with all guns blazing.
Making Packers fans forget about Brett Favre is a testament to the amazing play of Rodgers over the last few years. The scary part for the rest of the NFL is that he is only 28 and could possibly get even better.