3 Training Camp Battles That May Define 2012 Chicago Bears Season
June 27, 2012

Jonathan Daniel/Getty Images
There are three position battles the Chicago Bears must figure out during training camp in order to be ready for the start of the 2012 season, battles that are of the utmost importance to the success of the team as a whole. 
We know some of the strengths and weaknesses of this team, but these battles are of vital importance to the Bears' chances of winning the NFC North. 
First, there's no reason to sugarcoat or delay the obvious battle: the starting left tackle spot between Chris Williams and incumbent J'Marcus Webb. Williams is moving back to tackle from guard to hopefully light a fire under Webb to become a better, more focused player. 
The free-agent market was barren with absolutely zero competent offensive tackle help available. The draft was just as bad with one player considered to be a plug-and-play LT in Matt Kalil. So the Bears chose to ignore the tackle position and now have two players vying for the starting spot. 
First is J'Marcus Webb, who is a good run-blocker but a mediocre pass-blocker and who, at times, completely lapses in concentration and technique. Webb was a bad RT in 2010 and a bad LT in 2011.  He has the ability, but he has a questionable makeup mentally, as he seems to truly lack that fire and desire. 
Webb will be competing with 2008 first-round selection Chris Williams, who has played three positions on the offensive line since his arrival in the NFL. Williams was supposed to be the LT of the future but then bounced to RT.  From there he bounced back to LT, only to bounce inside to guard. 
Williams' best success has been at guard, though in 2009 he was a solid LT for four games. If Williams can capture the consistency of the 2009 season, he could be the starter again.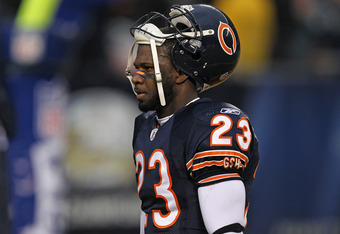 Jonathan Daniel/Getty Images
This position battle is a mess, it's almost a battle of who is not the worse player rather than who is the better player. Nothing about the left tackle position inspires confidence in Bears fans, and that has to be addressed in camp. 
Both players have shown ability at times, so the potential for this position to work itself out is there.  Hopefully it's figured out sooner rather than later so the line as a whole can come together and gel as quickly as possible. 
The second question that has to be answered is will Alshon Jeffery beat out Devin Hester? The Bears keep waxing on about a Devin Hester package and how he can be successful in this offense. In 13 games during the 2009 season, Hester was on pace for more than 70 catches and more than 1,000 yards before getting hurt. 
That was Hester's best and most consistent season, and he hasn't come near that level again. There's a lot of reason to be skeptical that he'll ever come near that level of production. 
Jeffery, on the other hand, should be starting by the third game of the season, because that's why he was drafted. You don't draft a big, fast receiver with great hands to play behind a fast, gimmicky, small receiver.
However, Jeffery is currently behind the learning curve after missing a lot of playbook install during rookie minicamp, organized team activities and veteran minicamp, around eight of 16 workouts in total.  Jeffery has to play catchup, but he needs to come in and supplant Hester so that Hester can excel at what he does best. 
I've hammered on this one before and I'll hammer on it again: There needs to be a strong backup DT option in Chicago. Lovie Smith has consistently stressed the importance of the three-technique DT and the Bears currently have no signs of a competent backup. 
The position battle is between two veteran scrub journeymen and a bunch of young former undrafted free agents who have made rosters but never stuck with those teams. 
If Henry Melton goes down with any sort of injury, the Bears' pass rush could be in dire straits. The injury wouldn't have to be serious—just a nagging injury that costs Melton a couple of games or slows down his high level of play for the rest of the season.  
This is the position that has me most scratching my head and asking myself out loud, "What are the Bears thinking?"
Stephen Paea is going to be a good player in the NFL and can play both DT positions (either the one or three technique). Now that he's healthy, he could easily supplant Matt Toeaina as the starter. He gives the Bears three solid starter-capable DTs, but Lovie Smith has always preferred to have four, and the Bears are an injury away from having only two. 
These training camp battles should be the highlight of Bears camp 2012. Two of the three should be settled by the start of the season, while the third may not be answered until after roster pair downs occur after the third and fourth preseason games.
Brett Solesky is editor and publisher of MidwayIllustrated.com, a Chicago Bears blog. For more articles about the Bears, including a weekly podcast featuring weekly player interviews and other in-depth information, visit my blog.