NBA Draft 2012: Who Should This Year's Playoff Teams Target?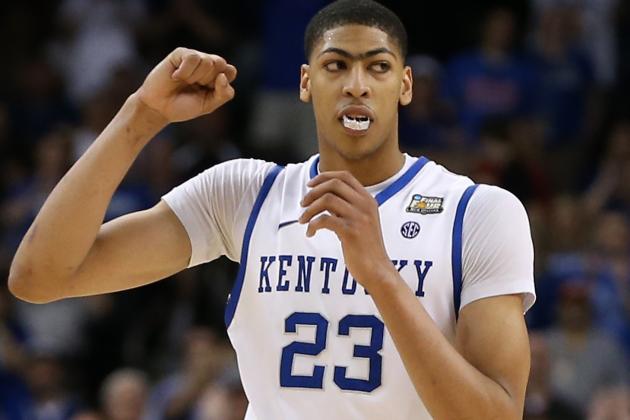 Jeff Gross/Getty Images

In less than 24 hours, many collegiate and international basketball players from across the globe will look to jump start their dreams of playing in lengthy and successful NBA careers when the 2012 draft kicks off at 7 p.m EST on ESPN.
The New Orleans Hornets have all but wrapped up Anthony Davis with the No. 1 selection, but what about the teams that ended up in contention for basketball's biggest prize this past season?
After the jump we will examine the 16 teams that qualified for the playoffs in 2011, and try to pinpoint who they will chase in this year's draft when it goes underway tomorrow night.
Begin Slideshow

»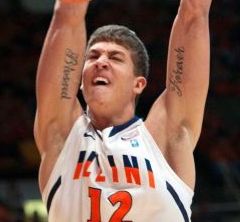 The 76ers are an interesting franchise that should be able to attribute much of their success this season to the team's drafting of their current nucleus, including point guard Jrue Holiday with their first selection in 2009, shooting guard Evan Turner in 2010 and forward Thaddeus Young in 2007.
This season, it was the lack of a force in the middle that, in part, cost them an extended run at the NBA Finals.
Center Spencer Hawes was acquired by the Sixers from the Kings in a deal for Samuel Dalembert, but back and Achilles injuries hampered him; he never quite looked like the same player that showed flashes of being a first-rate center earlier in the season when he returned.
With the team not looking to make any adjustments with their order in the draft, they will look for size with the No. 15 pick in this year's draft.
Illinois center Myers Leonard worked out for the team on Tuesday, and if he is around at number 15—the Sixers could scoop him up.
A fluid big man who experienced an extreme rise in production from his freshman to sophomore season at Illinois, Leonard fits the Sixers needs as a big, athletic inside man.
Other guys that could fall into the Sixers' lap include Terrence Jones, Perry Jones, Anett Moultrie and Jared Sullinger.
I believe T. Jones and Sullinger are a bit too undersized to be what the Sixers are looking for, but Moultire and P. Jones remain intriguing possibilities for Philadelphia.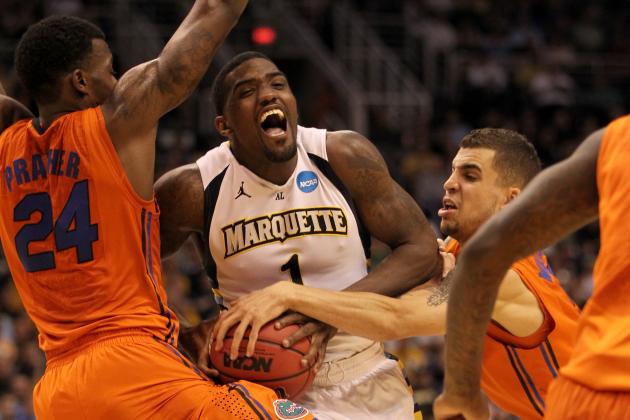 Jamie Squire/Getty Images

Over the salary cap and without a first round pick in this year's draft, the New York Knicks will look to create some magic by uncovering a sleeper with the 48th overall pick in the second round.
One of the more popular online mock drafts forecasts the Knicks picking up Darius Johnson-Odom, a player that saw much court time in Madison Square Garden as a member of the Marquette Golden Eagles.
He is a rather undersized guy to be playing shooting guard, at 6'2", but he could potentially carve out a successful NBA career should he choose to embrace the role of combo guard, a la Jason Terry.
The problem is that Johnson-Odom has never really played the role of point guard during his collegiate career at Marquette, averaging just 2 assists per game and usually playing the role of the scoring shooting guard.
In any case, should he be available when the Knicks finally get a pick at 48, the upside for Johnson-Odom to emerge as a sleeper is immense.
Despite the depth at guard, he could come in and prove a more than capable shooter off the bench who also brings with him a tenacious defensive energy.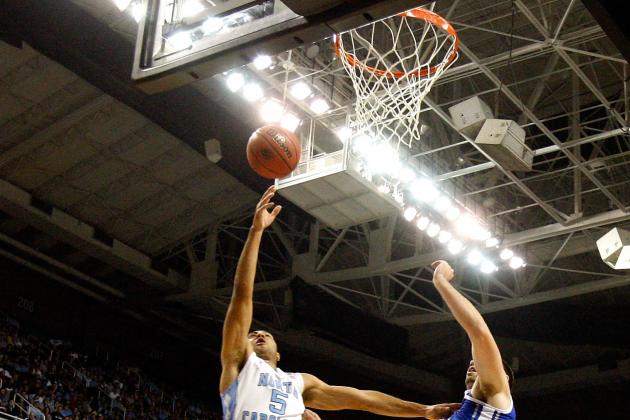 Streeter Lecka/Getty Images

Even if current starter Jameer Nelson does return to the Magic next season, they are still left without only one other point guard under contract for the 2012-13 season—Chris Duhon—and he has hardly proven himself capable of taking on any minutes, let alone starter minutes.
The answer to the Magic's distributor problem lies with North Carolina's Kendall Marshall, who has clearly emerged as the best pure point guard available in this year's draft.
What Marshall lacks in scoring power and defensive intensity, he makes up for with his ability to run an offense and make smart plays with the ball.
While Jameer Nelson has slowed his roll as he enters the latter part of his career, Orlando needs for Marshall to be available at the 19 spot so that they can pick up young, groomable talent that can inherit the point position.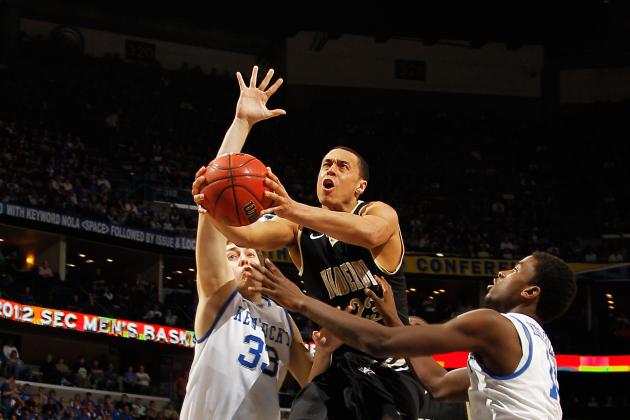 Chris Graythen/Getty Images

Should Jared Sullinger fall as far as the 23rd pick, I believe the situation will be too good for the Atlanta Hawks to pass up—considering that if he was drafted last season, he would have probably been a lottery pick.
If he is not available however, look for the Hawks' newly signed GM Danny Ferry (who before accepting the Atlanta position had been scouting talent for the Spurs) to have his say in rookie selection that will be able to immediately contribute to this battered squad.
With only six players under contract for next season, the Hawks need help, and they need it quickly. Look for them to go after a guy like Vanderbilt's John Jenkins, who could turn out to be an excellent late mid-round value.
He has a great shooting touch, and the ability to consistently drain the outside shot, which he exhibits frequently as one the nation's leading shooters from behind the arc.
He is also a physical specimen, with a 7' wingspan as a guard. Hawks star Joe Johnson can play both shooting guard and small forward, and coach Larry Drew seems to increasingly prefer to use Marvin Williams off the bench—leaving Jenkins, should he be drafted by the Hawks, with a great opportunity to log extensive rookie minutes as an instant contributor.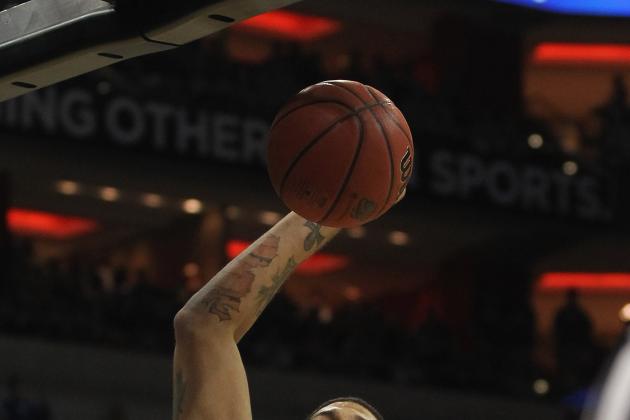 Jonathan Daniel/Getty Images

After a crushing Eastern Conference Finals loss the eventual NBA Champion, Miami Heat, the Boston Celtics will look to spark the rebuilding process around Paul Pierce and Rajon Rondo with two back-to-back picks in the first round, the 21st and 22nd.
Ever since the departure of Kendrick Perkins, the Celtics have lacked a true center, and in their last playoff series against the Heat. This was exploited as James, Wade and company attacked the rim with relative ease, being that there was no real defensive force to challenge them.
Boston will look to fix that by drafting some young big men who are willing and able to take punishment if it means slowing some of the league's most dynamic scorers on any given night.
With the 21st pick, I could see the Celtics taking Iowa State forward Royce White, a big man with lottery pick abilities. He could potentially fall right into the Celtics' lap, due to a variety of off-court issues including an anxiety disorder that apparently has him fearing airplane travel.
At the 22 spot, the Celtics could make a big pick to bolster their inside by taking 7-foot monster Fab Melo. He could have been pivotal to Syracuse's success last season had he been able to grasp the English language well enough not to land him in the hot seat due to a lack of academic performance.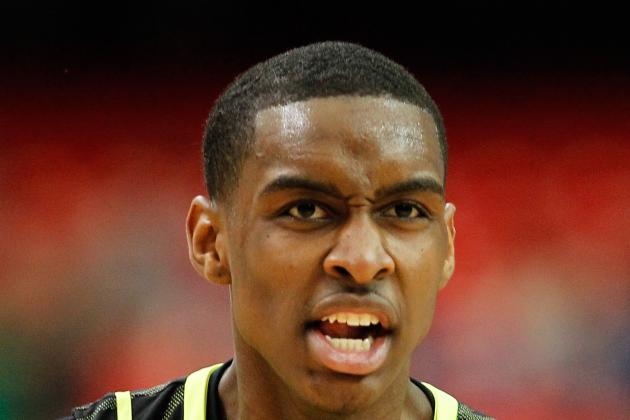 Streeter Lecka/Getty Images

Sitting with the 26th pick in the draft, the Indiana Pacers aren't looking to get immediate production, but rather strengthen a bench unit featuring former Tar Heel star Tyler Hansbrough.
The Pacers took a gamble last season by plucking David West off the free agent market after he had torn his ACL mid-season. His on-court recovery seems to have turned out better than expected, and his addition helped propel the Pacers to the top of the Eastern Conference.
They will look to add another guy off the bench, preferably a small forward or a shooting guard that would be able to run with Hansbrough to give the team a 1-2 scoring punch off the bench.
Memphis' Will Barton or Baylor's Quincy Miller are the two small forward/shooting guards that come to mind, and they could possibly be available when the Pacers are up to draft late in the round.
Both of these guys possess the versatility and athleticism to play either the two or three spot on the court, but Miller's abilities as a gifted scorer, at just 19 years old, could be enough to pique the Pacers' interest to risk pulling the trigger on him, despite that he also tore an ACL back in his senior year of high school.
Christian Petersen/Getty Images

When Chris Bosh went down in the postseason, many felt as though Miami would be missing a key piece of the Big Three that was going to propel them past their competition.
Luckily for them, Shane Battier—one of the team's veterans who was ringless before he joined the Heat—stepped up in more ways than just being able to hit wide open three pointers.
He was effectively able to defend David West and Brandon Bass while Lebron played the four spot. The Heat were able to hold on, despite missing their big man.
A less-than-adequate bench, including the last remaining member of Michigan's Fab Five, old man Juwan Howard and a man who has sucked dry ever last morsel of undeserved NBA money—Eddy Curry—is the last thing Miami needs to have going into next season.
In this draft, the Heat should look to take the best big man still available at the 27 spot, and that will probably be Vanderbilt center Festus Ezeli. as I don't expect Syracuse's Fab Melo to fall quite far enough to make it to South Beach.
Ezeli is no star—he ranked in the bottom third amongst centers for defensive rebounds per 40 minutes—but his 6'11", 255-pound frame is ideal for banging in the pant and the guy can finish at the rim.
Hey, if a guy with as little talent as Joel Anthony can be successful in Miami, I'm sure Ezeli will be a more than sufficient late-round pickup for Miami.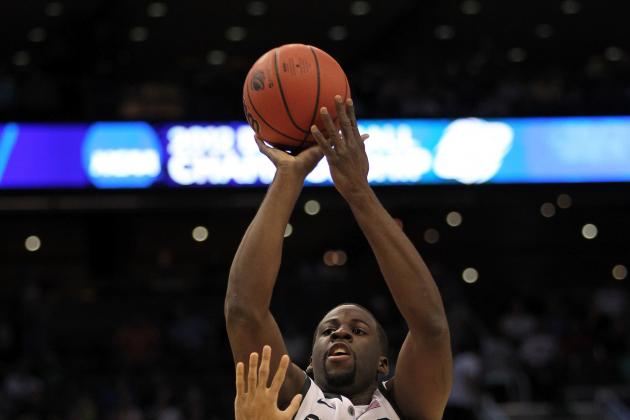 Jamie Squire/Getty Images

The Bulls are reportedly in the process of shopping small forward Luol Deng around the league. The draft, even a late round pick, could give them talent that could learn to mesh in an offense centered around superstar Derrick Rose.
If the Bulls do in fact shop Deng, Michigan's Draymond Green could still be around at pick 29 and the Bulls should pull the trigger on him if he is available because of his ability to contribute across the board as a glue player.
The problem with Green is that he doesn't really excel in any single aspect of his game; however, he is a workhorse who has perfected nearly every part of his game to make himself ready to compete at the NBA level.
He has an excellent basketball I.Q. and many qualities, including a solid mid and long range jumper, that would make him a steal should he fall to the Bulls at the end of the first round.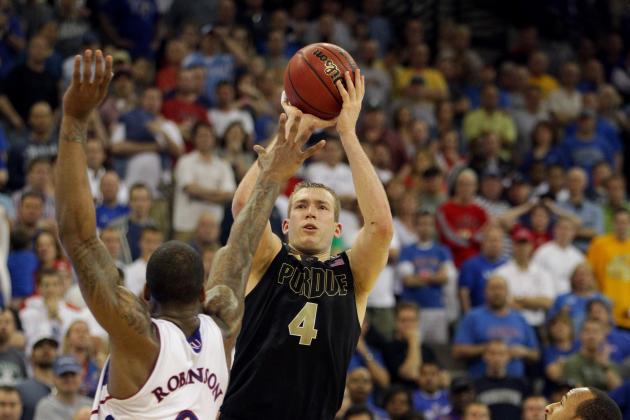 Doug Pensinger/Getty Images

The Jazz currently fall into the same predicament that the Knicks have themselves in.
With just one pick right before the Knicks, ironically at the 47 spot, the Jazz clearly aren't anticipating drafting their next Karl Malone. They will need to look for someone who can come off the bench and provide energy and some scoring relief.
Barring an unforeseen trade that would shake up the roster, the Jazz will look to grab a guy that can come in off the bench and make his shots while filing a role.
Robbie Hummel, a forward out of Purdue, in could potentially be the guy that earns a roster spot by filling a much-needed bench scoring role by just going out there and flat out hitting shots.
The Jazz, at times last season, lacked any real scoring options and when they went cold, there really wasn't any one player that could ballast the sinking ship.
Hummel really could fit into the Jazz system with his high basketball I.Q. and the ability to consistently stroke the three, and could turn into a nice pickup as Utah's only pick in the draft.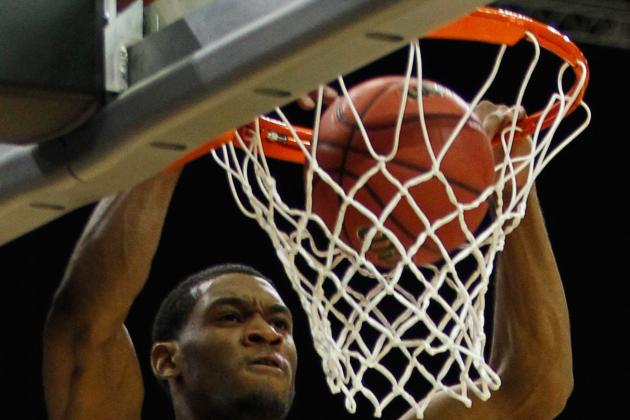 Streeter Lecka/Getty Images

Perry Jones III is one of the most perplexing prospects because nobody really knows exactly how his game is going to translate to the NBA.
Jones is heading into tomorrow night's draft with some of the same question marks that surround Ohio State's Jared Sullinger.
Returning to school for his sophomore campaign certainly didn't help his chances – and it may cost him millions as he continues to fall further and further from the lottery pick he was once sure to be.
There is no doubt in my mind that PJ3 has the skill set to be a force for years to come in the NBA.
At 6'11" he has the height and lankiness of a big man combined with guard-like skills, with ball handling and an outside shot that could allow him to develop into a future star.
If he is taken by the Mavericks, he will have the ability to be tutored by one of the best (and most unusual) power forwards—the big German Dirk Nowitzki—while not really have to step into any clearly-defined role.
Getting to learn from Dirk while not having to assume a role could work out to be the perfect scenario for Jones to develop NBA-level maturity and consistency.
Jamie Squire/Getty Images

Denver is in desperate need of a stretch big man, and they can have their cake and eat it too should they choose to take St. Bonaventure's Andrew Nicholson with the 20th selection.
At 6'9" he is undersized at his position, but he is extremely lanky and his length makes up for his lack of height, allowing him to play bigger than he really is.
His shooting stroke has a nice touch for a big man, and he has the coveted ability of stepping out and consistently knocking down shots from the behind the arc.
Does that sound familiar, Al Harrington?
Landing with the Nuggets would be a blessing for Nicholson because he would get a chance to learn how to refine his game by training with Harrington, a guy that has been successful for many years in the NBA using a similar skill set.
Sounds to me like it would be a win-win situation for Denver to draft Nicholson.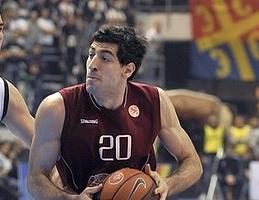 The only pick for the Clippers will come late in the second round at selection 53, and thus I could see them taking a risk on some international talent picking this late in the draft.
The Republic of Georgia's Tornike Shengelia is a natural small forward who may have been overlooked and passed over in the European circuit as of the past few seasons, but he has recently come into his own, playing in Belgium.
He is extremely raw and young, but the Clippers wouldn't be taking too much of a risk selecting him because it's so late in the draft anyways.
Shengelia has the physical strength necessary to be competitive in the NBA, and hopefully he won't be afraid to use it as he tries to make the transition from European to American basketball.
Should he succeed and stay on the Clipper's radar long enough, who knows—he may even eventually get a shot as international scouting finally has the right guys making their way to the NBA.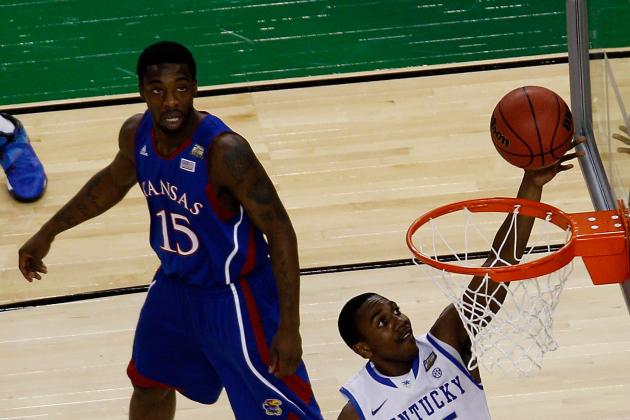 Chris Graythen/Getty Images

The Grizzles main offseason need is depth at the point guard position.
Mike Conley was drafted by the team several years ago and he has worked out quite well for the franchise.
Look for Memphis to attempt to repeat their success in drafting point guards when they take yet another guy from Kentucky's national championship roster, Marquis Teague—the younger brother of Atlanta Hawks point guard Jeff Teague.
He is coming off an outstanding NCAA Tournament run that has surely bolstered his draft stock, and may have him scooped off the board before Memphis even has a shot at him with the 25th pick.
However, if he is indeed still available by the time the Grizzles are up to bat, I believe that they will have no hesitation in making Marquis the second Teague to make it into the NBA, while solidifying their backcourt for many years to come.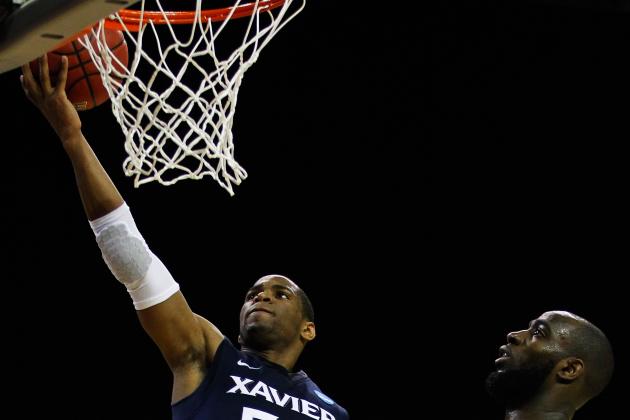 Streeter Lecka/Getty Images

With Commissioner Stern's decision to veto the offseason blockbuster deal that would have given the Lakers the superstar point guard Chris Paul, the team still is pursuing different options for acquiring a floor general to run with Kobe in his final few seasons.
With just one pick in the 2012 draft (No. 60) one might be under the impression that there isn't any quality talent out there at the point guard position that the Lakers could pounce on.
You might be surprised by what talent is still on the board when the last pick in the draft rolls around.
Xavier's Tu Holloway will probably be one of those guys that sticks around to the very end, and for the Lakers this could be a good thing as I think he should be the Lakers' guy, if available.
He has excellent point guard skills, a blistering jump shot, the ability to attack in transition and he plays shutdown man-to-man defense.
How he will translate all of this as he looks to fill a role as a pass-first rather than score-first will determine whether or not he remains successful in the NBA for years to come.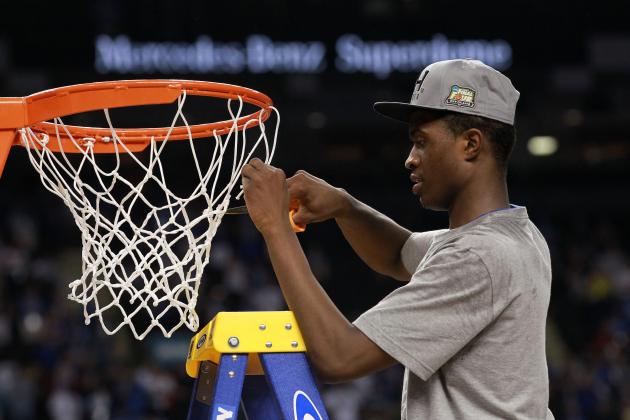 Ronald Martinez/Getty Images

The buzz around the Thunder at this moment has them possibly trading up in the draft so that they are able to select Florida shooting guard Bradley Beal—a guy that is sure to go Top-5.
To accomplish this, the Thunder would surely have to move swing man—and this past season's Sixth Man of the Year—James Harden to a team like Charlotte.
This in itself would be an inherent risk for the Bobcats as the uncertainty surrounding whether or not Harden would sign a long term deal after the season reflects a similar situation currently underway with the Deron Williams-New Jersey Nets contract saga.
Should OKC end up keeping their pick with the 28th selection, I could still see them targeting a guard, such as Doron Lamb, who could still be available late in the first round.
Doron is a crafty player who was able to put up highly efficient numbers, surrounded by his All-American teammates on the Wildcat super-squad.
Will he be able to adjust his game when he isn't fronted by a bunch of guys that are equally, if not more talented than himself?
If he goes to the Thunder, he won't even have to make that type of adjustment.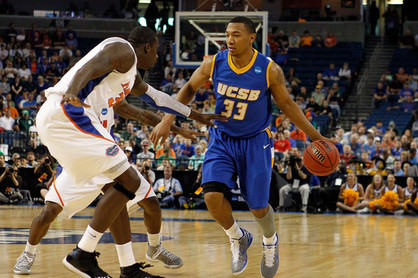 The Spurs are a team in the exact same position as the Knicks, Jazz and Lakers with no first round draft pick.
Their only selection will come with the second-to-last pick, and with it they should look for a guy that has a fighting chance at making the roster.
UC Santa Barbara's Orlando Johnson could become the first Gaucho to be drafted in twenty-four years, as he has quickly rocketed from a player that wasn't even on the draft radar several months ago, to a guy that is actively being recruited to go as high as the late first round.
This year's draft is so stacked, however, that I believe Johnson will fall, and since most teams don't actually know his name, he could end up falling all the way to bottom of the draft where the Spurs might take a chance on him.
He has an NBA shot and body that teams are looking for, and while he has spent his college years playing against mostly inferior talent—Johnson has the physical attributes, the basketball I.Q. and the work ethic to warrant being a late draft pick that a veteran team like the Spurs takes a risk on.