Tottenham Need to Lay the Hammer Down on Ajax Regarding Jan Vertonghen
June 27, 2012

Tom Dulat/Getty Images
It's high-time for Tottenham to lay down the gauntlet for Ajax.
With the transfer of Ajax defender Jan Vertonghen all but signed, sealed and delivered, a minor complication and a tight-wad approach are keeping Spurs from introducing a new player to the squad.
Given the incredible length of time this negotiation has taken, anyone who had decided to stay awake while the negotiations were ongoing would be doing things like this right about now (especially the last bit).
And as has been reported in several locations, the hang up that is causing the deal for the Belgian defender to stall has to do with the contract between Ajax and Vertonghen, not Tottenham.
Vertonghen has a 15% sell-on fee in his contract, one that was negotiated with Ajax when he signed it.
Ajax have summarily decided that they don't want to pay Vertonghen and are not willing to finalize the deal until the player relents.
Seeing as neither side looks likely to budge, Tottenham are the losers—naturally.
Chairman Daniel Levy has so far yet to wade into the battle publicly.
Known for being a hard negotiator, Levy has either ignored the stipulation in the contract or figured that Ajax and Vertonghen would hash things out when they got to the negotiating table.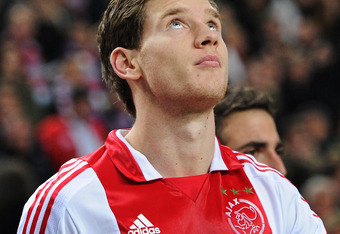 Jasper Juinen/Getty Images
However, unless Levy purposefully ignored this tidbit in negotiating a fee (Around €12 million), it's time to stop being silent.
Daniel Levy needs to publicly call out Ajax on this situation and force them to make a decision.
Vertonghen is dedicated to the move, knowing full well that Champions League football, which is guaranteed at Ajax, is not forthcoming at White Hart Lane this season.
Yet, the player still wants to make the move. It's a sign of dedication after the offseason turmoil that has embraced the white half of North London in its icy grip.
Tottenham need to replicate this commitment and force Ajax into a corner.
If the Dutch club wants more money, Levy needs to point out that everything but the dotted i's and crossed t's are on the paperwork.
Levy could point out that the chances of Vertonghen re-signing with Ajax this year after this debacle are next to nothing, and if they want any money for the player, they better deal him now.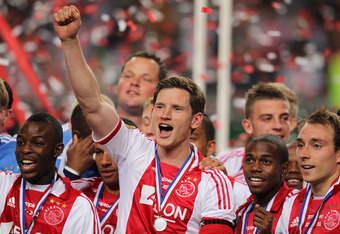 Dean Mouhtaropoulos/Getty Images
Ajax is not exactly known for being the holiest of shrines when it comes to treating people with respect (and not stabbing each other in the back), and Tottenham need to bust their chops on the matter.
The longer the situation lingers on, the more likely that Tottenham are going to miss out on a player that certainly could assist them in challenging for the Champions League in England again.
Given what is at stake, Levy and Spurs need to make a strong show of support for their potential new man.
And Levy and Spurs need to do it by letting Ajax know that they're full of it.