Is It Time for the NHL to Consider Banning Hitting Altogether?
June 27, 2012

Bruce Bennett/Getty Images
With all the talk of banning head shots, concussions and the long-term effects they have on players, there have been some critics calling for the elimination of hitting in hockey altogether. So when I was asked to write an article about the possibility of banning hitting in hockey, my response was quick and immediate and took only two words: no way.
That is not to say the NHL shouldn't do all it can to minimize concussions and other injuries—all it can within reason, that is. Get better and safer equipment, limit head shots and hitting from behind and anything else that makes sense. But eliminate hitting? If you do that, it isn't hockey anymore.
Leafs GM Brian Burke agrees. He told the New York Times that part of hockey is that you can get knocked down hard "any time you have the puck. That's what's distinctive and interesting—and what our fans like in our game. We're going to have concussions. What we have to do is make the game as safe as we can make it within that context."
If you want to know what hockey is like without hitting, try imagining the All-Star game being the norm for the sport instead of a once-a-year exhibition game. In the five All-Star games since the lockout, teams have combined to score an average of 20 goals per game (not including a shootout goal in 2009). The average NHL regular-season game has a bit more than five goals scored per game.
The All-Star game is just not all that entertaining. It is closer to a game of pond hockey than it is to pro hockey. The players skate effortlessly up and down the ice and there is almost no checking, no resistance and no difficulty.
Part of the reason hockey is so entertaining is that skill players have to overcome defenders trying to fight them for position, take the puck away and, yes, hit them against the boards. Without the hitting, you are left with something closer to the Ice Capades than hockey. Taking hitting out of hockey would be the equivalent of the NFL announcing that from now on, it will be playing two-hand touch.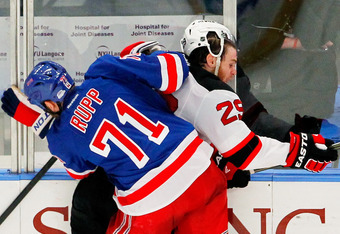 Paul Bereswill/Getty Images
It's not a coincidence that players that throw the body and hit consistently are among the most popular on their respective teams. Players like Cal Clutterbuck, Chris Neil, Ryan Callahan and Dustin Brown became fan favorites because they hustle and deliver hard checks that demoralize an opponent and change the momentum of a hockey game.
Look at some of the best players in NHL history. Gordie Howe was a fierce hitter, as were "Rocket" Richard, Bobby Orr and Ted Lindsay. These players made the Hall of Fame because of their scoring prowess, but also because they both hit opponents and overcame attempts by opposing players to hit and stop them.
The NHL does have to do everything it can to limit blows to the head, concussions and other facets of the game that lead to preventable injuries. But that doesn't include changing the very essence of the game. Hitting has always been a part of hockey and there is no reason it should be eliminated from the game now.