Lionel Messi Is So Cute When He's Lashing Out Against Losing
June 28, 2012
Jasper Juinen/Getty Images
Barcelona's Lionel Messi is so cute when he's being unintentionally naïve.
Messi is one of the most gifted footballers to ever grace the Earth. His skill and passion is on display every week for fans across the globe to enjoy.
He is, without a doubt, one of the two best players on the planet. He is also the one who apparently is having the most fun.
In fact, he's having so much fun that if football stops being about fun, Messi will retire:
"Football is a game. I'm trying to have fun on the pitch, always, just to play. That's why I do it. The day I stop having fun is the day I retire...I never want to lose that spark, that passion."
This, along with other comments made to The Times and republished in other sources, laid out what Messi thought of the current state of world football.
However, Messi knows full well that the game of football is not the football of childhood and yesteryear, when players played for the honor and fun of playing.
These comments are not really about whether or not there is enough fun in the game.
Rather, as the Daily Mail hints at, these words are meant to be a swipe at the Chelsea's of the world, which don't allow Barcelona to win.
Certainly, you can't take these comments at face value. The man has obviously never been in a management position.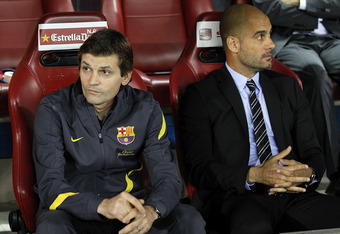 Angel Martinez/Getty Images
Messi needs to look at the stress and strain on Barcelona's former manager, Pep Guardiola.
Guardiola was a fresh-faced, stubble-bearded retired player who was in charge of the Barcelona B squad when called upon to take over for Frank Rijkaard.
Upon leaving the squad this summer, it looked as though Guardiola had aged 10 years in the last two seasons at the helm of the squad.
The pressure in Spain to win is enormous by any standards, but, of late, the scrutiny has magnified tenfold.
It's little wonder that Guardiola has gotten out of the crucible of the manager's seat and left Tito Vilanova to lead the squad.
If anything, this seems to be Messi's release valve for the pressure of having not only lost in the semifinal of the Champions League but also having been unable to catch Real Madrid in La Liga.
To say that teams are playing to win and need to play more for enjoyment is all well and good, but for many teams, winning is the only way to placate the masses.
You think Sir Alex Ferguson could skate on by if Manchester United played fantastic football and finished sixth every year?
What if Bayern Munich kept the "FC Hollywood" tagline for their picture perfect play and placed eighth?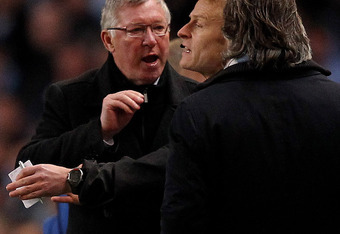 Alex Livesey/Getty Images
Do you think A.C. Milan fans would accept brilliant attacking football if they finished seventh?
There'd be hell to pay in any of those scenarios.
It is a universal part of the footballing landscape that winning is essential. Ask Harry Redknapp about what not finishing third meant as he sits at home this season. Or ask Bert van Marwijk about Euro 2012.
Or ask Pep what he thinks.
Ask any manager or player who has ever borne the weight of expectations on their shoulders what they feel about the "fun" of the game.
Sure, some will say that there has to be an element of excitement in the game. So long as they win, of course.
Messi might be jaded with winning, having won so many titles in such a short span. That doesn't mean that when they don't win that everyone else is simply "playing to win."
Spain didn't exactly light the world on fire against Portugal, but they looked pleased as punch when the penalty shoot-out went their way.
For Barcelona, winning with panache is part of the core of the squad. Not every other team has the ability to do that.
Most teams need professionals to win. They need skilled men to prove their worth and skill day-in and day-out.
Messi has a great deal. He gets to go out with those professionals, play the game he loves and do it while having fun. Not everyone has that luxury, but Barcelona does.
After all, that's what Barcelona has been doing successfully for some time now.