LeBron James and Kevin Durant's Rivalry Will Turn Them into NBA Royalty
June 27, 2012

Ronald Martinez/Getty Images
LeBron James and Kevin Durant are the NBA's version of the perfect "friends with benefits."
The two hoops heroes don't have the awkward, Sex and the City kind of FWB relationship we're most familiar with, but their bromance does come with plenty of extra perks.
In each other, these two have found that one other person who "gets it" when it comes to living the life of a top professional basketball player. But more importantly, they may have found that special tool for carving out a couple spots in NBA history on that elusive "all-time greatest" list.
This morning, I made the unfortunate decision to tune in for ESPN's blowhard circus more commonly known as First Take, and I witnessed Skip Bayless pull "analysis" out of his...thin air as he argued Shaquille O'Neal's credibility as a football analyst while citing one of Shaq's tweets as evidence that Tim Tebow will lead the Jets to the Super Bowl.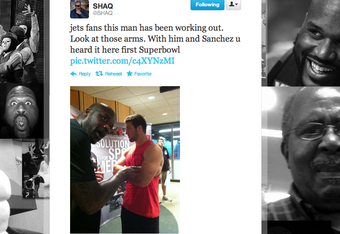 Typical "Skipisms." We're all numb to them, but then, he presented an outrageous theory regarding the Miami Heat's recent NBA title: Kevin Durant lost the title because he...wait for it...is too good of friends with LeBron James. 
As plenty of YouTube videos documented, the two spent some time together working out during the lockout, and their friendship made Durant soft. The Thunder lost because Durant didn't want to offend his new buddy.
You're killing me, Skip—anything to avoid giving LeBron an ounce of credit.
Tell me that the Thunder lost because their bench didn't show up like it did against San Antonio. Tell me that Mike Miller looked more like James Harden in Game 5 than James Harden did the entire series. Tell me that the Kendrick Perkins' dark cloud engulfed the entire OKC roster.
Any other argument would have been more convincing than telling me that Durant, who shot around 55 percent and averaged over 28 points per game during the series, didn't play hard enough. 
If anything, this relationship with LeBron gave Durant an advantage in this series. Compared to the 2010-2011 playoffs, Durant was much more efficient this year, and the Thunder had a very realistic shot at winning the title.
But the Heat had been there before. They were the better team, and nearly every player on that roster showed NBA fans what "clutch" really meant.
Durant is, by nature and profession, a competitor. A true competitor challenges himself to constantly improve his game. I can't think of a better way for two of the league's most dominant players to push themselves to the next level than by giving each other a little off-court face time.  
Competitive friendships like this one between James and Durant are nothing new. They fuel the passionate basketball we've come to expect out of the NBA's elite, and they create deeper storylines that keep us mere mortals engaged. But they have never, and will never, cost a team a title.
Just ask Larry Bird or Magic Johnson if either of them ever held back when a championship was on the line.