2012 NBA Draft: Why the Bulls Should Consider Dealing Noah And/or Deng
June 27, 2012

Jonathan Daniel/Getty Images
The Chicago Bulls are in a precarious situation right now. With Derrick Rose out for the majority of next season and likely needing to change the way he currently plays, Chicago might find themselves out of the top four seeds in the East.
Chicago, when healthy, can definitely challenge Miami for Eastern Conference supremacy, but need to make the requisite moves to eclipse the Heat, who looked sharp against a young and developing Oklahoma City Thunder squad in the Finals.
While this might be drastic, the Bulls should consider trading Noah and/or Deng for two top-ten lottery picks and begin a "shorter than you think rebuild."
Deng has been rumored to be part of trade talks with the Warriors, where Golden State sends their No. 7 pick and other parts to make the salaries match up to the Bulls.
At 7, Chicago will likely be able to finally draft a young, scoring wing player in Dion Waiters, who has a Dwyane Wade-like game.
Waiters can come off the bench as a sixth man right away and might even be able to take the starting spot away from Richard Hamilton if he plays well enough.
Noah has greater trade value than Deng, due in part to the fact that he has consistently averaged a double-double, while also being one of the more underrated defensive centers in the league.
Sacramento or Portland could use a defensive-minded center, and would at least consider dealing their first round picks (No. 5 and No. 6) for Noah.
The Kings could deal their first-round pick straight-up for Noah, which would also give the Bulls salary cap relief for the future.
Here are two proposed trades for Noah and Deng:
Joakim Noah for No. 5 Pick
Luol Deng for No. 7 Pick, Dorell Wright and Andris Biedrins
In Chad Ford's most recent Mock Draft, Michael Kidd-Gilchrist is available at No.5, a selection which would be perfect for the Bulls.
MKG is a tough player, who certainly has the tenacity and work ethic to improve his jumper, one of his glaring weaknesses. At this point in the draft, Kidd-Gilchrist is a steal.
Even if MKG is off the board, the chances are that Harrison Barnes would still be available. While I am not as high on Barnes as I am on MKG, the UNC product definitely can shoot the basketball and is more polished than Kidd-Gilchrist right now.
Just for the sake of argument, let's say that the Bulls get Kidd-Gilchrist and Waiters. Chicago would have a starting five of Rose-Hamilton-Kidd-Gilchrist-Boozer-Asik, with Gibson, Waiters and Wright as the first three off the bench.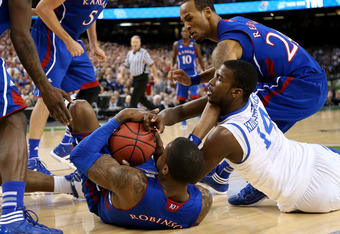 Ronald Martinez/Getty Images
While this core will not win a championship for the next two to three years, Chicago is better positioned for the future, while also maintaining salary cap flexibility.
If Dwight Howard changes his mind about playing in Chicago, the Bulls will likely have the opportunity to sign him if they use the "Amnesty Clause" on Boozer in a year.
In this way, the Bulls are not really rebuilding, but rather reloading. Both Waiters and Kidd-Gilchrist are not only younger and cheaper, but they also have high upside.
While it is difficult to justify trading two All-Stars from a top-seeded team, the 2012 NBA Draft is loaded. In addition, it seems like the Bulls might be a step away from winning a championship and quite frankly, do not have the assets to improve the team exponentially.
If I am Chicago, I make both trades and ready myself for a bright future.