Notre Dame and the Championship Tournament: When Will It Matter for the Irish?
June 27, 2012

Ezra Shaw/Getty Images
On Tuesday, the committee of university presidents approved the BCS smashing plan to culminate the college football campaign in a four-team playoff beginning after the 2014 season, according to Heather Dinich of ESPN.com.
The plan adopted will seed teams selected by a committee, similar to the NCAA tournament selection process on a much smaller scale that will favor conference champions but not require their inclusion.
Notre Dame still has a seat at the table.
In addition to being in the discussion, Notre Dame will be undoubtedly included whenever in the top six for the money that the Irish faithful would bring.
The recent fears that a potential "conference champion only" format could force Notre Dame's hand into a conference have now totally faded, and once again the Irish are in control of their own fate.
The resounding questioning flowing through ESPN talking heads is "why?"
Many are questioning why Notre Dame has such a strong bargaining chip, and why Notre Dame athletic director Jack Swarbrick represented the Irish with an equal voice to every other BCS-level conference?
Answers other than "history" are hard to come by.
Over the last decade, it's hard to make an argument that the Irish have been a top-flight program.
In that span, Notre Dame has posted an 82-52 mark, a .611 winning mark. Squads missed postseason bowl games in 2004, 2007 and 2009 while posting a 2-5 record in the seven games that they did attend.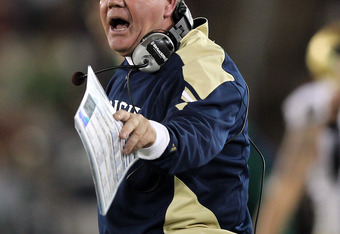 Ezra Shaw/Getty Images
The Irish were routinely blown out, losing eight straight to archnemesis USC by an average of more than 24 points.
Also, in that span Notre Dame is 4-6 against Michigan, with a pair of 38-point losses and a 26-point loss at home.
Notre Dame lost to Navy three times over the decade.
Every Golden Domer alive is desperately trying to forget 2007.
Three coaches in 10 years and back-to-back 8-5 seasons haven't helped frame the argument that Notre Dame belongs alongside college football's elite.
As a lifelong Notre Dame fan, it's a hard pill to swallow. To admit that Notre Dame is not what I want them to be. To realize that the program has wandered into the desert and seems to have gotten lost.
Does Notre Dame belong?
That's really not the question. Of course Notre Dame belongs.
The sheer amount of money that any Notre Dame game brings is reason enough to ensure the Irish belong.
The real question is when will Notre Dame matter on the field as much as they matter off?
Odds are it won't be this year.
Notre Dame has an absolute gauntlet of a schedule, playing very-talented Michigan, tough Michigan State in East Lansing, a good BYU team, solid Stanford and a pair of national title contenders in Oklahoma (in Norman) and USC (in Los Angeles).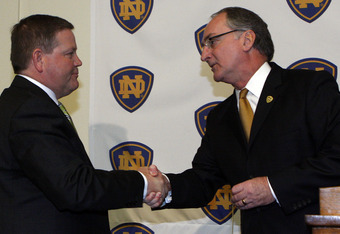 Frank Polich/Getty Images
All with a completely new defensive backfield, minus the best pass-rusher since Lou Holtz, and more than likely with a first-year starting quarterback.
Any improvement on the eight wins of the last two years would be a success.
What this year must do is lay the building blocks to return to relevance.
The implementation of the championship tournament will not happen until the 2014 season, leaving two more years of the BCS. 
By the time the first field is selected in December of 2014, Notre Dame could very well be in a position for inclusion.
The foundation for the climb back toward the top of college football's hierarchy has been laid. Head coach Brian Kelly has elevated the level of recruiting over the last two classes and has a solid start on his next group.
Speed has increased, most notably on a defense that is now beginning to look like top-level talent.
Most importantly, by the 2014 campaign the team will be led by an experienced quarterback with all the tools to succeed.
Whether it be Gunner Kiel entering his junior season or Everett Golson entering his senior campaign, the Irish will be led by a legitimate signal-caller who looks the part, can make the throws and can extend a play.
Kelly has achieved success at every stop on the coaching ladder on his way to Notre Dame.
In year two he showed that he could adapt to his players, setting out game plans that should have resulted in more wins than the final tally will show. (Quarterback decisions not withstanding.)
2012 may not be the year, but it is coming.
Many may now be asking if Notre Dame belongs. Soon their questions will be answered.