2012 NBA Draft Order: Teams That Should Trade Back on Draft Day
June 27, 2012

Jonathan Daniel/Getty Images
The NBA draft is a great time to acquire top talent, but a few teams would be better served trading their pick for other players or more selections.
This draft is filled with uncertainty. After Anthony Davis, teams have to rely on their scouting and instincts to predict which players will explode and which will be busts.
Instead of wasting a high draft pick and tons of guaranteed money, some organizations will trade back in the draft to take a player with less risk of making a mistake while getting additional value.
For these teams, that will be the smartest move on draft night.
Charlotte Bobcats
There are a few options the Bobcats can go with the No. 2 pick, but none of the players available are likely to live up to their potential. Bradley Beal, Thomas Robinson, Michael Kidd-Gilchrist and Harrison Barnes each have their flaws, and none are likely to be able to turn around the struggling organization.
The Bobcats finished the year with the worst winning percentage in NBA history. They need to acquire talent at multiple positions, and one draft pick is not going to get it done. If a team offers a quality veteran along with a high pick, Charlotte should make that move.
Detroit Pistons
Kevin C. Cox/Getty Images
There is no denying the Pistons need frontcourt players to pair with Greg Monroe. Fortunately, there are a few players who will be available around the No. 9 pick that Detroit currently has.
Between Tyler Zeller, Myers Leonard, John Henson, Arnett Moultrie and Terrence Jones, Detroit is certain to get a player that can help them in the future. Each player brings something different to the table, but there is not a big gap in production.
Instead of wasting money on a lottery pick, the Pistons should move down and possibly get more value.
Dallas Mavericks
The Mavericks are only a year removed from an NBA championship, but they need to make some moves in order to win another one. They would like to acquire point guard Deron Williams, but there is no guarantee they can make that happen.
Instead, Dallas should start acquiring younger players who can help produce in the future. Players selected in the late first and early second round usually have talent but need time to develop.
Dallas can give them that time. It will be like rebuilding while still contending for a title.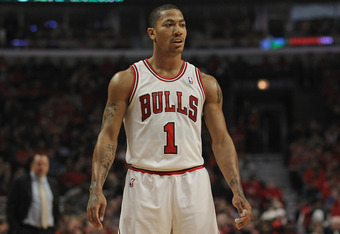 Jonathan Daniel/Getty Images
Chicago Bulls
Although the Bulls do not make a pick until No. 29, they still are in need of a point guard to handle the responsibilities while Derrick Rose recovers from a torn ACL.
At that point in the draft, the upper tier of point guards will already be off the board. It does not make sense to select a player that will not help the team, while they could otherwise improve by trading the pick for a veteran.
If no players are available, taking a prospect in the second round would be a safer move instead of reaching in the first.