WWE Summerslam 2012: Why Brock Lesnar and HHH Deserve to Be the Main Event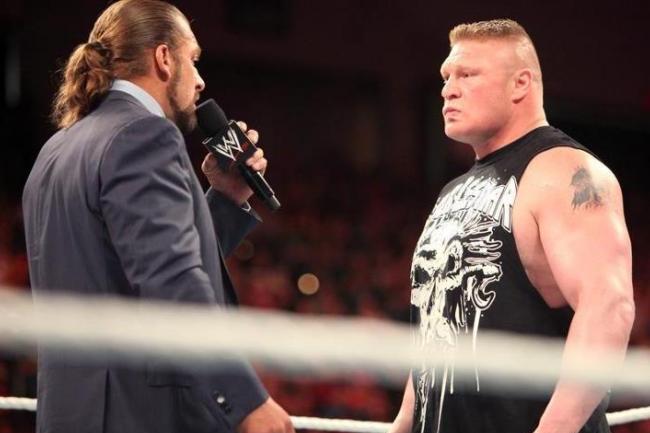 I'm just going to go ahead and start this article off by saying that I really want to see this happen, and unless Brock is physically unable to perform, as he has had serious health issues in the past, then I believe it is going to happen.
The WWE has really become fond of highlighting already established wrestlers instead of trying to brand the newer talent in the locker room. I say this based on the huge Rock/Cena feud that ensued all the way until Wrestlemania this year, and the recent announcement that at Money in the Bank there will be one match that is only former WWE Champions.
This feud honestly has been going on since early May when Lesnar "broke" the arm of HHH, so we have seen this coming for a long time. However, just because it has been going on for a long time doesn't mean that it has dulled out.
HHH and Lesnar have had some great matches in the ring in the past, and Summerslam would set the perfect stage for the last hurrah between these two beasts. Let HHH be a face of the WWE again, and let Lesnar come back and be the heel that he plays so damn well.
The match will not only be great, but it will easily trump the Lesnar vs. Cena match at Extreme Rules. One of my favorite matches of all time was in 2002 when there was a triple threat match between Lesnar, HHH, and the Rock. Sure, it will lose some fire power without the Rock in there, but Lesnar and HHH have similar styles in the ring and really do well together.
Lets add a little spin to this though shall we? And not some dumb gimmick match, but something to spice it up a little bit. Bring back hardcore matches, or at the least give us a TLC match or something. This is going to more than likely be the last hurrah for these two as far as in ring performance goes. I want to watch them go out with a bang; one that we will never forget.
These two have had great careers, and deserve to be the main event for this year's Summerslam on August 19th.
This article is
What is the duplicate article?
Why is this article offensive?
Where is this article plagiarized from?
Why is this article poorly edited?