9 College Football Coaches Who Give the Best Locker Room Speeches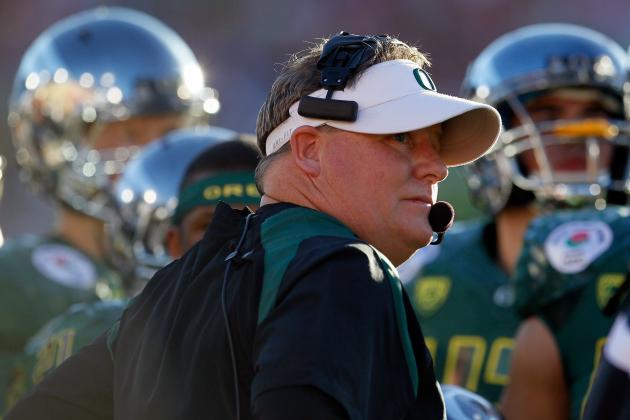 Jeff Gross/Getty Images

The modern world of statistic driven sports causes the more subtle coaching arts, such as locker room speeches, to be a bit underplayed.
But other than recruiting, intense game planning and on-field decision making, what's more crucial than utilizing a very brief window of pregame, halftime and postgame time to fire up the troops?
Though there is no numerical value or spreadsheet to track the fruits of motivational speaking, the nine coaches highlighted in the slideshow that follows this provocative introduction take the cake in locker room inspiration.
Indeed friend, while a wide swath of gridiron czars can claim superior skills at the X's and O's, only a select few can be considered a motivational muse clad in attractive double snap shorts.
Begin Slideshow

»
Despite the fact that Mike Leach doesn't fit the regular mold for head college football coaches, he's a guy who has managed to get players to over perform and win a bunch of games.
If Leach's locker room speeches are anywhere near as interesting as his interviews and press conferences, you have to figure that they, as do his offensive schemes, defy conventional coaching logic and get things done in a big way.
If you talk to athletes who have played for Coach Leach, he definitely gives his squads the impression that they're never out of a game regardless of how high the deck is stacked against them.
Comebacks in the 2006 Insight Bowl (Minnesota vs. Texas Tech, the biggest comeback in college football bowl history) and the 2008 Gator Bowl (Texas Tech vs. Virginia) pay tribute to what Leach can do in the locker room.
How did Dabo Swinney take a team that was supposed to achieve no more than bowl eligibility in 2011 and transform them into the ACC Champions and the first Clemson squad to break through to the Orange Bowl since 1982?
Yes, this is the guy who had a list of replacements before he squashed Virginia Tech and Florida State on the way to leading the Tigers to their first conference title since 1991.
Swinney is a highly motivated, energetic coach who is absolutely fun to watch motivate his young players.
Though he's more famous for his "I'm a grown man" press conference rant, Mike Gundy made locker room history in 2011 by literally getting down after Oklahoma State's victory over Texas A&M.
Gundy is another motivated coach who manages to endow his team with his enthusiasm and "I believe" mentality.
If you doubt Gundy, don't forget that he's the guy who led the Cowboys to their first BCS appearance in history and their first conference championship since winning the Big Eight in 1976.
Though Chris Petersen may not come across as a fiery, emotional motivator he arguably gets more out of his talent pool than does any coach in college football.
Petersen doesn't recruit classes that rank even in the Top 50, ever, but still he's 73-6 as a head coach, 4-2 in bowl games and 2-0 in BCS play.
Whatever he's saying behind closed doors simply must be working.
If you want to get motivated to do whatever is on your plate to do today, watch this clip of LSU's Les Miles firing up the troops for battle.
Miles is entertaining off the field, but a 103-39 record on-field as a collegiate head coach are proof positive that he is a guy who can get players fired up coming out of the chutes.
There's just something pleasing about watching a full-bodied guy get all fired up.
And that's precisely one of the many reasons why Michigan's Brady Hoke is both easy on the eyes and highly effective in his role as a college football coach.
Of course it doesn't help that Hoke is 58-52 as a head man on the collegiate level and 11-2 in his first season in Ann Arbor.
Hoke might not always have the best words or delivery, but his enthusiasm and body language are priceless.
Perhaps it's Texas' superior athletes that always seem to keep the Longhorns in virtually each and every game they compete in, or then again, maybe it's Mack Brown's locker room antics.
Regardless, Brown's resume of comeback victories (remember the 2005 BCS title game) and titles put him in the hall of fame for both recruiting and motivational efforts.
When watching the video snippet, you really need to get about two minutes into the clip (past the twice singing of the fight song) to get a good sense of Brown's locker room stylings.
Chip Kelly has won a Pac-12 title in each of his first three seasons at Oregon, an accomplishment that means he must have been at least somewhat effective in locker room motivation.
If it's halftime speeches you like, don't forget Kelly's part in the Ducks comeback wins vs. Arizona and Stanford in 2010, and if that weren't enough Oregon was No. 4 in the nation in 2011 in second half points with 21.4.
Arguably the best active college football coach in the game, Alabama's Nick Saban can flat fire guys up.
If you have any lingering doubts about Saban's locker room abilities, check out this clip which uses a bunch of music, some cool clips and a few very powerful snippets of Saban at his best.
Nick Saban…146-54-1, three national titles, three SEC crowns, five SEC West championships, locker room whiz kid.