Michael Phelps: Ryan Lochte Rivalry Will Keep Star from Historic London Showing
June 27, 2012

Al Bello/Getty Images
Michael Phelps assures us that no results matter until the London Olympics next month. Of course, he's right. I have no idea how Phelps fared going into the Beijing Olympics four years ago.
But we all remember the record eight gold medals Phelps went on to win, especially his seventh, when he somehow outstretched Milorad Cavic by 0.01 seconds in the 100-meter butterfly (h/t ESPN.com).
Phelps will once again go for eight golds in London, but he's going to need a comeback as dramatic as the one he used to stun Cavic to double up on his historic feat. Maybe even three or four.
That's because fellow American Ryan Lochte appears to be every bit Phelps' equal. Lochte beat Phelps in the semifinals of the 200-meter freestyle by 0.02 seconds at the U.S. Olympic Trials on Tuesday night, setting up a dramatic and much-anticipated finale on Wednesday. According to USA Today's Erik Brady:
"It's about getting spots on the team," Phelps said. "That's the only thing." Besides, he said, "From here I have three to four weeks to prepare myself and get some extra training in there and it's going to be a lot better (in London) than it was here."
But this isn't just a one-time thing for Lochte, who also posted the best time in the 200-meter freestyle preliminaries and beat Phelps on Monday night in the 400-individual medley.
As Pat Forde of Yahoo! Sports notes, Lotchte could be favored over Phelps in as many as four events:
In Phelps' own words, though, Lochte "kind of destroyed" him several times in races since Beijing. And Lochte enters the U.S. Olympic Trials on Monday seeded ahead of Phelps in four potential showdown events: the 200 and 400 IMs, the 200 freestyle and the 200 backstroke.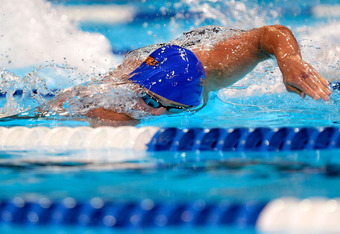 Jamie Squire/Getty Images
And Lochte is more than ready to play spoiler. He is fully embracing his budding rivalry with Phelps. Via Pat Forde of Yahoo! Sports:
"I honestly think we could change the sport," Lochte said. "There is no doubt in my mind, in the Olympics, it's going to be the biggest talk, me vs. Michael."

To which Phelps says, bring it on.

"I want to change the sport of swimming and take it to a new level," Phelps said. "It's the one thing I've wanted my entire career. Clearly the sport has changed tremendously. … This is something new, being able to have a rivalry of – I don't want to say 'Clash of the Titans,' – but two big athletes, and swimmers.

"It's more than just Ryan and I getting into the pool. We have the rest of the world and the rest of our country to battle as well. … [But] it's been cool just to be able to see how much people are excited for this week and hopefully London."
Phelps will surely break one Olympic record: He is three medals away from becoming the most decorated Olympic athlete ever (h/t inquisitr.com). But as for winning eight golds again? Not with Lochte in the way.