2012 NBA Mock Draft: Updated 1st-Round Projections with Trade Scenarios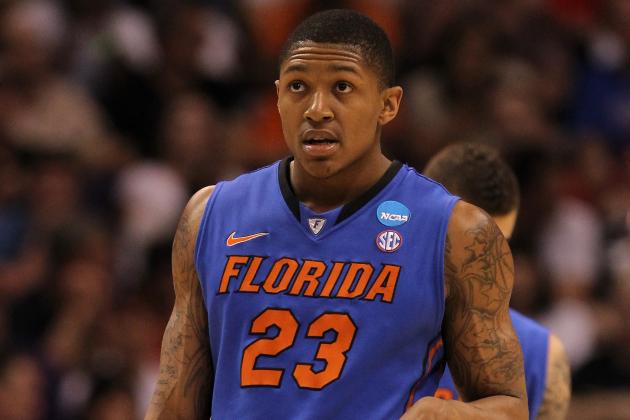 Jamie Squire/Getty Images

The 2012 NBA Draft is upon us, and teams are flurrying about trying to wheel and deal with trades to get in position to get the players they want. All these rumored deals are tough to follow, but we're here to help you keep it all straight.
Many times, we hear about all these big-time trades of draft picks and established NBA players, and then we never see any of them actually happen. Then, there are other years that are full of huge, blockbuster trades all down to the last minute.
You can never tell what is going to happen, so it's nice to know what is rumored.
Begin Slideshow

»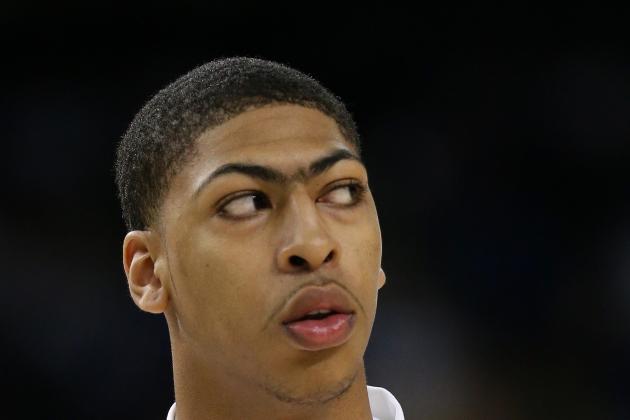 Ronald Martinez/Getty Images

No trade rumors here.
Anthony Davis going No. 1 overall to the New Orleans Hornets is an absolute certainty. The Hornets are going to take him, and they'd be crazy to do anything else with this pick.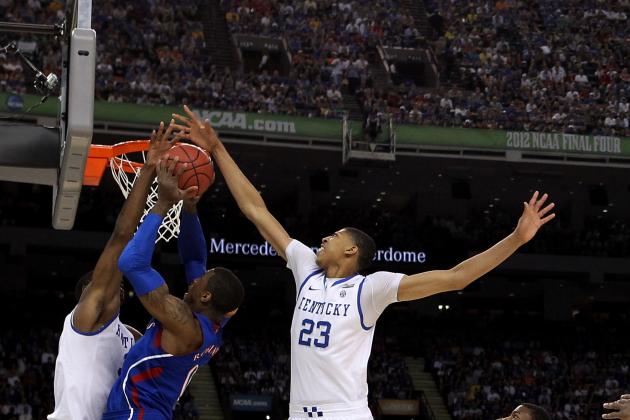 Ronald Martinez/Getty Images

Thomas Robinson might be the most NBA-ready prospect in the Top Six. He can immediately affect a team on both offense and defense, especially the Bobcats. He'd be a good pick here, but there are trade rumors out there for this pick.
According to ESPN, Charlotte is heavily considering trading this pick, and the seemingly best trade partner would be the Cleveland Cavaliers, who could offer up the No. 4 and No. 24 overall picks.
If Cleveland was to get this pick in such a trade, you can book it that it would be to get Florida's Bradley Beal.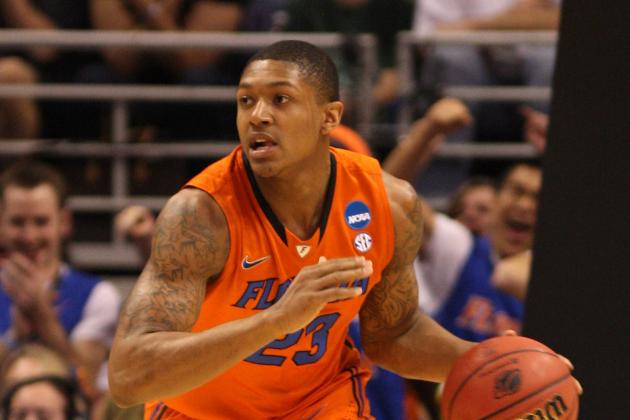 Christian Petersen/Getty Images

However, if Charlotte does not trade the No. 2 pick, Bradley Beal will go here to the Washington Wizards. Beal makes sense for them as a potentially great 2-guard to join John Wall in the backcourt.
Beal has great size, can shoot and is a good defender. For obvious reasons, there are no trade rumors surrounding this pick.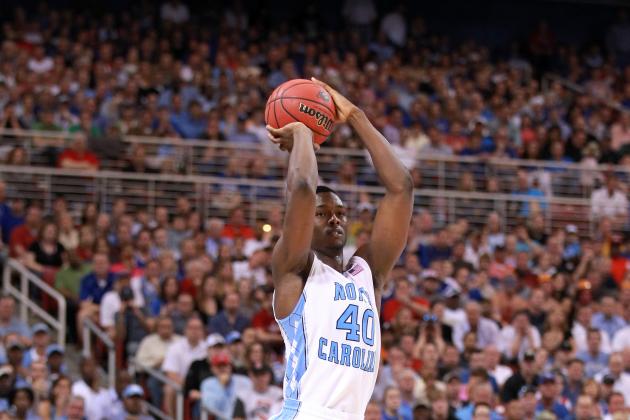 Andy Lyons/Getty Images

If Cleveland doesn't get the trade for the No. 2 pick, I believe it will still be looking to get a scorer for the wing.
The best player available for that job is Harrison Barnes. He raised questions this past season, but no one can dispute his skill as a wing scorer.
If they trade this pick to Charlotte for the No. 2 pick, the Bobcats would probably still take Thomas Robinson here, as he'd probably still be available.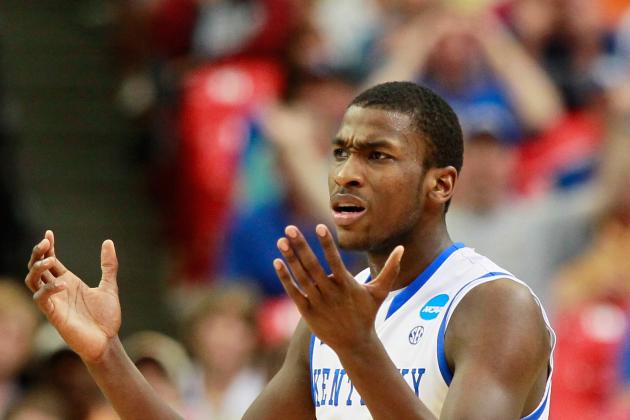 Kevin C. Cox/Getty Images

The value pick for the Kings at this spot is Michael Kidd-Gilchrist, and he'd be a good fit for them.
They could use some high-character athletes who play good defense and play hard, and that's exactly what MKG is. According to Jonathan Givony of Draft Express:
Sources say Houston has an offer of Lowry, the #14 and #16 picks for TyrekeEvans and the #5 pick on the table. Up to Sacramento to decide.

— Jonathan Givony (@DraftExpress) June 26, 2012
If Houston was to get this pick, it might be sent to Orlando in a package for Dwight Howard. However, I think the pick here is MKG, no matter who has it.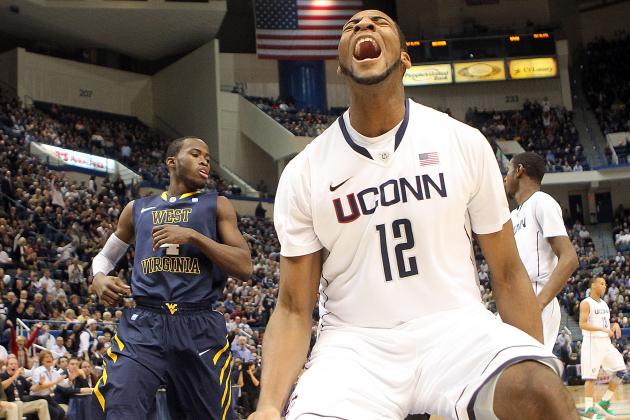 Jim Rogash/Getty Images

The Trail Blazers want a center to pair with LaMarcus Aldridge in their frontcourt.
Andre Drummond has tremendous upside as a big man, with his length and athleticism. He's a bit of a project, but he's still the best center in the draft.
No chance they trade this pick.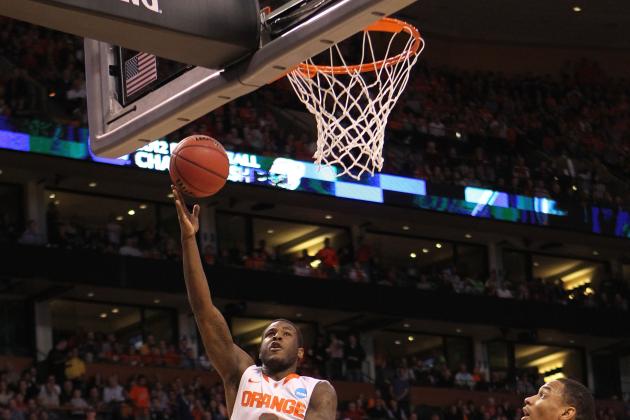 Jim Rogash/Getty Images

The Warriors have a tough decision with who to pick here. After the first six picks, there really isn't much difference talent-wise between the next 10 players taken.
I think Waiters will be the pick to replace Monta Ellis in the backcourt with Stephen Curry. There have been trade rumors about the Warriors wanting to trade up, but it appears that those attempts are going to fail.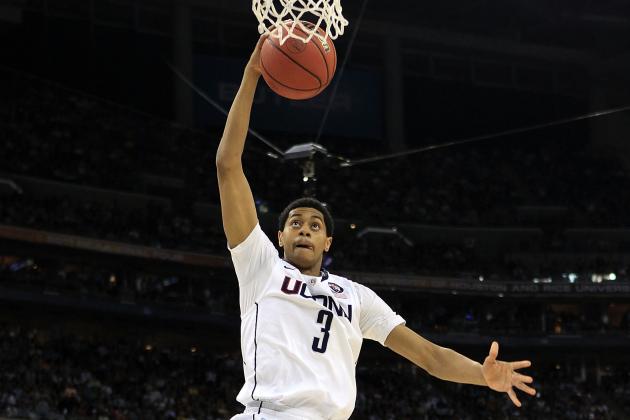 Streeter Lecka/Getty Images

The Raptors need a scoring guard to help their struggling offense.
Jeremy Lamb can do that, and he also can fit into the defense-first culture that the organization is trying to build.
The Raptors are building slowly and trying to do so the right way; they won't trade this pick.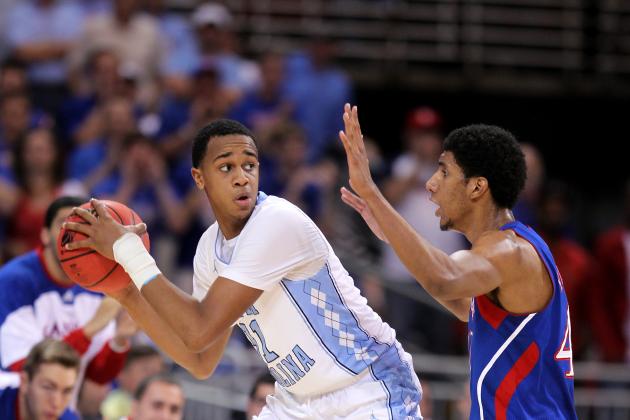 Andy Lyons/Getty Images

John Henson appears to be a lock for this pick, according to Vince Ellis of the Detroit Free Press:
#Pistons workout: Henson solid and Sullinger off board for ninth pick. Possible they could trade back into late first round for Sullinger.

— Freep Pistons (@freeppistons) June 26, 2012
As you can see, though, there is a chance that the Pistons could trade back for Jared Sullinger. I don't believe they will. His health concerns will be too much to take that kind of risk, especially with how impressive Henson has been.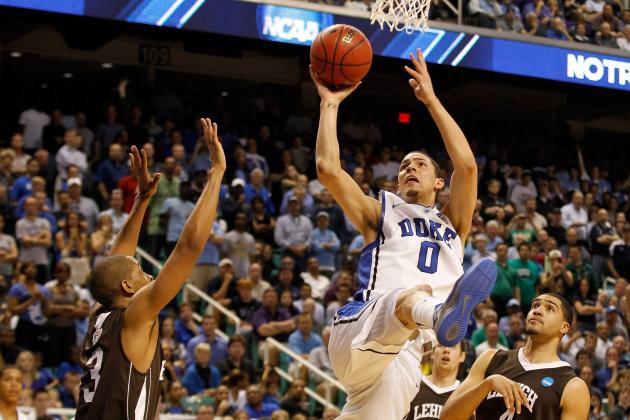 Streeter Lecka/Getty Images

Austin Rivers is a tough player to figure out. He has great upside as a scorer, but he also has a lot of things to work on.
Rivers is not a great athlete, he struggles with his left hand and he can be selfish.
However, he does have great potential.
According to Chad Ford of ESPN, the Hornets offered the pick to the Rockets for their No. 14 and 16 picks, but were turned down. It seems like that deal is dead, but if it weren't, the Rockets would probably select a Dion Waiters (if available) or a Damian Lillard.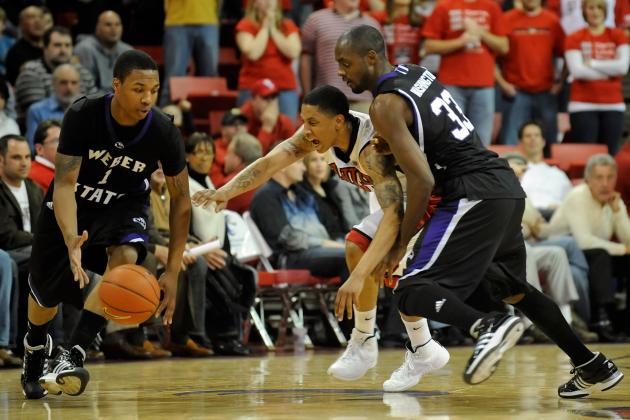 Ethan Miller/Getty Images

Damian Lillard is by far one of the best point guards in this draft. He's big, and he can score.
That is a great, great combination of skills.
Lillard can shoot from the outside, he can pass and he get score at the rim. He's the complete package, and the Blazers will draft him here.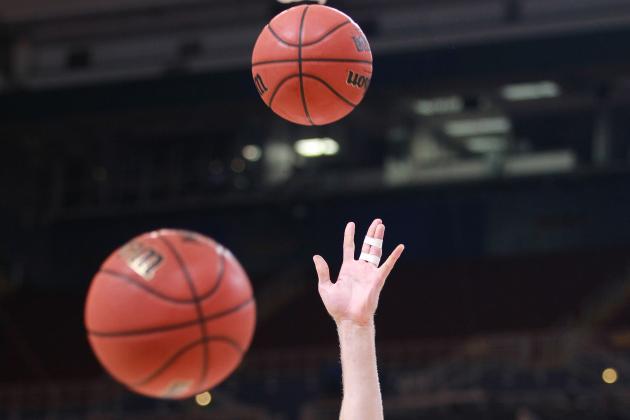 Andy Lyons/Getty Images

The Bucks need a center to replace the departed Andrew Bogut. Tyler Zeller is a talented player who can rebound, defend and score a little. He won't be a star, but he will be a very dependable player for many years.
According to the Milwaukee-Wisconsin Journal Sentinel, a draft trade is very unlikely for the Bucks.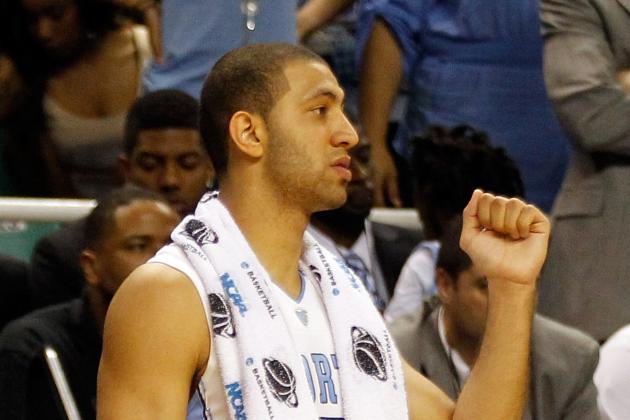 Streeter Lecka/Getty Images

Kendall Marshall will be a good fit for Phoenix if Steve Nash chooses to leave in free agency.
Even if he doesn't, Marshall could still be a good fit to learn for a year or two behind Nash.
Marshall is a pass-first point guard who will be a good game manager and leader. There are no rumors surrounding this particular pick.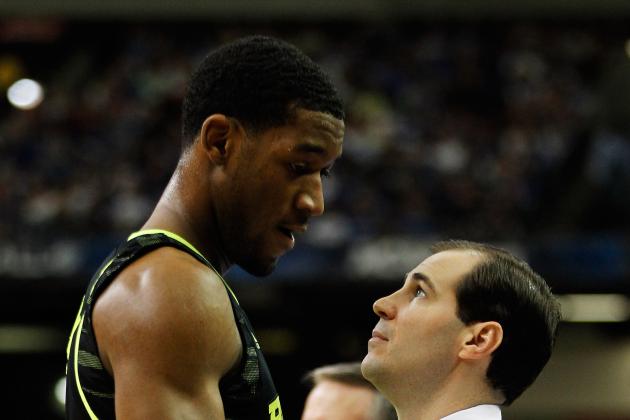 Streeter Lecka/Getty Images

Perry Jones III is a Top Five talent who will go about 10 spots lower in this draft than he should.
Questions about his consistency and passiveness at times may loom, but Jones' talent is just too much. He'll eventually be an All-Star in his career, and Houston would be lucky to get him this low.
The previously mentioned trade with New Orleans is a huge long-shot, and this pick could also go to Orlando in a package for Dwight Howard or even to the Kings. If it's New Orleans or Sacramento, I'd say Meyers Leonard would be the pick; if it is Orlando, I'd say it is just the most talented player, which is probably Jones.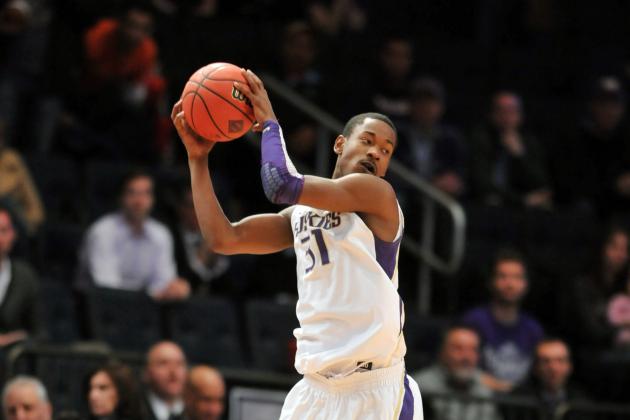 Jason Szenes/Getty Images

Terrence Ross is exactly what the Sixers need, as an explosive athlete who can shoot the three ball.
Philadelphia literally has no shooters, so if Ross proves himself, he could play very early. Considering their long playoff run this last season, a trade here is extremely unlikely.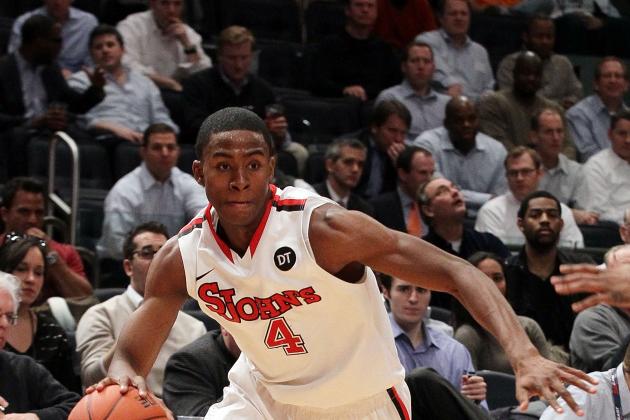 Jim McIsaac/Getty Images

Moe Harkless is a talented player, and he'll be a great addition to the bevy of young talent Houston has accumulated. Harkless' motor and strength are question marks, and if he can overcome them, he'll be very good.
If a trade to New Orleans, Sacramento or Orlando happens, I think you can still stick with Harkless here.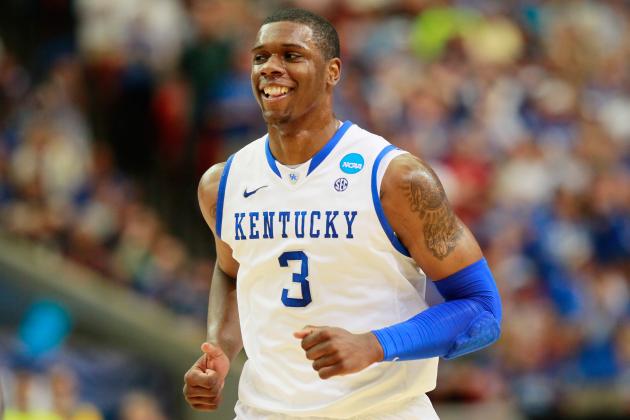 Kevin C. Cox/Getty Images

Terrence Jones is a very talented player and a steal at this point in the draft. He is lengthy and could be a great defender.
Jones is also a good passer and scorer.
He may be a tweener, but Jones would be great coming off the bench for Dallas. The Mavs will hang onto him.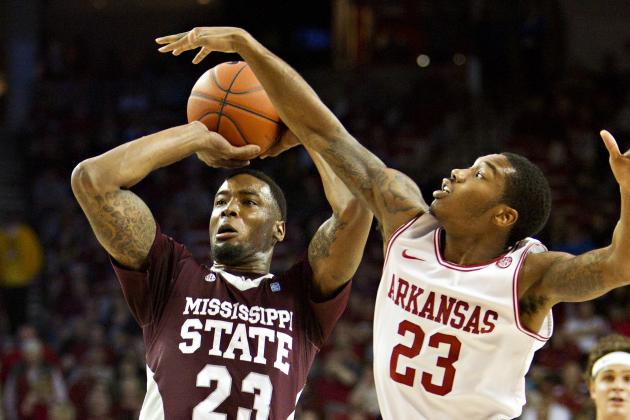 Wesley Hitt/Getty Images

Athletic big men who can score are hard to come by, and that makes Arnett Moultrie a hot commodity. He is a good offensive rebounder and should contribute to his team fairly soon.
This pick belonged to the Minnesota Timberwolves before Monday morning, but it could be traded again. The only likely trading partner is probably Orlando, and it would be for, you guessed it, Dwight Howard.
The pick would probably still be the same here, or possibly Jared Sullinger.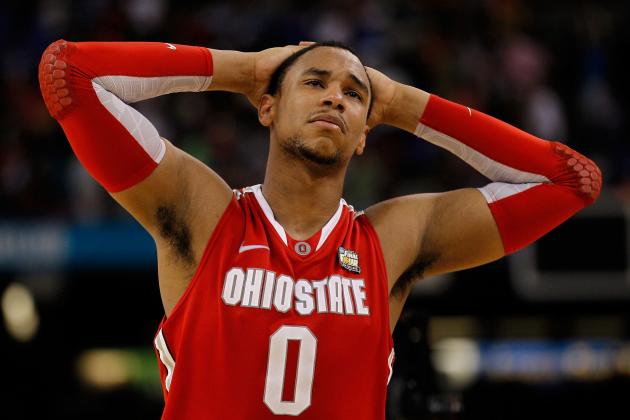 Chris Graythen/Getty Images

The Orlando Magic will take Jared Sullinger here and get a big man to rebuild around after the inevitable departure of Dwight Howard.
Sullinger has fallen down draft boards due to health concerns, but he's a good value pick at this point in the draft. If Orlando was to take Sullinger at the pick before this one in the event of a trade, I'd expect it to take a wing player like Royce White or Quincy Miller, or point guard Tony Wroten Jr.
Jonathan Daniel/Getty Images

Another player who has fallen by the wayside due to off-the-court concerns, Royce White's anxiety issues are a different type of problem than most teams are used to dealing with.
White is extremely talented, and any team that gets him this low is getting a steal. No chance of a trade here—White is too good.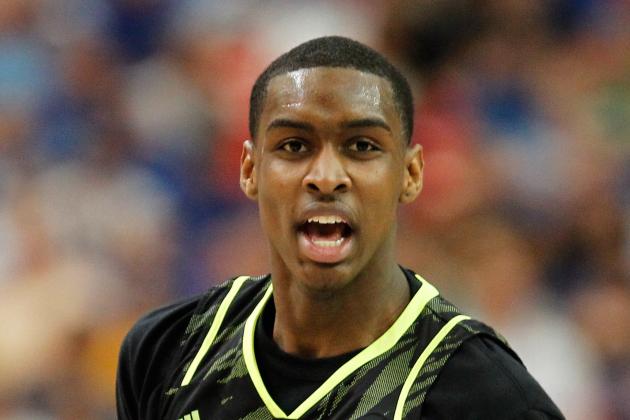 Streeter Lecka/Getty Images

Quincy Miller would have been a Top 10 pick had he waited until next year to head to the NBA. He's a great value at this spot, with his elite athleticism and very high basketball IQ.
No chance of a trade here; Miller is exactly the young type of athleticism that Boston needs to add to its roster.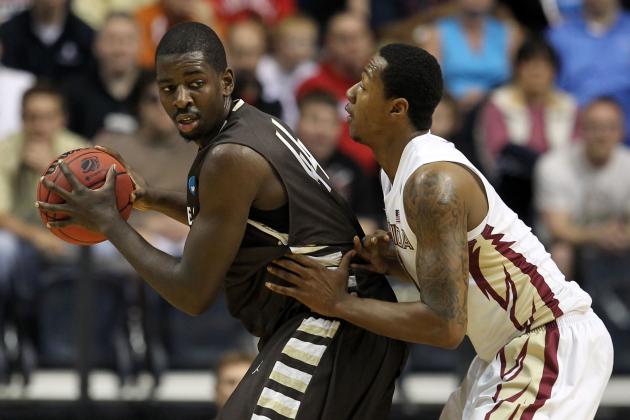 Jamie Squire/Getty Images

Andrew Nicholson is one of the most underrated players in this draft. He's a legit NBA power forward who can score and has three-point range. He also shoots free throws well and defends pretty well.
Absolutely no chance of a trade here—Nicholson is a major keeper.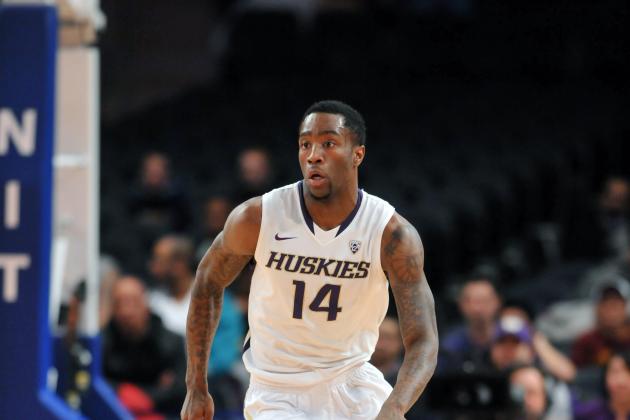 Jason Szenes/Getty Images

The NBA has seen an increase in run-and-gun-style point guards who can score for themselves, and Tony Wroten Jr. should fit right in.
Wroten is the best athlete in this point guard class and has amazing size for his position at 6'6". He's a bit of a risk as he can be reckless and is a streaky jumpshooter, but he is a risk that could pay off huge dividends.
This is yet another pick where a trade is very unlikely.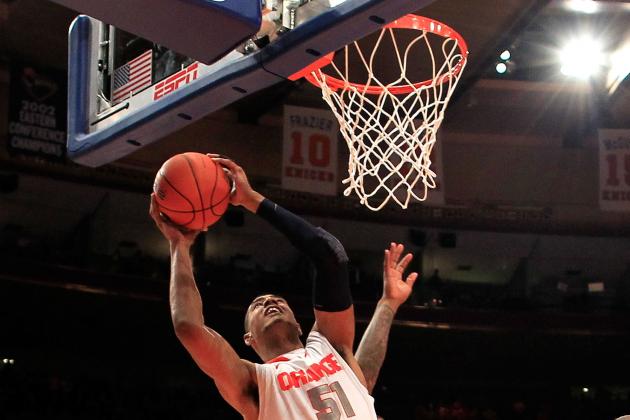 Chris Trotman/Getty Images

Anyone who thinks Fab Melo isn't a project is wrong. He is a tremendously raw player offensively, but for any team looking for a defensive presence in the paint, he could be a difference-maker immediately.
That's exactly what the Cavaliers are looking for.
If this pick goes to Charlotte in a trade as previously discussed, the Bobcats would probably also take Melo and pair him with Bismack Biyombo for a formidable defensive frontcourt.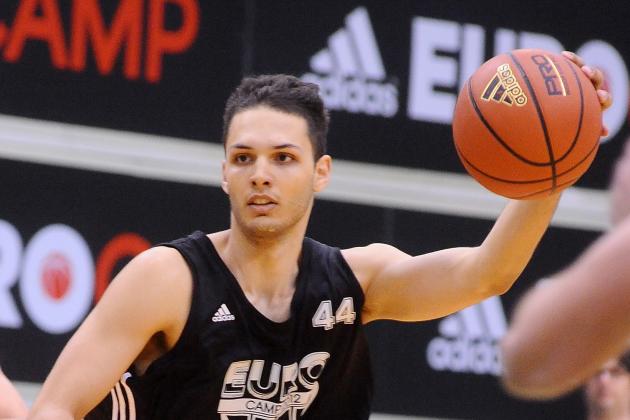 Roberto Serra/Iguana Press/Getty Images

Most expect Evan Fournier to be a draft-and-stash prospect whom we won't see playing in the league for a few years. Not much is known about him, but he appears to be a long player who can shoot (like most European players).
No trade here.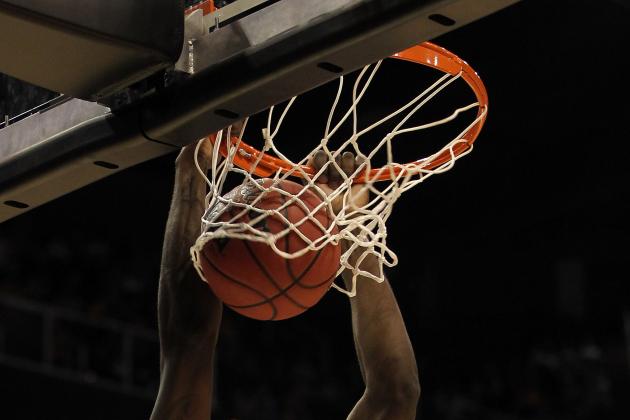 Jamie Squire/Getty Images

Draymond Green is this low in the draft for two reasons: He is a tweener between the 3 and 4, and he isn't very athletic.
However, Green is still a difference-maker on the NBA level as a player who can stretch the floor from the 4 spot and bang down low with the best of them. He's a high-character player, which is always a good thing to have.
Green will be better than people expect, and he will fill an immediate need for the Pacers. As a result, he won't be traded.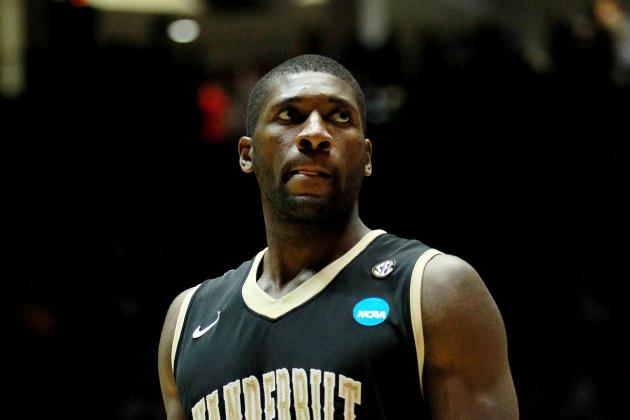 Ronald Martinez/Getty Images

Festus Ezeli is a true center, which alone makes him valuable, but other than that, he shouldn't be talked about much.
Ezeli is a decent player, and he'll be a role player in the NBA. It is a bit alarming that his production dipped from his junior season to his senior season, but the pick will still go Miami's way.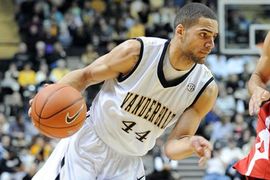 Jeff Taylor is a sharpshooter from the three-point line and is a great defender. His ball-handling and shot-creating aren't great, but he won't be asked to do either much anyway for Oklahoma City.
Taylor won't be a star, but he'll eventually be one of the best role players in the NBA, joining OKC's talented second unit. No trade.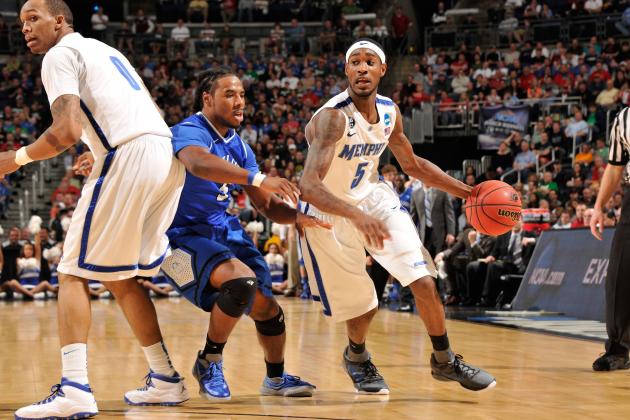 Jamie Sabau/Getty Images

Will Barton has come on the scene lately as the projection to be picked to play alongside Derrick Rose for the Chicago Bulls.
Barton is a great scorer and has great size for his position. He is a bit of streaky shooter, but he can create his own shot, which is what the Bulls need.
He'll flourish if picked by Chicago. No trade again.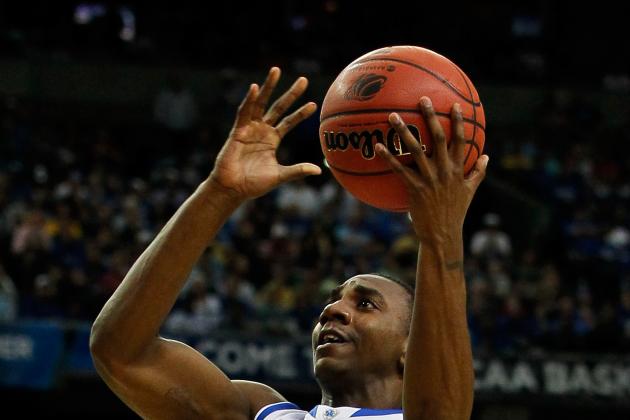 Kevin C. Cox/Getty Images

While he won't be a star, Marquis Teague could be a starting point guard in the NBA.
He has good court vision, can finish at the rim and is incredibly quick. If he improves his outside shot and continues to get even better vision, he'll have a chance to be a special player.
There could be a trade here, but I doubt it.