Luke Rockhold Ready for Tim Kennedy and Jackson's 'Form of Cheating'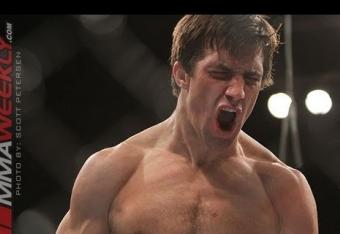 mmaweekly.com

Strikeforce Middleweight champion Luke Rockhold is busy preparing to fight Tim Kennedy, a notion he hopes his opponent shares.
Rockhold spoke about his concerns with facing Kennedy today on a conference call for their July bout and MMAJunkie has the story.
"I'm not the biggest fan of Greg Jackson game plans, so I just hope he comes out and fights me in the middle, and fights me everywhere," Rockhold said. "It's mixed martial arts. I quit wrestling for a reason, so I want to fight, and I'm looking for a fight."
Rockhold was speaking about Clay Guida's performance in the UFC on FX 4 main event. The performance earned Guida a lot of backlash from MMA fans and analysts along with a warning for inactivity during the fight.
Although Rockhold was critical of the excitement level brought on by such gameplans, he was quick to note the intelligence level in devising the strategy.
"I mean, they have a smart game plan; they follow the game plan," Rockhold said of Jackson fighters. "It's not the most exciting game plan most of the time, but it wins them fights sometimes. It doesn't excite me much; I'm not a big fan of his style. "
Perhaps where Rockhold made his most critical analysis when discussing how Jackson likes to play up to the judges in between rounds.
"[Jackson] also yells the guys' names in the corner – 'Great job. Wonderful low kick, Tim Kennedy,' and this and that. I think [he] tries to play into the minds of the judges a lot. It's a form of cheating, to some extent," Rockhold said.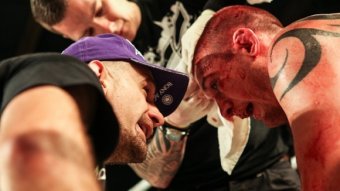 maximumfighting.com
While Rockhold made a mixed bag of comments towards Jackson by giving him both praise and criticism at the same time, two of Jackson's students were quick to back him up. Both Kennedy and Nate Marquardt, who will be challenging for the Strikeforce Welterweight title in July, were quick to defend their coach.
Kennedy arose the question of another of Jackson's fighters earning Knockout of the Night honors in the opening contest.
"That same night when people were harassing Clay Guida for his performance (at UFC on FX 4), we had the 'Knockout of the Night' with Cub Swanson going out there and doing some insanity in the cage to finish one of the best kickboxers in that division," Kennedy said. "Did anybody mention what a great performance Swanson had (against Ross Pearson) ... and hey, congratulations, Greg Jackson, for having 'Knockout of the Night?' No. They're like, 'Clay was running.' Well, Gray hits really hard and he's a really great wrestler."
Marquardt also pointed out that it's up to the fighter to perform.
"You can't blame Greg for any of this stuff," he said. "He doesn't come up with a game plan thinking, 'Oh, we should do this because it would be real boring.'... The fighter has to take the criticism there because your job is to go in there and fight."
It will be interesting to see how both fighters come out given that both Kennedy and Marquardt will be in title matches against very dangerous opponents. It was also nice to see both sides of the argument about "boring gameplans" come into play as fans can easily make a case for either side.
The Strikeforce: Rockhold vs. Kennedy event will be headlined by the aforementioned title bouts featuring Rockhold and Kennedy as well as a welterweight clash between Marquardt and Tyrone Woodley. Also on the card will be the middleweight debut of Roger Gracie and fan favourite, Robbie Lawler.
This article is
What is the duplicate article?
Why is this article offensive?
Where is this article plagiarized from?
Why is this article poorly edited?