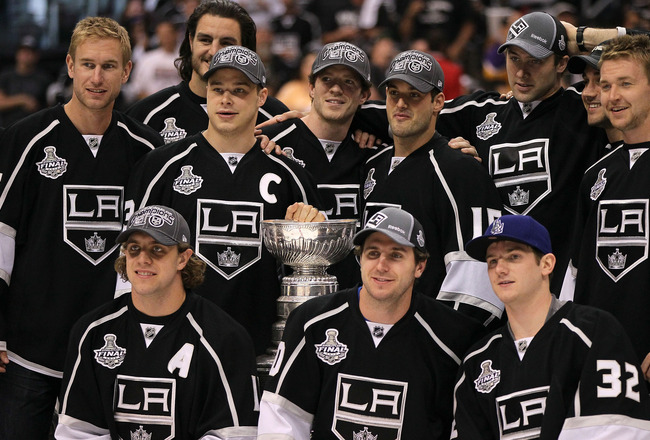 Victor Decolongon/Getty Images
How do you give anything less than an 'A' to a player or coach when the team won the cup?
Well, it was a long season, and it wasn't all smiles and cup triumphs.
Over the course of the next week or so, I'll give an honest, all-encompassing evaluation to the players of the top-six, the bottom-six, the defense and goaltenders, the coaching staff/management and the bench. These grades will take into consideration everything that happened during the 2011-2012 season.
So without further ado, will the Kings top-six forwards please step up to the podium?
Dustin Brown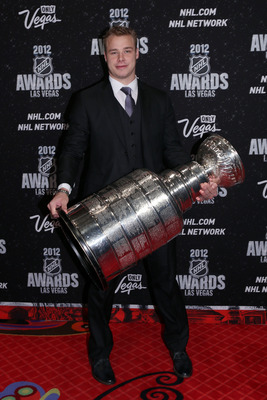 Bruce Bennett/Getty Images
Stats
Regular Season: 82gp, 22g, 32a, 54p, +18, 53PIM
Postseason: 20gp, 8g, 12a, 20p, +16, 34PIM
Oh Captain, my Captain. What a great season for Dustin Brown. The Ithaca, New York native was arguably the Kings most effective forward this season as a whole.
He had a rough middle of the season, which got his name involved in several trade rumors, but the young captain put together a fantastic stretch run to secure his importance to the team.
Brown was a clutch player for the team and had a combined nine game-winning goals throughout the whole season. He was a physical force all year and led the league in hits for the postseason and was second during the regular season.
Brown was an individual representation of the Kings' season. He struggled to find the net early on, but hit the right stride at the right time.
He was a leader on the ice for a team that had its fair share of ups and downs. You can't fault him too much for the early goings, because he came to life in the second half of the year.
Final Grade: A
Anze Kopitar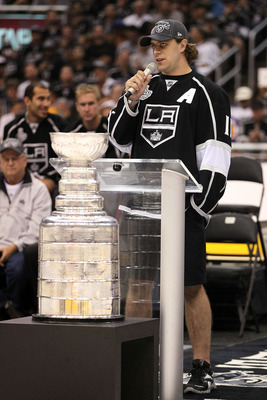 Victor Decolongon/Getty Images
Stats
Regular Season: 82gp, 25g, 51a, 76p, +12, 20PIM
Postseason: 20gp, 8g, 12a, 20p, +16, 9PIM
Another strong, and pretty much unnoticed year for Anze Kopitar. When is the NHL crowd going to give the Slovenian center a little bit of recognition?
He's one of the league's top two-way centers, if not the best out there right now. However, after Kopitar's third straight 70-plus-point season and his sixth straight positive plus/minus season, he came in ninth in the Selke voting.
Yes, ninth. Behind the likes of Toews, Kesler, Mike Fisher and Ryan Callahan.
He also finished 19th in the Lady Byng voting.
Moral of the story is that Kopitar has been an elite forward out West for some time. This year was no different. He had another strong season where he displayed fantastic ability in both ends of the ice.
Kopitar was used in every on-ice situation for the Kings, be it power play, penalty kill or even strength. He again combined a high point total, one that led the team, with efficient and responsible hockey.
Maybe people will start to notice him more from now on and he'll take home some rewards. However, I think he is fine this year having hockey's finest reward: A Stanley Cup ring.
Final Grade: A
Justin Williams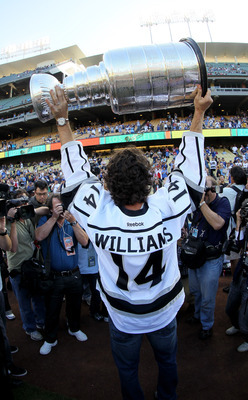 Stephen Dunn/Getty Images
Stats
Regular Season: 82gp, 22g, 37a, 59p, +10, 44PIM
Postseason: 20gp, 4g, 11a, 15p, +8, 12PIM
Justin Williams was one of very few Kings to statistically have a better year than last year. That's not saying a whole lot, but the third wheel of the Dustin Brown and Anze Kopitar show was superb this season.
Williams is not a guy you should rely on for 40-40; however, what he will give you is 20-30 and a solid effort every night.
While he had his minor ups and downs, he was a consistent performer for the Kings. Come playoff time, he was also a dangerous weapon in feeding Kopitar and Brown the puck.
You could argue that you would want more than just 59 points from a first-line winger, and he was prone to quite a few minor penalties at times. However, within the scheme that this team had all season, and with the amount of down years so many players had, nearly 60 points from one of your top players is a great season.
Final Grade: B+
Mike Richards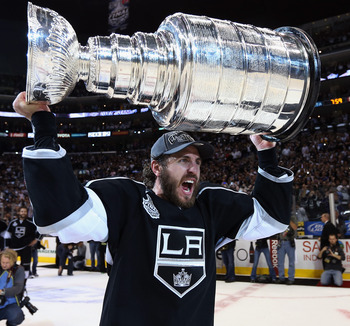 Bruce Bennett/Getty Images
Stats
Regular Season: 74gp, 18g, 26a, 44p, +3, 71PIM
Postseason: 20gp, 4g, 11a, 15p, +1, 17PIM
How do you even begin to grade the season of Mike Richards? Let's be honest, he had a less than desirable regular season.
He was traded, he had his worst season in five years and he had a concussion.
He also had a great postseason and won the Stanley Cup.
A very good playoffs shouldn't let Richards completely off the hook, though. Kings fans were expecting a lot more from No. 10, and he didn't come through a lot of the time.
But let's really take a lot of things into consideration. It was a new team and a new role for the guy. The trade weighed heavily on him as well.
Be that as it may, I think even he would say his season in a whole was average at best. Let's remember that a 'C' grade is not below average, or poor. It's just average. Really, that's what Richards was for about 75 percent of the season.
Final Grade: C+
Jeff Carter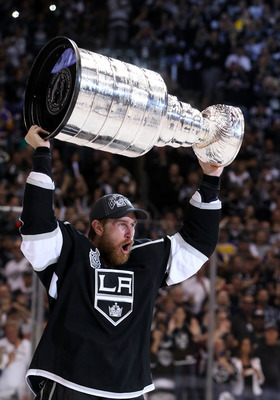 Christian Petersen/Getty Images
Stats
Regular Season (Kings totals): 16gp, 6g, 3a, 9p, -1, 2PIM
Postseason: 20gp, 8g, 5a, 13p, Even, 4PIM
Carter gets a little bit of a break because of his smaller sample size. While his stats from the regular season don't look particularly overwhelming, he was a shot in the arm to the team and a welcomed addition of offensive threat.
The 27-year-old, in a way, redefined how teams approached the Kings. It wasn't just one line you had to deal with anymore; it was two.
Carter didn't have the huge goal totals people were thinking of when he came in at first, but I think it was a little unfair to ask a lot of him. He did admirably given the conditions.
A full year of Carter next season will really tell the tale of how he fits in on the team. However, given his impact on the playoffs and his mental effect on the team in the latter stages of the season, people should be pretty satisfied with Jeff Carter.
Final Grade: B+
Dustin Penner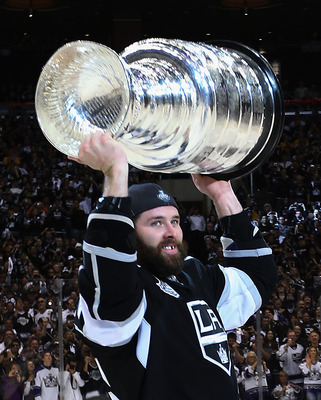 Bruce Bennett/Getty Images
Stats
Regular Season: 65gp, 7g, 10a, 17p, -7, 43PIM
Postseason: 20gp, 3g, 8a, 11p, +4, 32PIM
Let's start by saying, I like Dustin Penner. I think his story is one that people will remember, and people love a good story.
The divorce from his wife, the pancakes, the healthy scratches, the playoff redemption, the Conference Finals-clinching overtime goal. It's been crazy.
But like Mike Richards, it's time to come back to the facts. Penner had a really bad season. Probably his worst ever. He was inconsistent, he didn't have confidence and, at midseason, it even looked like he would be a press-box regular.
Penner dusted himself off, had a good latter half and postseason, but it still doesn't rectify a very disappointing regular season.
I would like to see a refocused Dustin Penner back with the Kings next season. Maybe he could rekindle his 20-30 form of younger days. However, it's tough to call given how bad his season was.
Do the Kings take a chance? Who knows.
Final Grade: D-
Simon Gagne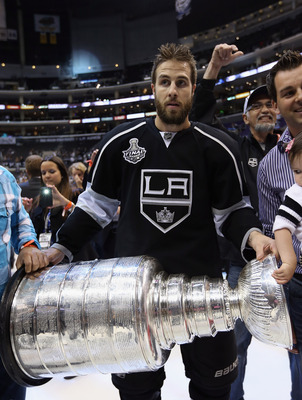 Bruce Bennett/Getty Images
Stats
Regular Season: 34gp, 7g, 10a, 17p, -1, 18PIM
Postseason: 4gp, 0g, 0a, 0p, -1, 2PIM
Gagne was one of the major signings by Dean Lombardi this offseason. And I think I can tell you what everyone's biggest fear was when they heard the news: His health.
And damn it all if it didn't rear its ugly head yet again.
But up to the point of injury, Gagne was doing okay. He wasn't scoring as often as everyone had hoped, but he was still playing well and gelled nicely with Anze Kopitar.
It was definitely a shame when he went down with another concussion, but Gagne roused himself for the playoffs. While his impact might not have been incredible in the stat column, it was a big morale booster for the locker room.
It would have been nice to see Simon for the full 82-game schedule, but we didn't. From what I saw, though, it was a pretty average season. He wasn't an incredible offensive force, but he chipped in here and there and played semi-effectively.
Here's to hoping he can stay healthy for longer than 34 games next season.
Final Grade: C
Keep Reading

Los Angeles Kings: Like this team?
Load More Stories