Thomas Robinson: Comparing His NBA Scouting Report with His Collegiate Outlook
June 27, 2012

Jeff Gross/Getty Images
Thomas Robinson's rise from Kansas benchwarmer to potential NBA Draft lottery pick has been nothing short of meteoric, the key to which has always been his strength and athleticism.
Robinson first arrived in Lawrence in the fall of 2009 as a five-star prospect (according to Scout.com) out of Brewster Academy in New Hampshire, a prep school best known for producing NBA roster fillers like Jeff Adrien, Jerome Dyson and Craig Brackins, along with likely 2012 draftee Will Barton.
Robinson is not necessarily doomed to the sort of anonymity to which his predecessors have fallen prey, though he might've been at first glance. Despite joining the Jayhawks as a highly-touted high schooler, Robinson struggled to get much run while buried behind Cole Aldrich, Marcus Morris and Markieff Morris, all three of whom turned out to be lottery picks. As such, Robinson averaged all of 2.5 points and 2.7 rebounds in 7.2 minutes per game as a freshman and made a noticeable leap during his sophomore season, when he upped his numbers to 7.6 points and 6.4 rebounds in 14.6 minutes per outing.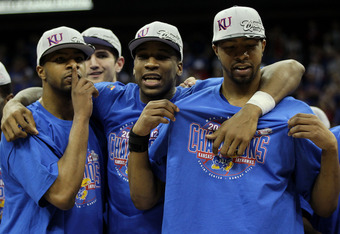 Jamie Squire/Getty Images
Along the way, Robinson worked diligently to add muscle mass to his 6'9 frame while refining and expanding his game, which was rather raw when he first set foot on campus.
All of which put Robinson in perfect position to explode as a junior, when a spot in Bill Self's starting five finally opened up for him. He took full advantage of his newfound starring role, leading KU in scoring (17.7 points) and rebounding (11.9 boards) while chipping in 1.8 assists and 1.1 steals.
His new found success did not just come about because he was bigger and stronger than he was when he first arrived, though his physical attributes certainly didn't hurt his case. Beyond the bodily changes, Robinson showcased a much more polished repertoire of offensive moves, including the ability to hit jump shots out to 20 feet and to maneuver effectively with his back to the basket.
More impressive still though, was the way in which he so seamlessly assumed a leadership role at KU. The Jayhawks were supposed to be in rebuilding mode after losing to VCU in the Elite Eight in 2011 and watching a host of key cogs (most notably the Morris twins) depart the Sunflower State shortly thereafter.
Instead, all they did was win their eighth straight Big 12 regular-season title and advance all the way to the National Championship Game, thanks in large part to Robinson's emergence as both a dominant force on the floor and an influential voice in the locker room.
That strength of body and character will serve him well at the next level, where he'll have to bowl his way through nightly obstacles, both mental and physical.
He's somewhat undersized for an NBA power forward, at "just" 6'9", and he figures to encounter his fair share of struggles against a litany of lengthy defenders. So, too, might he rely too heavily on his perimeter game, whether it be for the love of his jump shot or the effort to avoid embarrassment in the paint.
But Robinson has the build and the motor to bang with bigs in the post, be it scoring, screening, rebounding or defending. From a mental and emotional standpoint, he's been through too much heartache in his personal life to let something as pesky as potential failure on the court keep him from actualizing his full potential.
And given the rapidity with which Robinson has grown as a basketball player over the last three years, who's to say that he's already pressed up against his proverbial ceiling and that there isn't still room for improvement?
If there is, Robinson figures to find it and fill it, regardless of which team selects him during Thursday's draft.