NBA Draft: The Pipe Dream Edition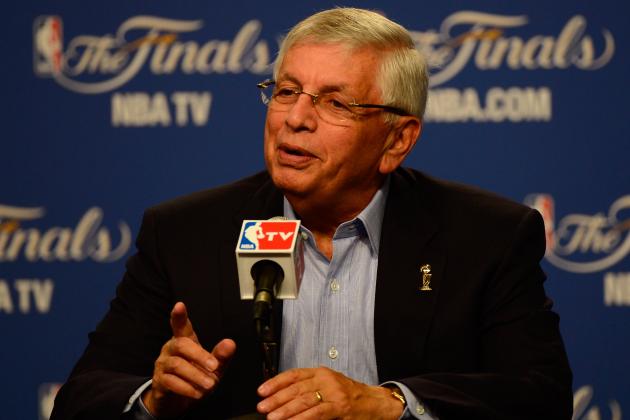 Ronald Martinez/Getty Images

With the 2012 NBA Draft set for Thursday night, there are thousands of mock drafts floating around the web. ESPN's Chad Ford recently released his 50th mock draft. Kidding, he's only gotten to 9.2.
However, the point remains that everyone wants to get their two cents in on who each team will select with their picks. Lacking from this seeming over-coverage is a mock draft with potential trades factored in to the picks. Every year teams swap picks, and a mock draft without trades is not as accurate, as useful, or as fun.
With that in mind, here's the craziest way in which the first round of the 2012 NBA Draft could pan out, within reason.
Begin Slideshow

»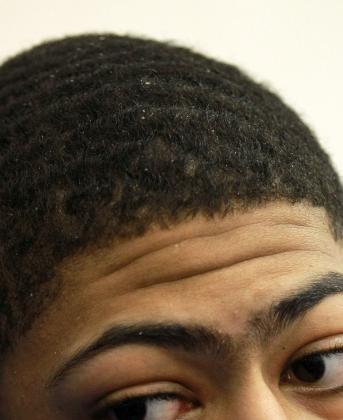 Andy Lyons/Getty Images

While I promise things get more interesting, Anthony Davis is the consensus No. 1 pick. With comparisons to Tim Duncan, Kevin Garnett, and even Bill Russell on the table, it seems like a lock that Davis will go to New Orleans.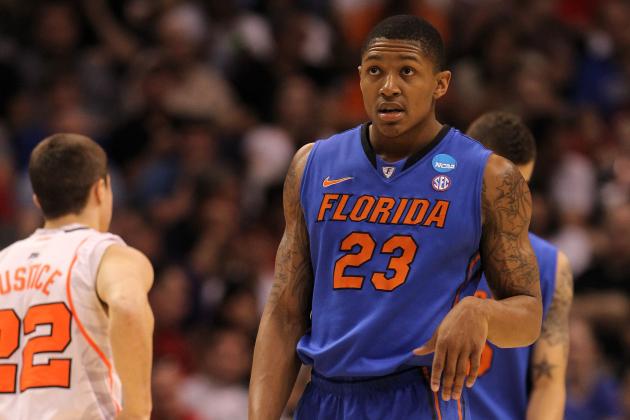 Jamie Squire/Getty Images

While most mock drafters acknowledge that Michael Jordan wants to trade the number two pick, most mock drafts still have Charlotte picking Thomas Robinson or Bradley Beal. Charlotte is coming off the worst season in NBA history, statistically speaking, and after losing out on the Anthony Davis sweepstakes, Michael Jordan has made it clear that he would like to move down and get as much talent as possible in a strong draft. The Cleveland Cavaliers seem to be a viable trade partner, with the #4 & the Lakers' #24 pick in the draft. Also, Cleveland has reported interest in SG Bradley Beal from Florida. After trading these two picks for the the #2 pick, the Cavaliers will take Bradley Beal, consummating a dangerous backcourt for the next few years along Kyrie Irving.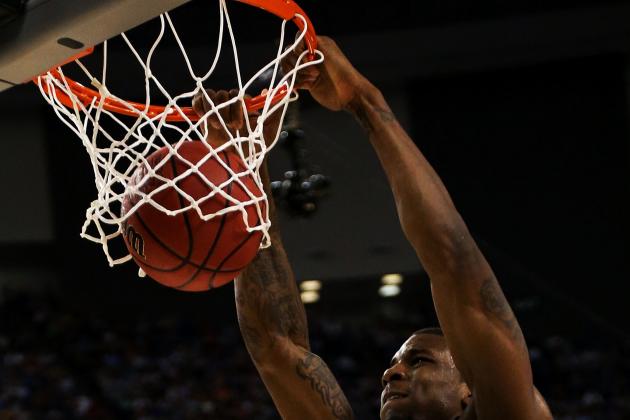 Ronald Martinez/Getty Images

After the Cavaliers snatch Bradley Beal from the Wizards grasp at No. 2, the Wizards get the surest prospect in the draft (save Anthony Davis) in Thomas Robinson.
The Wizards traded Rashard Lewis to New Orleans last week for Trevor Ariza and Emeka Okafor, clearly demonstrating their interest in Bradley Beal. But Thomas Robinson would be the better pick for the Wizards even if Bradley Beal were still on the board.
A large reason for the Wizards' futility last season was the poor locker room atmosphere. The Wizards' moves at the deadline last season, as well as this summer, indicate that they want to change the culture in Washington. Thomas Robinson is possibly one of the highest character guys in the draft, and has a great story to draw fans to Wizards games. Alongside John Wall, Jan Vesely and Emeka Okafor, Robinson would thrive. In addition, Robinson's average defense would be covered by Okafor's solid post rebounding and defense.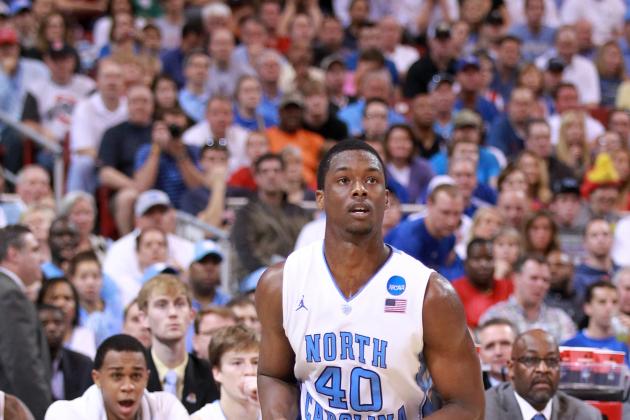 Andy Lyons/Getty Images

Following their trade with the Cavaliers, the Bobcats have the No. 4 pick in the draft, with which they could select Harrison Barnes or Michael Kidd-Gilchrist. UConn center Andre Drummond is too much of a risk at No. 4, so the choice will most likely be between the two top small forwards in the draft.
While Kidd-Gilchrist seems to be the safer pick, Michael Jordan will likely select a fellow Tar Heel in Harrison Barnes. While Barnes has been streaky at UNC, he is a superior offensive player to Michael Kidd-Gilchrist, and the Bobcats offense was the worst in the league last season so it makes sense to go with the player with a higher offensive ceiling.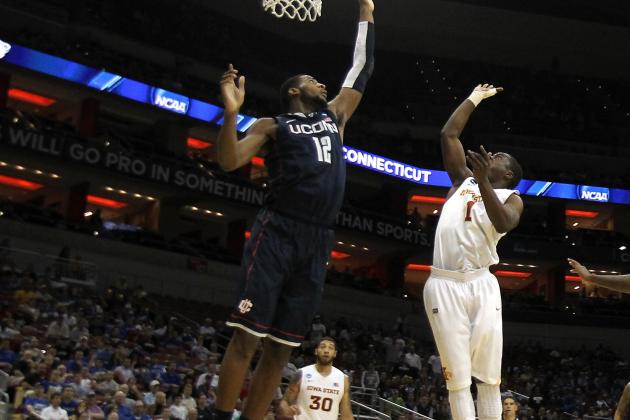 Jonathan Daniel/Getty Images

Things start to get messier with this pick, so bear with me. The Rockets traded Chase Budinger to the Minnesota Timberwolves on Tuesday for the 18th pick in the draft, giving the Rockets the 14th, 16th, and 18th picks in the draft. The Rockets had several good players last year, but no superstar, so it seems like the Rockets will use their three picks as trade chips.
The prizes they're after? Dwight Howard and Deron Williams.
(Disclaimer: while neither of these players seem to have Houston on their wish list, Houston still seems to think they have a shot at both players, so these trades make sense.)
Which leads us to the current owners of the 5th pick, the Sacramento Kings, who had the worst defense in the league last year, lacked a veteran presence, and were near the bottom of the league in assists. The Rockets will flip the No. 16 pick and Kyle Lowry, a defensively-strong point guard with a few years under his belt, for the No. 5 pick.
The Rockets will clear more cap space and the point guard slot for Deron Williams, while picking up Andre Drummond, the best center prospect in the draft and someone the Magic can use to replace Dwight Howard.
The Kings, who don't really need more young players, pick up a veteran player to run the point and play defense while retaining the opportunity to pick up a player in a strong draft.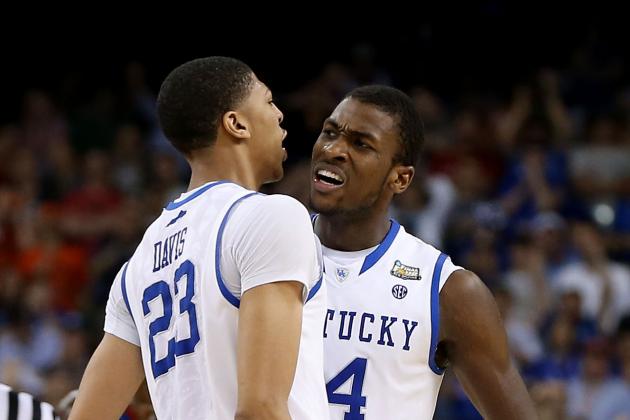 Jeff Gross/Getty Images

While chaos erupts in front of them, the Trailblazers realize that they've hit the jackpot. Michael Kidd-Gilchrist is still on the board.
The biggest story for the Blazers this offseason has been their restricted free agent Nicholas Batum, who will likely command a hefty price tag on the free agent market. Instead of paying Batum somewhere in the neighborhood of $50 million dollars for five years, they can sign Michael Kid-Gilchrist to a rookie contract and expect a high level of production immediately. Kidd-Gilchrist has been ranked as highly as No. 2 on draft boards, and the Blazers luck out with this pick.
In addition, this leaves the Blazers serious cap room to go after a high level free agent like Roy Hibbert or Eric Gordon. Pairing either one of these players with Michael Kidd-Gilchrist and Lamarcus Aldridge would create a core for Portland for the near future.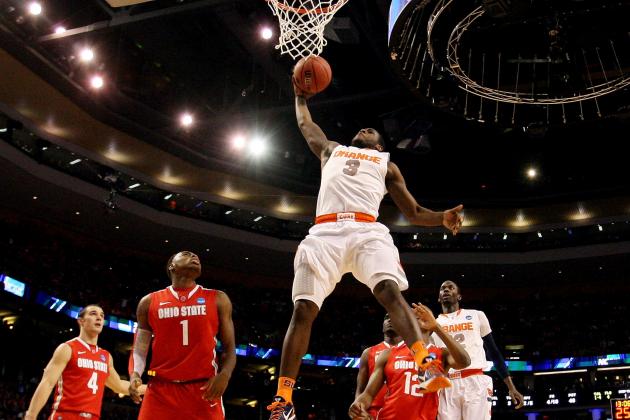 Jim Rogash/Getty Images

The Golden State Warriors, the current owners of No. 7 pick, are not looking to add more young, high draft picks, considering their current roster makeup. In addition, Golden State has been searching for a defensive-minded wing player for years since their defense is usually near the bottom of the league.
Recently, the Chicago Bulls have been trying to trade Luol Deng and his hefty contract. There are already rumors that these two teams are in trade talks, and this trade makes sense for both teams. The Warriors get a strong defensive veteran, and the Bulls get Dion Waiters, a sharpshooting two-guard from Syracuse. The Bulls have lacked a starting shooting guard in recent years and Waiters could fill the void, cementing the Bulls as perennial contenders in the East.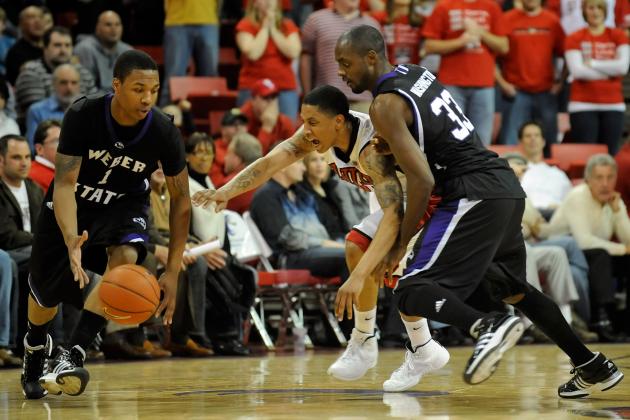 Ethan Miller/Getty Images

Dion Waiters apparently pulled out of draft interviews because he has a promise from a lottery team that he will be drafted. The prime suspects are the Toronto Raptors and the Phoenix Suns. The Raptors are the more likely suitor of the two because of Jared Dudley's improved play in Phoenix this past season. With Waiters off the board, the Raptors panic and trade the Suns for their No. 13 pick and Jared Dudley. The Raptors get a solid starting SG/SF and another prospect.
The Suns are thrilled to move up to No. 8 because they can select run-and-gun point guard Damian Lillard. Lillard may not be Steve Nash, but he is a good replacement, and should be a strong contribution to the Suns rebuilding process.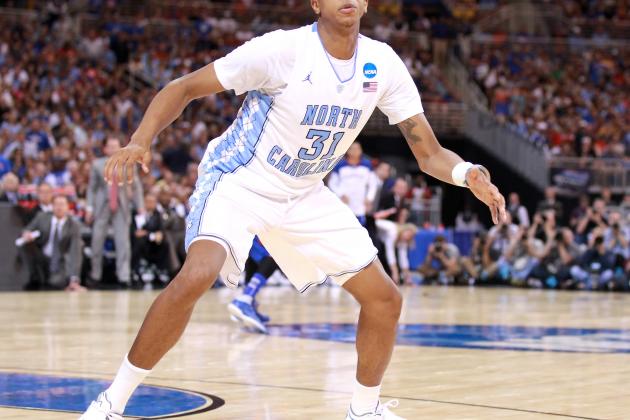 Andy Lyons/Getty Images

The draft calms down at the No. 9 pick, and the Detroit Pistons select UNC defensive anchor John Henson.
Henson can play down low with Greg Monroe and improve the Pistons atrocious rebounding. While the Pistons could go with a scorer like Jeremy Lamb or Austin Rivers, the Pistons already have several young guards, so it makes more sense for them to find a post-mate for Greg Monroe.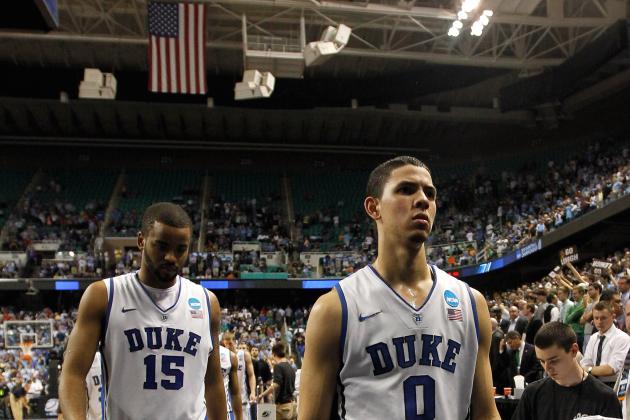 Streeter Lecka/Getty Images

The Hornets are in a great position to improve in this draft, and while point guard Jarrett Jack improved his play this past season, he doesn't have star potential. Luckily, such a player will be available when the Hornets pick again at No. 10. His name is Austin Rivers.
While streaky at times, Austin Rivers had several clutch moments during his time at Duke, even though his talents did not fit Mike Krzyzewski's system. Perhaps Rivers won't pan out in the NBA, but his talents could be brought to light once he gets out of Duke's system and into an NBA lineup.
Considering the Hornets went big at No. 1, they can shore up the point with the 10th pick and take Austin Rivers.
With these two picks under their belt, the Hornets have an exponentially better chance of keeping players like Eric Gordon and Carl Landry. If all goes according to the Hornets' plan, the Hornets could be interesting contenders this season.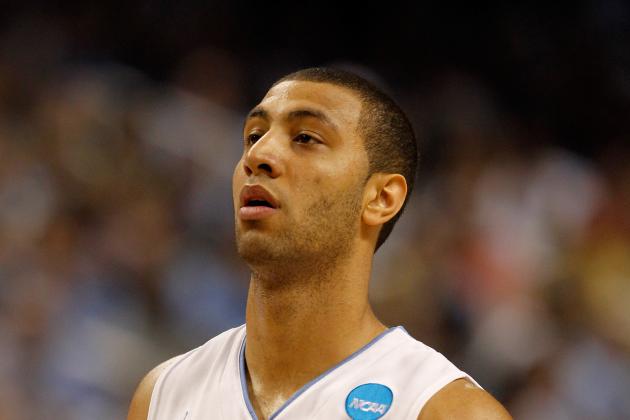 Streeter Lecka/Getty Images

While the Trailblazers, the current owners of this pick, could add more talent through the draft, they also have a lot of cap space with Nicholas Batum off the books. They could spend that money in a trade for the Lakers' Pau Gasol.
The Lakers, coming off a second-round exit, need to reload to contend again, and they could offer Gasol to get the No. 11 and No. 19 picks. (I know the Magic have that pick, but we'll get to that later.)
In Gasol, the Trailblazers pick up the perfect compliment for LaMarcus Aldridge in the post, and the Lakers finally solve their point guard problems by selecting UNC prospect Kendall Marshall.
Marshall could not be a better pick for the Lakers. Scouts often criticize Marshall's tendency to defer to teammates, but considering he'd be in a backcourt with Teen Wolf Kobe Bryant, Marshall would not be criticized for passing up shots. The Lakers could go as far as Kobe's engineered legs can take them.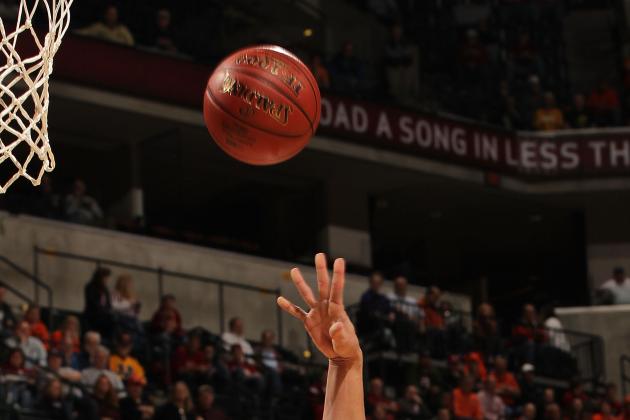 Jonathan Daniel/Getty Images

When the Bucks traded Andrew Bogut to Golden State last year, they shored up their back court with Monta Ellis. However, they lost most of their presence inside.
They can reestablish that presence with the No. 12 pick, Meyers Leonard. Leonard is considered the best center in the draft behind Andre Drummond, and he is less risky than Drummond. While he won't be a superstar, Leonard fills a need for the Bucks and could pan out quite well with defenses paying attention to Ellis and Jennings.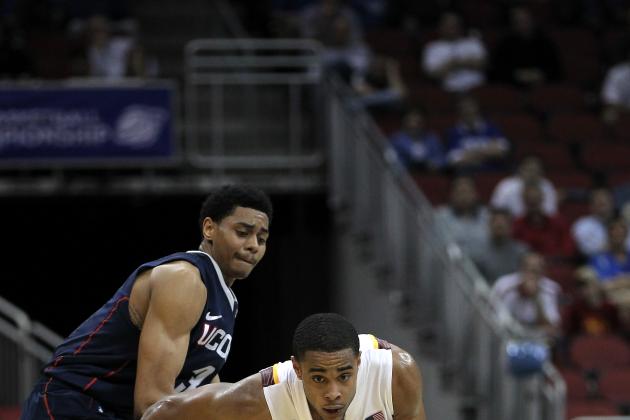 Jonathan Daniel/Getty Images

After trading down, the Raptors will still look to improve their shooting guard play, and Jeremy Lamb isn't such a stretch at No. 13.
After jumping ship from sanctioned Connecticut, Lamb will fit nicely into Toronto's lineup, allowing DeMar Derozan to shift over to the small forward position. As a side note, Toronto may not be good next year, but they would have an interesting core forming with Ed Davis, Jonas Valucianas, Derozan, and Lamb.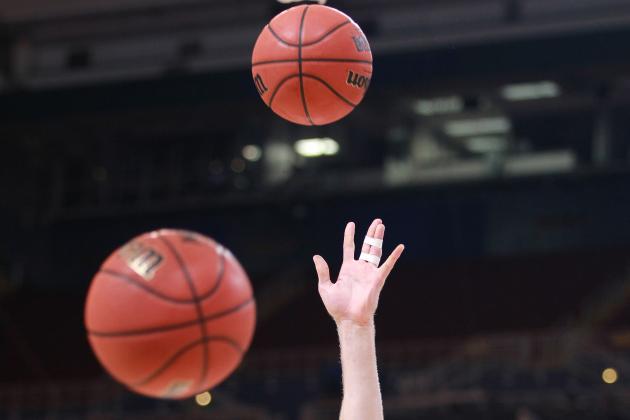 Andy Lyons/Getty Images

Remember how the Houston Rockets were picking up prospects to make an offer for Dwight Howard? This pick shores up the Dwight Howard Rockets.
My best guess for the Dwight Howard deal is the rights to Andre Drummond, the No. 18 pick, and Luis Scola. The Rockets get the summer's prize in Dwight Howard and clear more cap space for Deron Williams by dumping Scola's $9 million contract. The Magic get a good price back for their disgruntled star, keeping a relatively strong front court and add another prospect later in the draft, but we'll get to that.
After the biggest trade in draft-day history is consummated, for better or worse, the Rockets pick up Tyler Zeller to replace Scola as Howard's mate in the post. Zeller brings experience to the table, and would have no problem playing a role behind Howard, Williams, and Martin.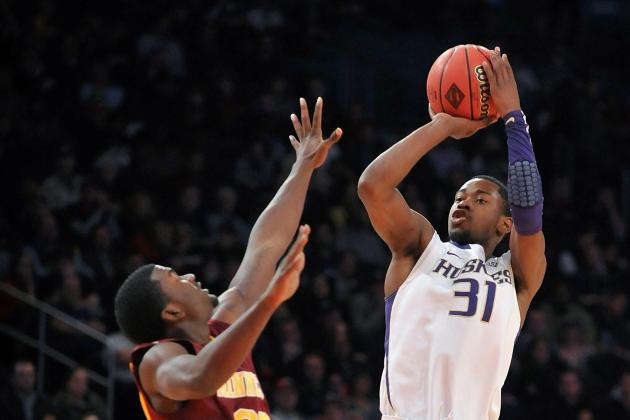 Jason Szenes/Getty Images

Lou WIlliams was the leading scorer on the Philadelphia 76ers, the owners of the 16th pick, last season. He has decided to opt out of his contract and test free agency, meaning the 76ers may not be able to resign an important piece of the team that knocked off the No. 1 seeded Bulls.
Therefore, they will look to replace his production with this pick by taking Washington's Terrence Ross. Ross may not be Lou Williams right away, but he will certainly ease the pressure to resign Williams, allowing the 76ers to focus on resigning Spencer Hawes, who anchored their excellent defense last year.
Ronald Martinez/Getty Images

After the craziest lottery in history is over with, things calm down a bit.
With the pick they acquired from Houston, the Kings pick up Jared Sullinger, a mature, albeit risky, player to pair with DeMarcus Cousins in the post. Sullinger should compliment Cousins' talents well, and give Sacramento one of the best rebounding frontcourts in the league.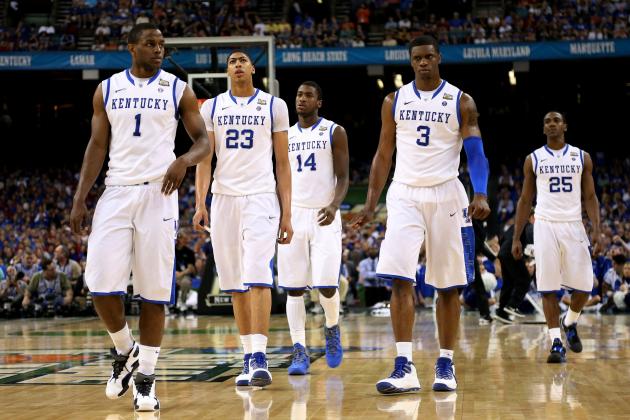 Ronald Martinez/Getty Images

The Mavericks exited the playoffs in the first round this season after falling to a younger, faster Thunder team. The Mavericks need someone who can spell their aging stars such as Dirk Nowitzki and Shawn Marion.
The Mavericks begin a run on forwards with Terrence Jones, a player who can not only run like a small forward, but can also bang in the post. His presence will help to spell Nowitzki and Marion, allowing them to maximize their production at the tail end of their careers.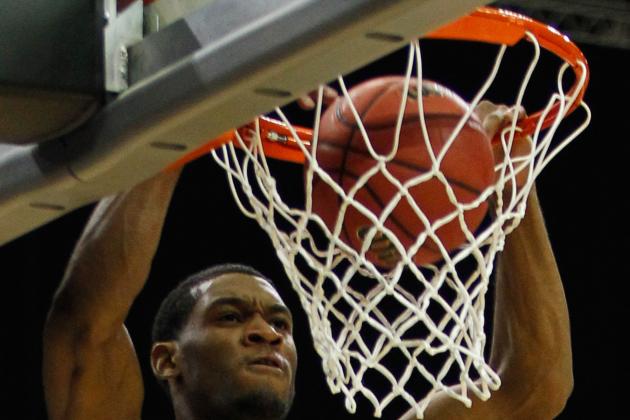 Streeter Lecka/Getty Images

To recap from the Dwight Howard trade earlier in the draft, the Magic got Luis Scola, Andre Drummond, and the 18th pick for Dwight Howard. Now that we're at that pick, the Magic are in a prime position to improve.
Perry Jones III was the No. 1 prospect in the draft at one point, and he has good ball handling skills and crazy athleticism. However, he did not play up to his potential this year at Baylor, leading scouts to question if he is too unselfish. The new Orlando Magic are a great fit for the project player.
Hedo Turkoglu has similar ball-handling skills and size to Jones III, and he would be a good mentor for Jones III in Orlando, helping him to develop his point forward skills. In addition, Luis Scola has a great offensive game and could mentor Jones III on his offensive game. With these mentors, Jones III would be in a good position to blossom into a star in Orlando.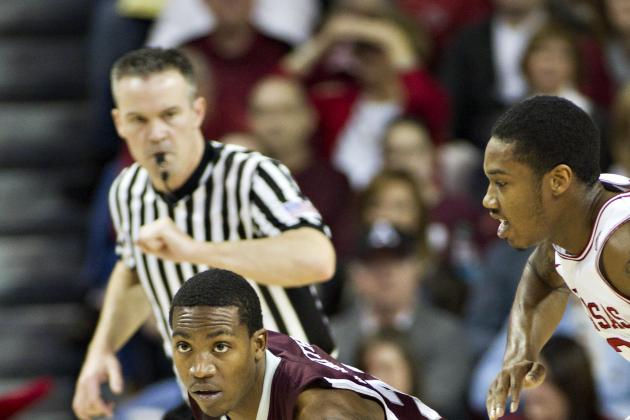 Wesley Hitt/Getty Images

The 19th pick in the draft belongs to the Orlando Magic, but they are still cap-strapped, even after the Dwight Howard trade, and they are forced to trade down to Charlotte's pick at No. 24.
Charlotte gets: No. 19 pick & JJ Reddick
Orlando gets: Bismack Biyombo & the No. 24 pick
Orlando gets a nice bench guy in Biyombo and dumps some salary with Reddick.
Charlotte gets a shooter to contribute to their weak offense and picks up Arnett Moultrie. Moultrie is a strong forward who can score in the post or move to small forward, allowing Barnes to move to a pure scorer's role and compensating for the Bobcats small point guards (D.J. Augustin and Kemba Walker).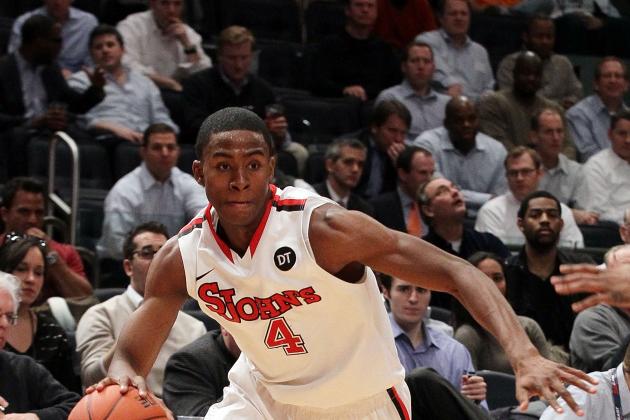 Jim McIsaac/Getty Images

The Nuggets are up at No. 20 and they pick St. John's small forward Moe Harkless.
Harkless fits the mold of the scrappy Nuggets team that pushed the Lakers to six games this year in the Western Conference Quarterfinals. While the Nuggets already have Danilo Gallinari at small forward, Harkless can backup the injury-prone Gallinari.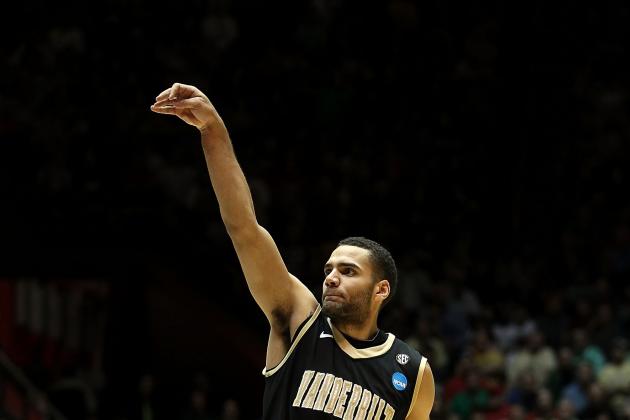 Christian Petersen/Getty Images

Just when you thought things were back to normal then comes another trade! The Boston Celtics currently have the 21st and 22nd picks after surprising the league and making a run to the Eastern Conference Finals. Many suspect that the Celtics will not blow their roster up, but rather will bring back KG at a reduced rate and keep part of their core of Rondo, Garnett, and Pierce together. Danny Ainge has stated that he is open to trading Celtics picks in the draft.
Considering KG will likely remain at center, that leaves a huge hole at the PF postion. Atlanta's forward Josh Smith has long been the subject of Boston trade rumors and his value will be lower because he is in a contract year. Since Doc Rivers doesn't like to play rookies (see JaJuan Johnson, E'Twaun Moore, Semih Erden, Avery Bradley, J.R. Giddens, Gerald Green), it makes more sense for the Celtics to package their two picks for Smith. Smith fits perfectly into the Celtics defensive-minded play style, and also bridges the gap to the more athletic play style of Rondo and Bradley after KG retires.
With the 21st pick from the Celtics, the Hawks select Fab Melo, the center from Syracuse. While Melo is not a fully developed prospect, his defensive prowess is NBA ready and he can play center for the Hawks, allowing Al Horford to finally move over to his natural power forward position. With this pick, Hawks GM Dan Ferry's gets to start his stint in Atlanta with a bang.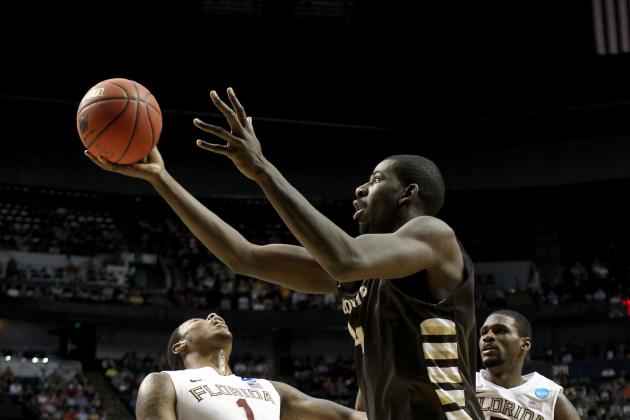 Jamie Squire/Getty Images

While Fab Melo is a nice start, Al Horford is still injury prone, and the Hawks will select Andrew Nicholson to beef up their frontcourt more. Nicholson can spell Horford and provides another prospect for Atlanta.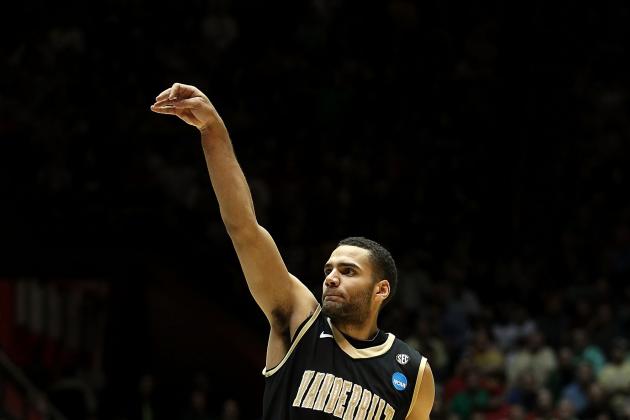 Christian Petersen/Getty Images

The Hawks have their third pick in a row here, and instead of picking up another prospect, they take a chance on a guy who needs a change of scenery.
With the money they cut off the payroll by trading Josh Smith, the Hawks trade the No. 23 pick to Sacramento for Tyreke Evans. After a stellar rookie season, Evans is now lost in a Sacramento backcourt that includes Damian Lillard, Marcus Thornton, and Isaiah Thomas. Atlanta would be a nice change of scenery for Evans, and he could regain his rookie season form in a weaker Eastern Conference.
The Kings use the pick to take Jeffery Taylor, a small forward who can shoot the lights out and give the Kings a deadly shooting backcourt with Lillard, Thornton, and Taylor.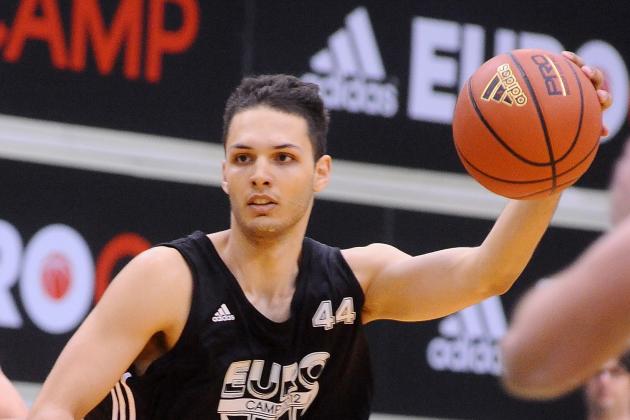 Roberto Serra/Iguana Press/Getty Images

Charlotte received this pick when they dealt the No. 2 pick in the draft to the Cavaliers. However, they flipped that pick to No. 19, allowing Orlando to drop down and select a cheaper player.
With this pick, Orlando continues its rebuilding efforts and selects the first international player in the draft, Evan Fournier. Fournier can play both the shooting guard and small forward positions, and he is a solid, two-way player. Fournier can play with fellow international Hedo Turkoglu and fellow sharpshooter Jason Richardson to develop his game more before stepping in for Richardson.
Just to recap, if this draft happens, Orlando looks like this:
PG Jameer Nelson
SG Jason Richardson/Evan Fournier
SF Hedo Turkoglu/Perry Jones III
PF Luis Scola
C Andre Drummond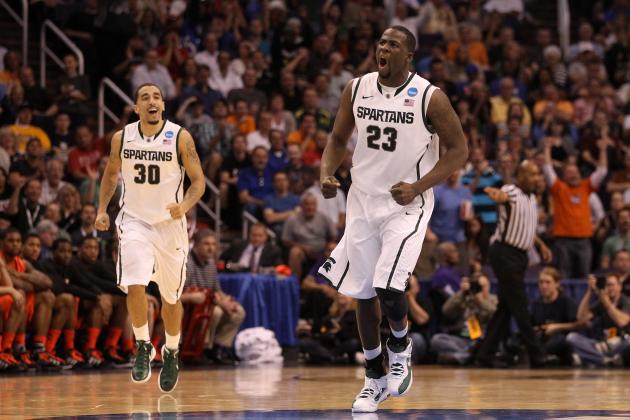 Christian Petersen/Getty Images

The Memphis Grizzlies were a hot pick to make a run in the playoffs this past year, but they fizzled, losing to the Clippers in the first round. Trade rumors are now swirling about their star forward Rudy Gay. If the Grizzlies want to move Gay's big contract, and I think they do, it makes sense for them to shore up the small forward position. They can do so with the steal of the draft, Draymond Green.
Green was phenomenal for the Spartans March Madness squad, and he does so much that it is hard to think he won't be successful in some respect in the NBA. The Grizzlies gobble him up at No. 25 and can pursue trade offers for Rudy Gay a bit more aggressively.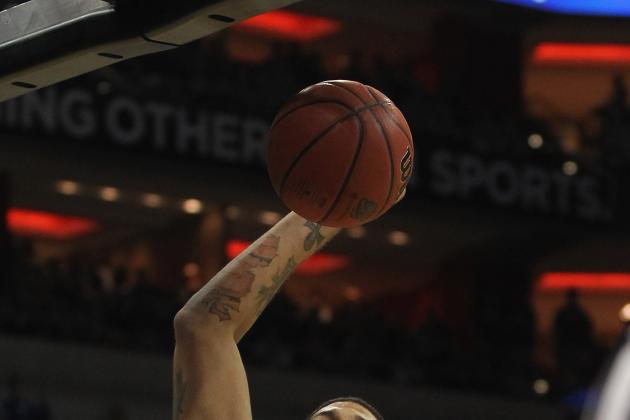 Jonathan Daniel/Getty Images

The Pacers are coming off a strong season in which they pushed the Heat to 6 games in the Eastern Conference Semifinals before LeBron James turned into a cold-blooded assassin. The Pacers are a young team who can continue to contend if they resign Roy Hibbert.
However, Hibbert needs a counterpart in the post.
David West is getting older and Tyler Hansbrough doesn't have a high ceiling. Royce White solves at least half of their problems. White is a very talented prospect, but he has a fear of flying, which has him falling down draft boards. If he overcomes his fear, he could be a great addition to the Pacers' frontcourt. If not, he plays home games and still contributes. However, the Pacers can take a chance on him because they have such a strong roster.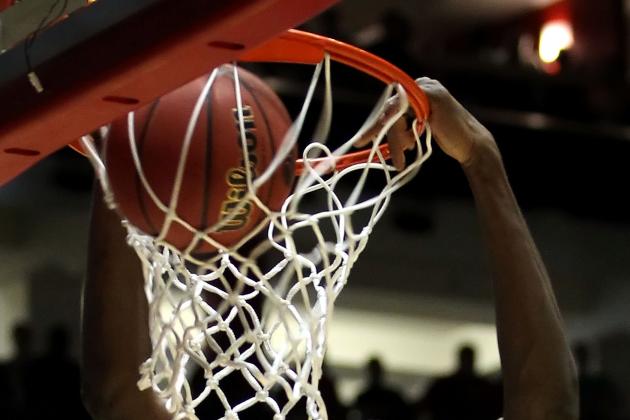 Christian Petersen/Getty Images

The NBA champion Miami Heat don't have many holes to fill, considering they just won a championship, but they could stand to get bigger, and Vanderbilt center Festus Ezeli fills that need. While Ezeli is a raw player and not the best rebounder, he is a big hustle guy, and MIami head coach Erik Spoelstra loves hustle guys coming off his bench (see Udonis Haslem/Norris Cole).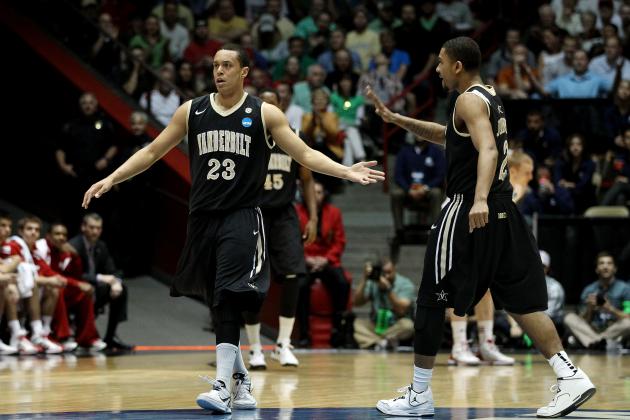 Christian Petersen/Getty Images

The Oklahoma City Thunder have stated that they want to trade this pick, allowing us one last chance to shake up the NBA. However, the San Antonio Spurs keep things from going too crazy again, offering a first-rounder next year for this pick and sneaking back into the draft.
With the pick, the Spurs select shooting guard John Jenkins from Vanderbilt. The Spurs were expected to steamroll through the playoffs while on a hot streak, and they will be back in contention next year, tweaking their lineup with a rock solid rotation. Jenkins' addition gives the Spurs more flexibility with Manu Ginobili, who is injury prone.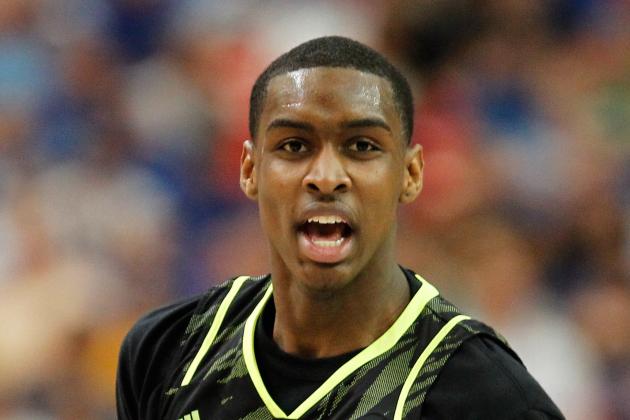 Streeter Lecka/Getty Images

The Chicago Bulls traded away Luol Deng earlier in the draft, and they are giddy when they find Quincy Miller still available at No. 29.
The Baylor forward, while inconsistent, has a high ceiling and would be able to develop his game in the Chicago defense, playing alongside Rose, Waiters, Boozer, and Noah.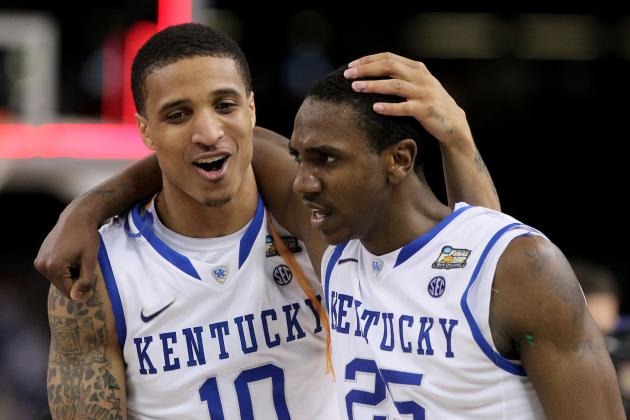 Jeff Gross/Getty Images

Teague may not be the biggest prospect from Kentucky this year, and there are questions as to how much of his performance was due to playing alongside Anthony Davis, Michael Kidd-Gilchrist, Terrence Jones, and company at Kentucky. However, he has potential, and the Warriors need a backup point guard to spell Stephen Curry, who has paper ankles.