Why Inevitable Wheeling and Dealing Makes Mock Drafts a Total Waste
June 26, 2012

Elsa/Getty Images
Why do we do it?
Every year draft experts, NBA writers and even casual fans put together their NBA mock drafts—but why?
As we've already seen from today's trade that sent Chase Budinger from the Houston Rockets in exchange for the No. 18 pick in this year's draft, mock drafts can change drastically in the blink of an eye.
The Budinger deal is sure to be the first of many this year. We're only getting started.
Which is why the inevitable wheeling and dealing leading up to the draft, during the draft and even after the draft make mock drafts, well...pointless.
For everyone who meticulously, carefully and painstakingly put together an NBA mock draft with Minnesota drafting at No. 18 (myself included on more than one occasion), those mocks are now irrelevant because that team no longer holds the selection.
The Houston Rockets right now are plotting to trade for Dwight Howard on the one-year rental plan, hoping they can convince the NBA's best center to return after next season.
Consequently, I can almost guarantee that although the Rockets have picks No. 14, No. 16 and No. 18 right at this very second, it won't stay that way for long.
Chances are high that the Rockets will use those selections to springboard themselves up into the top 10 picks, conceivably to throw together a better package to convince the Orlando Magic to give up their disgruntled star.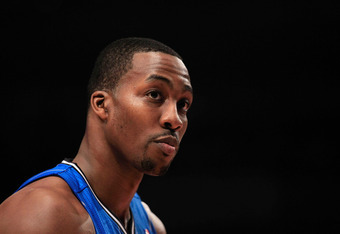 Chris Trotman/Getty Images
Heck, even the top five picks in this year's draft are far from set in stone.
The Charlotte Bobcats, who currently sit at No. 2, are looking to trade back in the draft to acquire more selections.
At this point, the Cleveland Cavaliers seem to be their best suitor, since they can give up pick No. 4 and No. 24 in this year's draft to get the pot stirring. According to SI.com, they're doing so to target Florida shooting guard Bradley Beal.
The inevitable wheeling and dealing by NBA teams all over the league happens every year. Every team is out to look for every conceivable way to improve their basketball team, so it shouldn't come as a shock that picks are thrown around like hot cakes.
Even NBA executives only have a slightly better idea of what other teams may choose to do.
So why do we make mock drafts every year?
I mean, what mock draft is ESPN's Chad Ford at now anyway? 110.29?
Well, we make mock drafts because it's fun. It's exciting to speculate and analyze what teams plan to do on draft day (and grumble about how stupid each team is for months afterward because they disagreed with who we thought they should take).
More often than not, every fan is disappointed and will stay disappointed until the draft pick of their favorite team becomes a breakout star.
With two days left before Thursday's NBA draft, we still have no idea what will happen, but that's what makes it so exciting.