Is LeBron James the Best Athlete to Ever Play in the NBA?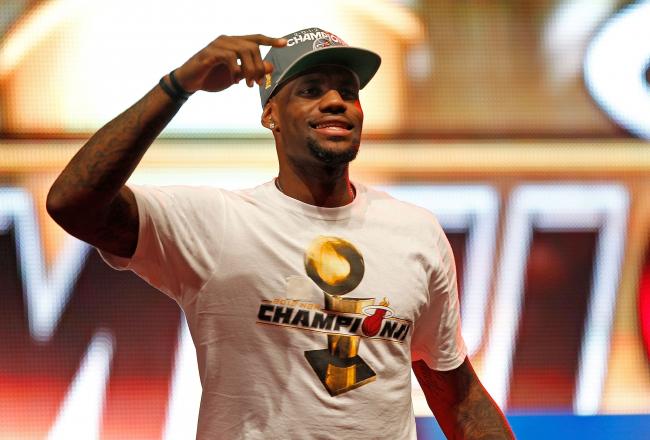 Mike Ehrmann/Getty Images
"The things he does on the basketball court you can't teach. There's brilliance to his game. And then you add the work ethic and his thirst to always get better and to push himself beyond his comfortable limits."

-Erik Spoelstra
I'm pretty sure it has already been established, but it never hurts to reaffirm the point.
LeBron James is a freak of nature. There is not one individual defender in the game today that can consistently limit him, and there probably isn't a defender in NBA history that could have done much better.
Even if you throw in Ron Artest or Scottie Pippen in their primes, you have to imagine that they would have trouble defending James simply because of his size. I completely recognize how elite their man-to-man defense was, but LeBron's physicality and aggressiveness would wear down any defender over a 48 minute period.
While any defender would ultimately tire, James seems incapable of doing so. At junctures throughout the playoffs, it appeared that he was slowing down and the leg cramp he suffered in Game 4 against the Oklahoma City Thunder was proof. But the fact that it took 22 games for his body to say "enough" is startling in its own right.
This was a player who basically took over on offense. While the Miami Heat looked a lot like James' Cleveland Cavaliers at certain points, it was also necessary for them to appear as such to move on to the next round. James' Game 6 against Boston was classic LeBron, as he took and made jumper after jumper before ending up with 45 points, missing only seven of his 26 shot attempts.
To do that in the regular season is one thing, but Game 6 against one of the league's toughest defenses in one of the league's toughest arenas, a place where James' Heat had lost 15 of its previous 16 meetings? And we almost forgot to mention that the Celtics move on to the NBA Finals if they win that game, just to make perfectly sure you knew Boston was absolutely trying to come away with a win.
Sometimes that jump shot of James' ends up falling. For the most part, however, he's relying on his size to get him high percentage shots near the rim. James recognizes that defenses want him to settle for jumpers, so he'll make an effort to drive at all costs just to keep the opposition on its heels and ready for the possibility of a 6'8", 270-pound freight train barreling down at them.
'Freight Train James' seems like the best name for LeBron this year, especially after what we witnessed in the NBA Finals.
Following up a 2011 NBA Finals where James was either being forced into perimeter jumpers or post-ups, he went to work in order to reinvent his entire game. After a few practices with Hakeem Olajuwon, James came into the 2011-12 season with brand new confidence and a lethal game that has truly put him over the top as the league's best player.
Because the Mavericks exploited his weakness of having a limited back to the basket game, James made sure to work on it in order to make sure there is nothing to exploit again over the course of a seven-game series. Therefore, one of the weakest parts of James' game suddenly became one of his strongest over the course of a summer workout.
What we saw in the 2011-12 NBA season was the best we have ever seen out of LeBron James. Even though his stats and his team's record weren't nearly as good as certain years with Cleveland, James came back a more well-rounded athlete. He still had the driving ability and the uncanny ability to finish around the rim, but also came back with a back to the basket game that enables him to score in just about every situation.
By going to James down low, the Heat have now found a way to get him near the basket without having him waste energy attempting to simply get into the lane. When there is a player who is capable of receiving the ball near the perimeter and then capable of posting his defender over the next 15 feet, you have encountered a player that cannot be stopped.
Imagine if he wasn't a facilitator. Just imagine if James had the mindset of a player like Carmelo Anthony. Thankfully for the Heat, they signed a player who can be just as effective as a passer as he is a scorer. In Miami's Game 5 clincher over OKC, James had 13 assists, including nine on the Heat's 14 three-pointers.
In total, James' 13 assists led to a staggering 34 points. The team scored 29 points off his 12 assists in the previous series.
That also happens to be another positive of James living in the post. Because he's such an excellent passer out of pressure, James can find the open man when he's double-teamed down low. The Thunder made the wise move to double-team LeBron, but they were playing pick your poison as they allowed Shane Battier, Mario Chalmers and Mike Miller to have incredible shooting displays.
The difference in the stats between last year's Finals and this year's Finals is tremendous. It's one of the most catastrophic improvements ever seen in the span of a year. The stats tell the story of a player who completely changed his game in order to win a title.
James completely gave up on the idea of hero-ball and turned it in for a fundamental approach to the game where he is making the smart high-percentage shot or a pass to the open man.
LeBron averaged 8.7 points in the paints in last year's Finals; he averaged 17.6 this year. He drew four fouls per game last year; he drew 7.2 this year. James attempted 36 percent of his shots from within five feet last year; he attempted 46 percent this year.
That's commitment. Even late in the shot-clock, James would begin his drive at the perimeter and would continue driving, instead of pulling up for a 20-footer which had become the norm. It's all a part of the brand new ideology he took into this year's campaign. He didn't want any weaknesses exposed, so he ended up doing the intelligent thing by making one of his weakest points his strongest.
It has now become next to impossible to stop James on offense. In the Finals, he spent a large part of his time guarding the likes of three-time scoring champion Kevin Durant and still managed to average 29 points, 10 rebounds and seven assists per game.
The only reason he's capable of maximizing his effort on both ends of the floor is seemingly due to him having a reserve tank that gives him energy when it appears he may finally be running out. His athleticism and conditioning was made for moments like the postseason, moments like taking over your team when your third-best player misses the majority of two playoff series.
James had at least 15 points in the paint in every single Finals game. Quite a difference from last year, when he didn't top 12. He had 18 points on 8-of-11 shooting from within five feet in Game 5. That's against a team with one of the largest starting lineups and a team with the league's leading shot blocker.
He did it throughout the postseason; against teams that had just as imposing of frontcourts as the Thunder. Let's not forget in order to get to the Finals, James and the Heat had to go through the Defensive Player of the Year in Tyson Chandler, a 7'2" center in Roy Hibbert and a number of other physical frontcourt players and a former Defensive Player of the Year in Kevin Garnett.
By the time he was done with those defenses, Serge Ibaka and Kendrick Perkins must have looked like junior varsity to James. It's a testament to James' athleticism and commitment of how he was able to thrive so often in the lane against some of the league's top frontcourt defenders and shot-blockers, which is why I'm currently contemplating if James actually is the greatest athlete to step onto a court.
Perhaps one of the most overlooked aspects of James' overall improvement as an aggressor and an athlete was his rebounding.
Throughout the postseason, the Heat were constantly undersized when it came down to it and it only got worse once the 6'11" Chris Bosh went down with an injury only six games into the playoffs. However, Miami still managed to even win some rebounding battles against these gargantuan teams.
How'd they manage? Simple. LeBron James saw a weakness and stepped up to the occasion by becoming the team's leading rebounder. If you look at James' box scores over the course of the postseason, you'll know exactly when Bosh got injured. LeBron didn't record more than eight rebounds in a game against New York and then went berserk against Indiana, Boston and even against the Thunder when Bosh returned.
James had 10 games with at least 10 rebounds and three games with at least 15. He would record at least six rebounds in every single game since Game 4 against the New York Knicks and wouldn't have less than eight in any game in the NBA Finals.
His greatest effort came by way of an 18-rebound effort in a crucial Game 4 victory against the Indiana Pacers, which accompanied 40 points and nine assists for good measure.
This is exactly what great players do—they find weaknesses within their team and make up for it. When Bosh went down with his injury, James suddenly acquired this ability to grab 10 rebounds every night. He's always been capable of going out and grabbing 10 rebounds; it's just never been asked from him until this year's postseason when his team needed the boost.
It's things like absurd rebounding and points in the paint numbers that convince me that LeBron James is the greatest athlete to ever step foot on an NBA court. However, I have no idea on how to determine who legitimately is the greatest athlete. James certainly is up there, though, and I am about to unleash the stat that may prove this so.
LeBron played in 23 postseason games. Game 5 against the Indiana Pacers was the last time he played in less than 40 minutes. Only on four occasions did James play in less than 40 minutes and the shortest time he spent on the court in the entire playoffs was nearly 32 minutes in a Game 1 blowout against the New York Knicks.
So despite playing 983 postseason minutes, averaging nearly 43 minutes per game and playing as much as a full 48 minutes, he still managed to become the back-to-the-basket player everyone hoped him to be, the rebounder that was needed from him when Chris Bosh went down, the defender needed to limit the likes of Carmelo Anthony, Paul Pierce and Kevin Durant and the facilitator that led to Mike Miller, Mario Chalmers and Shane Battier having the games of their careers.
Most of all, he became a champion. LeBron James is an NBA champion and Finals MVP. It still sounds funny to me, even though it shouldn't because you would have expected a player with James' talent to have won it already. However, there is more to winning titles than being arguably the greatest athlete in league history. Turns out you also need a sufficient supporting cast, as well.
So, is James the greatest athlete in NBA history? I can't say. He's certainly up there, though; Larry Nance, Shawn Kemp and Vince Carter can probably all look at James and see that he is a hell of an athlete.
However, I will make at least one bold statement by saying that LeBron James is the greatest athlete to use his athleticism. Prior to this year, we all knew the type of player James was. We knew that he was a tank converted into the form of a basketball player, capable of destroying planets and swallowing galaxies.
What we didn't know is that there are completely different ways as to how he utilizes that athleticism. In the entire regular and postseason, James became a completely different player. His three-point attempts went from a career-high 5.2 per in his final season with Cleveland to only 2.4 this past season with the Heat.
It's becoming a trend. A beautiful trend for the Heat and a dangerous trend for opponents. James isn't even putting up the wide-open three-pointers he's receiving because he recognizes that's exactly what his opponents want. They want him taking jump shots so that they don't have to waste their energy attempting to stop a 6'8", 270-pound behemoth.
Even if James doesn't convert, he's still tiring out the opposition and keeping them wary of his driving ability.
By turning down jumpers and attacking the rim, James has become the athlete that every player should strive to be–a player capable of scoring, rebounding, passing and defending efficiently for 45 minutes. That's not normal for anybody in any league. Human beings aren't supposed to be able to perform feats like that.
When James won the title, he conquered the game. As easy as Bill Simmons swears this road to a championship was, James and the Heat still had to face four extremely motivated teams that wanted to win just as bad as them,four teams that loved the idea of possibly becoming the team to end this little experiment of the Heat's.
Yet even with all the pressure, James came through and helped to lead his team to a championship for the first time. It happened as a result of him finally utilizing his athleticism to his fullest potential. It's only going to get worse for opponents in future postseasons, too, because James will actually improve a post-up game that wasn't always consistent.
"I have thought about what it will take to compete and match this year's run that we had," James said. "I've thought about what I'm going to do personally to improve my game. I always love the offseason. I'll have an opportunity to come back with something new. There is more to add."
He's only getting started. Hate on that.
This article is
What is the duplicate article?
Why is this article offensive?
Where is this article plagiarized from?
Why is this article poorly edited?