Flyers and Fairweather Fans: Why I Root for Both Philadelphia and Memphis
June 26, 2012

Paul Bereswill/Getty Images
I am a diehard, passionate sports fan, always have been and always will be.  And, as a diehard, passionate sports fan, there is one thing I hate more than anything else: front-runners.  It is unacceptable to root for a team simply because it is good.
In my eyes, you can't be a sports fan unless you've suffered the pain of losing, because without that, you can't fully appreciate what it feels like to win.  You can't stop cheering for your team if it is losing, but I do understand people watching their team less frequently out of pure frustration.  
This is a guide for who you should root for if you want to be considered a real sports fan.  If you follow these guidelines, you will never need to worry about defending your fan-hood.
A general rule is to root for the team that is closest to you geographically.  I am from New Jersey, and I have had people assume that I am a fan of the Devils because we share the same home state.
I hate the Devils; I bleed Flyers orange.   I may live in New Jersey, but I live about 16 miles from Center City, Philadelphia, while I am about 77 miles from Newark, the home of the Devils.  Based on my geographic location, I root for all Philadelphia sports teams.  
There is an exception to this rule, and that is the family heritage effect.  My geographic location and my family heritage both tie me to Philadelphia, but that isn't the case for everyone.
Here's an example:
You currently live in Houston.  Your father, your father's father, your father's father's father, etc. all grew up in Western Pennsylvania and bleed black and yellow.  If this is the case, then you should root for Pittsburgh.  But, it is okay to root for Houston if you've spent the majority of your life there.  
But, in general, you don't abandon family; stick with your roots.  
One thing that often leads young kids to pick their favorite team is based on a player or a uniform.  As far as players, it is acceptable to root for a team because they have your favorite player.  However, you cannot abandon that team, because if you do, you weren't a fan of that team in the first place, just the player.
I've experienced this personally.  
My favorite player growing up was Jeff Bagwell.  I loved his power and his wild batting stance, and I convinced myself that I was an Astros fan.  But, I knew that my heart was with the Phillies when Houston lost the 2005 World Series and I didn't care.  When the Phillies were eliminated from the playoffs last year, I cried.  I was never an Astros fan; I was a Jeff Bagwell fan.
The same rule applies to a team that you like because of their logo or uniforms.  It is okay, as long as you never abandon that team.  If they make a uniform change, too bad.  If you're a fan, you're a fan and that's it.
So, when is it acceptable to root for more than one team in a given sport?  As mentioned before, family relocation is a factor in fan-hood.  If your family moves from one market to another, it is okay to root for your original hometown team and your new hometown team, as long as you stick to your original team as your favorite.  
I have a rule about rooting for more than one team in a non-family relocation instance: you are allowed to root for two teams only in the league of the least favorite of your favorite teams.  However, the second team you root for cannot be in the same division as your original team, cannot be a rival of any sort with your original team, and when your two teams play, you must always root for your original favorite.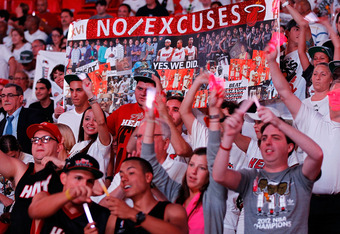 Mike Ehrmann/Getty Images
So, to give a personal example, I am a 76ers fan, but they are the least favorite of my four favorite teams. I also root for the Memphis Grizzlies, unless my two teams are playing in which case there is no question in my mind that I'm rooting for the Sixers.
I don't think that it is too much to ask to follow these rules. 
Any real, passionate sports fan out there will agree with everything that I've said.  As a Philadelphia sports fan, I've had to stick with my teams through many rough periods, but that's what makes me a real fan.
You don't abandon your team just like you don't abandon your family.