Manchester City: Roberto Mancini Should Prepare for Samir Nasri's Return
June 27, 2012
Scott Heavey/Getty Images
Manchester City boss Roberto Mancini should be wary of the returning typhoon that is Samir Nasri after his Euro 2012 meltdown.
This week the French Football Federation gave Nasri a warning that he could be receive a two-year ban from international football for allegedly verbally abusing a journalist who was looking for a quote from the player after his side's 1-0 loss to Spain in their Euro 2012 quarter-final. 
Manager Laurent Blanc dropped the City player for the important tie and Nasri used the reporter as a verbal punching bag to vent his frustrations, before inviting him to go outside for a "man-to-man chat."
With his country out of the tournament it now falls on Mancini to watch over the Frenchman before his problematic attitude spills over into the City dressing room.
Mancini is experienced in dealing with such challenging characters.
Last year Carlos Tevez sparked a tidal wave of controversy after he allegedly refused to come off the subs bench to play Bayern Munich in the Champions League, while Mario Balotelli is a constant pain in the side of every manager he seems to come in contact with.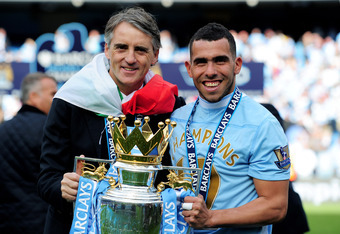 Shaun Botterill/Getty Images
The Man City manager, though, must be very wary of adding an angry Nasri into this lready volitile mix and know what implications his current mindset could have on the team.
Nasri has always been quite an outspoken character, particularly after his move from Arsenal to the Premier League champions at the beginning of last season. 
The former Gunner made a number of disparaging comments about his previous club last season, capping off the list with a rant at his old supporters during an interview with a French news channel after he lifted the Premier League trophy.
"I hope they are watching me now collecting my Premier League winner's medal," said Nasri as he talked about the supporters at the Emirates Stadium.
"I believe they have not won a trophy for many years now.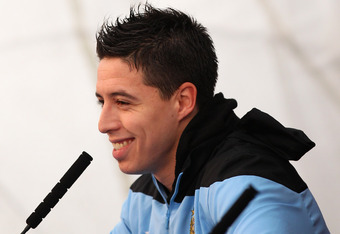 Alex Livesey/Getty Images
"I now hope the Arsenal fans can get on with their lives and forget me, they should celebrate their third-place achievement and I will focus on winning titles."
Since then the winger has been involved in a France national squad that has once again fallen apart at the seams.
His celebration after his goal against England was a f**k you to his critics in the French media according to Eric Cantona, and his outburst at the reporter was the reaction of an angry young man who currently has a chip on his shoulder.
If Nasri goes back to City with the same attitude, then Mancini will have his work cut out dealing with the volatile characters in his squad.
So what should he do?  Handle Nasri in the same way that he handles Balotelli, with kid gloves, or should he come down hard on the player and tell him that similar outbursts in the upcoming season will not go unpunished?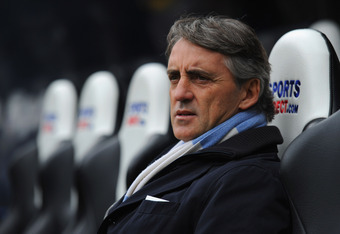 Michael Regan/Getty Images
Mancini should clear house of two of these characters and restore order and calm to his kingdom through a powerful stance of leadership.
Balotelli and Tevez are already suspected to be on their way out of the club this summer, with both Mancini and the Sheikh looking to make room in the wage budget for a certain Arsenal striker.
This should be done as soon as possible to ensure that the three outspoken players aren't given time to disrupt the pre-season preparations of a club facing their biggest challenge to date, defending a Premier League title.
Roberto showed he can make players tow the hard line, particularly when he told Tevez he would never play for City again. The Italian,however, then blew the respect gained by his reaction after he let the Argentinian back into the starting XI at the end of the season.
Not such a stern stance is needed for Nasri, but an iron fist will be needed to ensure that Mancini keeps order in his side for their title challenge.