NHL Draft 2012: 10 NCAA Skaters Selected on 2nd Day of Draft
June 27, 2012

Bruce Bennett/Getty Images
No less than 10 players who were on NCAA Division I college hockey rosters last season were chosen on the second day of the 2012 NHL Entry Draft held Saturday at the Consol Energy Center in Pittsburgh.
In the second round, Phil Di Giuseppe of Michigan (CCHA) went 38th overall to the Carolina Hurricanes. The Ontario native recorded 11 goals and 15 assists for 26 points in 40 games, and also posted seven multiple-point games. A 5'11", 197-lb. forward, he finished his freshman year with an assist in the Wolverines' first-round NCAA Tournament loss to Cornell.
Defenseman Jake McCabe of Wisconsin (WCHA) was tabbed 44th overall by the Buffalo Sabres and tallied 3-9-12 points in 26 outings from the Badger blueline. The 6'0", 203-lb. Wisconsin native prepped with the U.S. National Development Team program before joining Wisconsin.
The lone college choice in the third round was defenseman Shayne Gostisbehere of Union (ECAC), who went 78th overall to the Philadelphia Flyers after helping the Dutchmen to their first-ever Frozen Four. The Florida native had 5-17-22 points last season, and had assists in both the ECAC Championship game win over Harvard, and an NCAA Tournament victory over UMass-Lowell. The 5'10", 160-lb. blueliner also had a four-assist game against Cornell during the year.
The fourth round's solo NCAA pick was Austin Wuthrich of Notre Dame (CCHA), who went 107th overall to the Washington Capitals. The 6'1", 190-lb. forward tallied 7-10-17 points and 36 penalty minutes in 36 outings for the Fighting Irish. The Alaska native scored his first career goals in back-to-back outings against Ohio State, and also had a two-assist performance against eventual NCAA champion Boston College. Another U.S. NTDP product, he will also be the final draft choice ever from the Central Collegiate Hockey Association, which will disband following the upcoming season.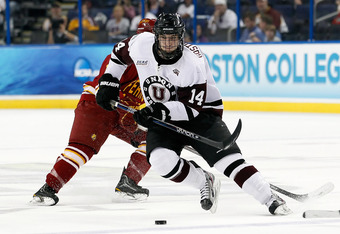 J. Meric/Getty Images
The fifth round saw Joey LaLeggia of Denver (WCHA) go 123rd overall to the Edmonton Oilers. The 5'9", 182-lb. British Columbia native collected 11-27-38 points for the Pioneers from the blue line in 43 games. He had 13 multiple-point contests, and also fashioned an eight-game scoring streak.
Brendan Woods of Wisconsin (WCHA) was nabbed 129th overall by Carolina. The Canadian-born, Virginia-raised forward had 5-5-10 points in 34 games for the Badgers, and also accumulated 67 PIM. A 6'2", 190-lb. winger, he tallied his first career goal and first career assist in back-to-back games against North Dakota, and picked up 15 PIM in a contest against St. Cloud State.
John McCarron of Cornell (ECAC) was the lone collegian drafted in the 6th round, and was collected 153rd overall by Edmonton. The Michigander registered 6-13-19 points in 35 outings for the Big Red, and also posted four multiple-point games. The 6'2", 219-lb. right wing also had 12 PIM in a game at Rensselaer, and scored a goal in Cornell's NCAA Tournament win over Michigan.
Dmitry Sinitsyn of UMass-Lowell (Hockey East) went 183rd overall to the Dallas Stars to start the seventh round for NCAA players. A former midget player in the Dallas area, the 6', 200-lb. Russian defenseman was redshirted last season by the River Hawks after joining them as a 17-year-old, and did not see any game action. He will be eligible for the upcoming 2012-13 campaign.
New Jersey native Joakim Ryan of Cornell (ECAC) went 198th overall to the San Jose Sharks, after notching 7-10-17 points in 34 games from the Big Red's blue line. A 5'10", 182-lb. defenseman, he had two goals and three points versus Mercyhurst in his collegiate debut, and also scored a goal in the NCAA Tournament win over Michigan.
Jaycob Megna of Nebraska-Omaha (WCHA) went 210th overall to the Anaheim Ducks. The Florida-born 6'4", 220-lb. defenseman who grew up in Illinois finished with 2-3-5 points and just 8 PIM in 35 appearances with the Mavericks. The next-to-last player picked in this year's draft, he recorded his first career goal against Bemidji State, and added his first assist at Alabama-Huntsville.
No college players from the 2011-12 season were chosen in the first round of the draft on Friday.