NBA Draft Trade Rumors: Why Golden State Warriors Should Trade Down
June 26, 2012

Ezra Shaw/Getty Images
In a perfect world, the Golden State Warriors would be able to trade up in the 2012 NBA draft and select Kentucky's Michael Kidd-Gilchrist as their small forward of the future.
But, as Marcus Thompson of Bay Area News Group notes, that scenario is highly unlikely, given the Warriors don't have a lot of assets to offer.
On the other hand, Thompson did add, "It's looking like the Warriors' best hopes for trading the No. 7 pick will be to move down in the draft, according to multiple sources."
Given Kidd-Gilchrist and North Carolina's Harrison Barnes will likely be nabbed before the Warriors select at No. 7, it makes sense for them to trade down in the draft. Kidd-Gilchrist and Barnes have the greatest chance of developing into stars among the small forward class this year, but there are still several small forward prospects the Warriors can select later in the first round who could become very good players in the NBA.
Here's a list of small forwards who could be available to the Warriors late in the first round: Royce White, Jeffrey Taylor, Quincy Miller and Draymond Green. If they trade down to a little past the Top 14, they may also have the opportunity to draft Kentucky point-forward Terrence Jones.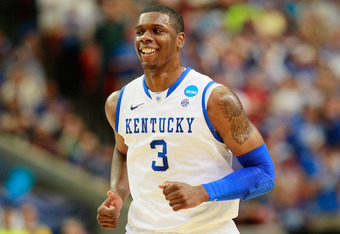 Kevin C. Cox/Getty Images
Again, it's unlikely that any of these would become stars in the NBA (White, Miller and Jones have a shot), but they could definitely develop into solid starters, and that's OK, too. On top of that, the Warriors would likely receive another draft pick for trading down.
It's only natural for fans to want the Warriors to select the best player available at No. 7 overall, but the way the draft is looking, it wouldn't make a lot of sense and it wouldn't address the team's primary need.
So, if the Warriors can't trade up, they should trade down. Where they stand now, they're in between a rock and a hard place.
Follow me on Twitter. We can talk about the NBA together.