Cristiano Ronaldo: Portugal Star Will Struggle Against Talented Spain Defense
June 26, 2012

Ian Walton/Getty Images
Cristiano Ronaldo is one of the best soccer players in the world, but he will not be able to have a good match against Spain in the semifinals of Euro 2012.
No one can doubt the forward's ability to score. This season for Real Madrid he scored 60 total goals in only 55 games. He has great control of the ball and seems to be able to put it anywhere he wants.
Ronaldo has also contributed for his international team during this tournament. He is tied for the lead with three goals and they are a big reason that Portugal is still alive in the semifinals.
The problem, however, is that he does not seem likely to continue this performance against a quality team like Spain.
In the first two games at Euro 2012, Ronaldo was shut down by Germany and Denmark. He was able to get four shots on goal in each game, but was frustrated by his lack of touches and could not get on the scoreboard.
He was finally able to break through with two goals against the Netherlands, but it is important to remember that Holland was in desperation mode after losing their first two games and was very aggressive throughout the game. 
The goal he scored against the Czech Republic was impressive, but they do not have the athletes on defense that he will be facing in the next match.
Ronaldo will be attempting to beat one of the deepest teams in the world. He will have to get past Real Madrid teammates that know his tendencies like defenseman Sergio Ramos and goalkeeper Iker Casillas. Other players play club games for Barcelona and have faced him numerous times in the past.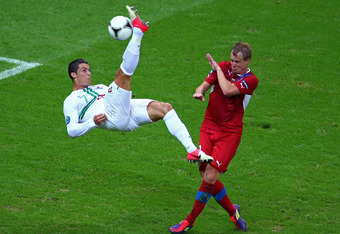 Michael Steele/Getty Images
Even if the team says they do not have a specific plan to stop him, the striker will not be able to surprise anyone on the field. 
Instead, Ronaldo will have to be patient, something he is not known for. Spain uses a very slow approach on the offensive end and control the ball for long periods at a time. The Portugal forward needs to make sure he does not get frustrated while waiting for the ball to return to his side.
More likely, Ronaldo will get limited touches against the team that has been the best in the world over the past few years. You do not win the European Championship and World Cup without knowing how to stop a single talented player.
Cristiano Ronaldo will get shut down and Spain's offense will do enough to take the team to the finals of Euro 2012.