2012 NBA Mock Draft: No-Brainer Selections for Each NBA Team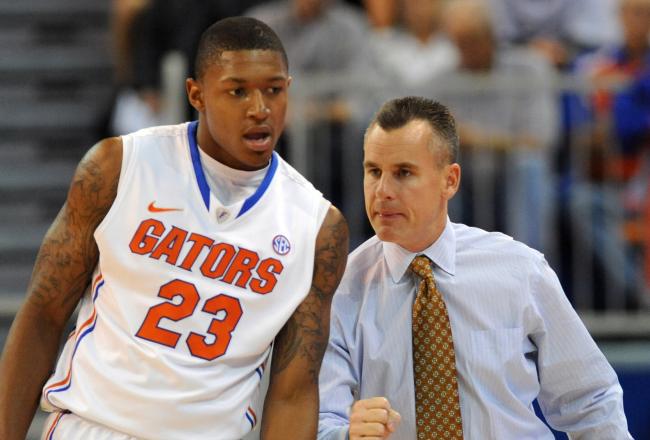 Al Messerschmidt/Getty Images
We've heard a lot about how the draft order may change between now and the end of Thursday's events, but we still have absolutely no clue what that final picture will ultimately look like.
While the league's general managers are busy wheeling and dealing, all we can do is our very best to project which guys make the most sense for each team in a perfect world. Whether those guys are still on the board and whether each team will still have its current draft position in 48 hours remain open questions.
All we really know is that Anthony Davis will make one heck of a dominant defender in New Orleans. After that, things get murky—and they get murky fast.
Murkiness aside, here's a look at what to expect from Thursday's first round.
1. New Orleans Hornets: Anthony Davis, PF (Kentucky)
Don't spend too much time thinking about this one.
No one else is.
Davis is a beastly athlete and one of the few guys in this draft who could single-handedly change a team.
What's more impressive is that Davis can do so with his defense and rebounding alone.
2. Charlotte Bobcats: Thomas Robinson, PF (Kansas)
Robinson is like a bigger version of Michael Kidd-Gilchrist. He may not as good a defender, but he's already a better scorer.
The important similarity is that they both bring incredible work ethics and leadership to the locker room, and the Bobcats need that kind of cultural adjustment as much as anything else.
3. Washington Wizards: Bradley Beal, SG (Florida)
Jordan Crawford isn't a bad 2-guard, but Beal is a heck of a lot better. He can shoot, but he also excels at getting into the paint and finishing in a variety of ways.
The idea of this guy and John Wall coming at you is just plain scary.
4. Cleveland Cavaliers: Michael Kidd-Gilchrist, SF (Kentucky)
Outside of Anthony Davis and perhaps Bradley Beal, nobody has All-Star potential like MKG.
Whatever his shortcomings are at the moment (perimeter shooting), you can rest assured that this guy will work until he gets it right.
Cleveland badly needs a small forward and wing defender, so they'd count themselves lucky if Kidd-Gilchrist falls to them.
5. Sacramento Kings: Harrison Barnes, SF (North Carolina)
Barnes might remind you a bit of Luol Deng, but he moves a bit better when taking the ball to the rim.
Like Deng, though, he's a good defender and has nice length for the small-forward position.
If any of the above options are left on the board, expect Sacramento to take one of them instead—otherwise, Barnes is a nice fit.
6. Portland Trail Blazers (from Brooklyn Nets): Andre Drummond, C (UConn)
Portland needs a center, and a combination of Drummond and LaMarcus Aldridge could become one of the most formidable frontlines in the game in a couple of years.
Drummond is not especially consistent at this point, and he struggles to score when the opportunity doesn't present itself, but he's got the best physical tools in this draft after Anthony Davis.
7. Golden State Warriors: Terrence Jones, SF (Kentucky)
The Warriors already have some options at small forward, but it's not as though Richard Jefferson is much of a long-term solution.
Jones could one day give Stephen Curry an outstanding partner on the wing. Jones' passing ability could come in handy, too, especially with Curry's being better suited shooting the ball than playing as a pass-first floor general.
This guy will also do a lot for the Warriors defensively.
8. Toronto Raptors: Jeremy Lamb, SG (UConn)
It's not entirely clear that Lamb is the best scorer after Bradley Beal, but he might be the best all-around shooter left on the board.
If the Raptors don't look for another big man, a shooting guard who can actually shoot should take top priority.
9. Detroit Pistons: Perry Jones III, PF (Baylor)
Greg Monroe had a breakout season, but he doesn't have the athleticism that Jones brings to the table. Accordingly, they would make for a dangerous pairing in the paint.
Jones may not last this long, especially if teams prefer his upside to similarly enigmatic guys like Andre Drummond and Terrence Jones.
It would be hard to see the Baylor standout sliding any further than this, though.
10. New Orleans Hornets (via Minnesota Timberwolves): Damian Lillard, PG (Weber State)
Whether Lillard is still around ultimately depends on Portland's priorities with the sixth overall pick. The Trail Blazers need a center and a point guard, so Lillard could be taken if Drummond isn't.
If the speedy scorer somehow survives this long, the Hornets would have a steal on their hands.
11. Portland Trail Blazers: Dion Waiters, G (Syracuse)
Waiters is an exceptional slasher, but his shooting leaves much to be desired. That's not entirely unusual for young guards, but it should be enough of a concern for Waiters to slip to this late in lottery, or even a bit further.
With Jamal Crawford likely done in Portland, bringing in another backcourt scorer might help.
12. Milwaukee Bucks: Tyler Zeller, C (North Carolina)
He's no Andrew Bogut, at least not yet—but he's the safest bet for a team that needs a big man who can play big minutes right away.
Zeller played a key role for UNC, and he has the makeup to do the same in the NBA. He plays hard, moves well and already knows how to pass the ball from the post.
13. Phoenix Suns: Austin Rivers, G (Duke)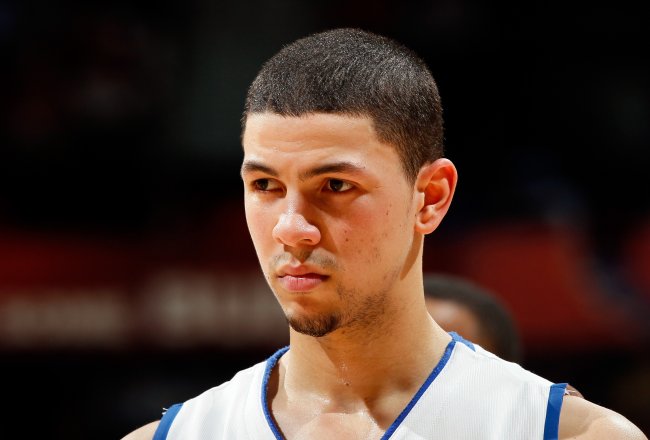 Kevin C. Cox/Getty Images
The Suns could obviously solve their backcourt needs via free agency, but Rivers wouldn't hurt.
Even if he's not ready to be a star from day one, he's cut out perfectly to play a sixth-man role, thanks to his shoot-first instincts.
Those actually come in handy sometimes.
14. Houston Rockets: John Henson, PF (North Carolina)
What ultimately happens to Houston's picks will remain one of this draft's more exciting mysteries, perhaps even after the draft is complete.
Whoever ends up with this pick, it would be a bit surprising to see Henson fall any further than this. His athletic ability and defensive impact make him a very attractive NBA prospect.
15. Philadelphia 76ers: Terrence Ross, SG (Washington)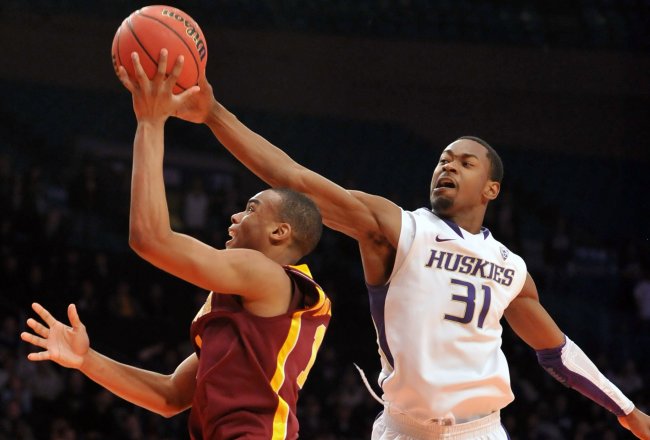 Jason Szenes/Getty Images
Ross has size, athletic ability and a dangerous perimeter shot. He'll also contribute with a few rebounds and defensive plays.
What's not to like about that?
Philly needs to set point guard Jrue Holiday up with a partner, and Ross could be the best man for the job—even if Austin Rivers or Dion Waiters is still on the board.
16. Houston Rockets (via New York Knicks): Kendall Marshall, PG (North Carolina)
There's a good chance the Rockets move forward without either Kyle Lowry or Goran Dragic, so this would be a good spot to land a backup point guard.
Marshall would get the job done­­: He's a steady passer and understands what it means to run an offense.
17. Dallas Mavericks: Meyers Leonard, C (Illinois)
It's high time the Mavericks brought in some pieces to replace Tyson Chandler, particularly guys who would do better jobs than Brendan Haywood.
Leonard may not be the immediate answer on account of his still-raw offensive skills, but he has as much potential as any big man outside of Anthony Davis and Andre Drummond.
18. Houston Rockets (via Minnesota Timberwolves): Moe Harkless, SF (St. John's)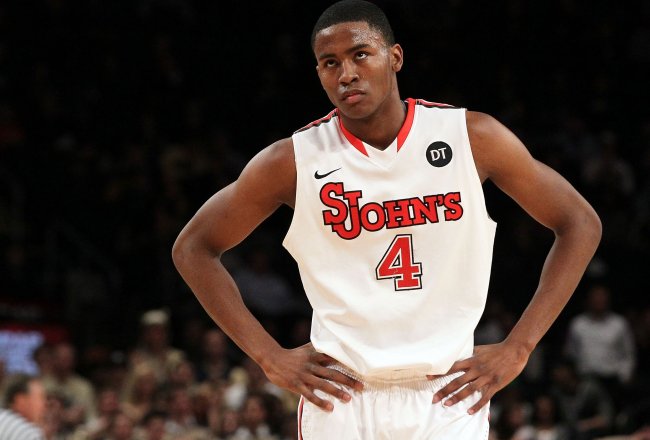 Jim McIsaac/Getty Images
It appears as though the Rockets' acquisition of yet another draft pick may have some ulterior motives behind it.
In the event Houston holds on to the selection, however, Harkless probably has as much upside as anyone falling outside the lottery.
In fact, the athletic forward may not fall outside the lottery at all.
19. Orlando Magic: Arnett Moultrie, PF (Mississippi St.)
Whether Moultrie is underrated or overrated depends largely on whom you ask, but there's no question that he has the physical tools and talent to work with. He's also a much better scorer than most of the big guys in this draft.
If he learns how to defend the paint, he could help replace Dwight Howard for years to come.
20. Denver Nuggets: Marquis Teague, PG (Kentucky)
Like his older brother Jeff, Marquis is a super-quick and intelligent floor general. He may not have looked like much at times in Kentucky, but remember whom he was playing with.
He'd give Denver one of the speediest one-two point-guard combinations in the league, with Ty Lawson in front of him.
21. Boston Celtics: Royce White, SF/PF (Iowa State)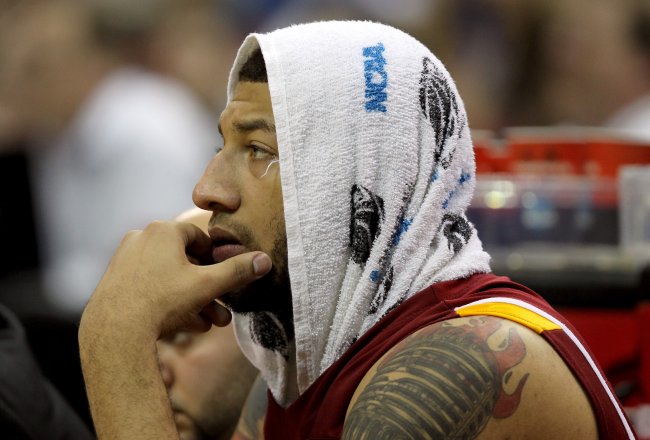 Jonathan Daniel/Getty Images
White might not exactly qualify as a "no-brainer" for the Celtics, but he's well worth a bit of gamble. He's probably the most versatile forwards after Terrence Jones and Perry Jones, and he's proven as much if not more at the college level.
He's a fine fit to give Paul Pierce some rest as he ages.
22. Boston Celtics (via Los Angeles Clippers): Fab Melo, C (Syracuse)
While there's a better-than-average chance that the Celtics don't keep both of these picks, it's not as though they couldn't find help this late in the first round.
Melo won't make an immediate impact, but he's likely to be the best center at this stage in the draft.
And Boston most certainly needs a center.
23. Atlanta Hawks: Tony Wroten Jr., PG/SG (Washington)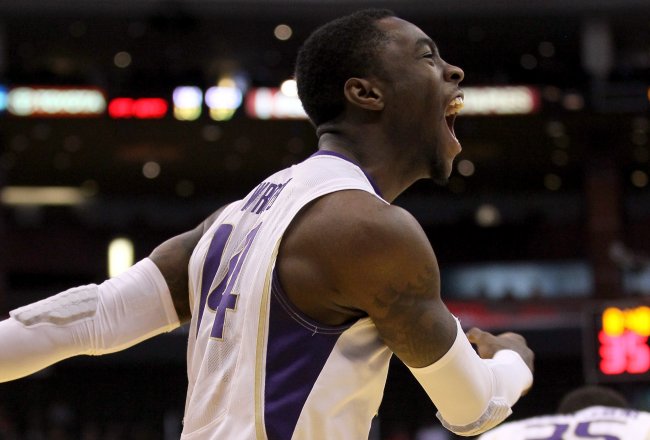 Stephen Dunn/Getty Images
Wroten has plenty going for him—namely the kind of size you hardly ever see from a player capable of point-guard duty.
We'll use the term "capable" lightly for now, though: He has a lot left to prove.
The Hawks need backcourt depth badly enough that they may be willing to give him time to do just that.
24. Cleveland Cavaliers (from Los Angeles Lakers): Jared Sullinger, PF (Ohio State)
Who knows what will happen to Sullinger, given concerns about his back? He could wind up in the second round, but a club with an extra pick to spare could certainly take a chance here.
The Cavs already have Tristan Thompson set to play the 4, but Sullinger's post skills make him an intriguing option off the bench.
25. Memphis Grizzlies: Jeff Taylor, SF (Vanderbilt)
We know that the Grizzlies love to defend and run in the open floor, and that's what Taylor does well. His shooting is improving, but he'll make his biggest impact stopping guys on the perimeter.
26. Indiana Pacers: Draymond Green, F (Michigan St.)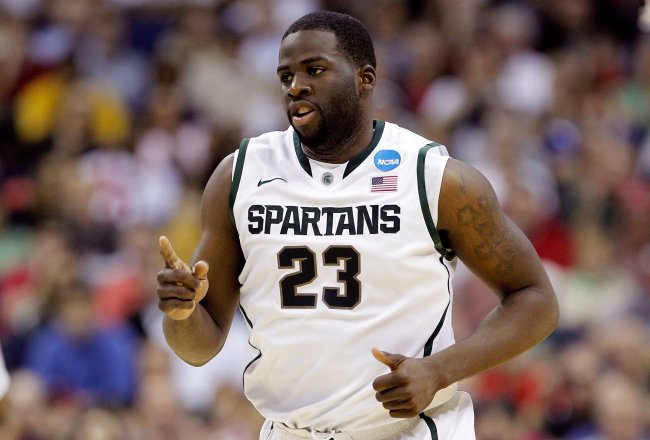 Rob Carr/Getty Images
Green doesn't have as much upside as some of the sexier picks in this draft, but he has the maturity and intelligence to compensate.
That makes him an ideal candidate to supply Indiana with some extra depth from day one.
27. Miami Heat: Festus Ezeli, C (Vanderbilt)
Fab Melo and Andrew Nicholson could also be options here, but Ezeli makes the most sense, given Miami's need for a defensive-minded big man.
The team doesn't need more scoring, so a guy who can block shots sounds pretty good at this late point in the draft.
28. Oklahoma City Thunder: Evan Fournier, SG (Poitiers)
When you're the OKC Thunder, the last thing you need is another talented young player in need of minutes.
Fournier could remain in Europe until the Thunder come calling, giving the club some options if and when it needs to replenish its talent.
29. Chicago Bulls: Will Barton G/F (Memphis)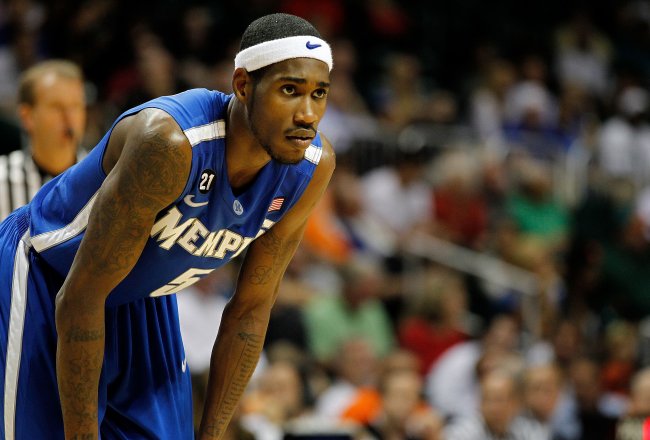 Mike Ehrmann/Getty Images
The Bulls have plenty of defense on their roster. Now, they need a scorer.
Barton could turn into a solid backcourt companion for Derrick Rose, if given some time.
30. Golden State Warriors (via San Antonio Spurs): John Jenkins, SG (Vanderbilt)
With as much youth as the Warriors have on their roster already, they could go any number of directions here.
But, with Monta Ellis now in a Bucks uniform, some depth behind Klay Thompson could be in order.
Jenkins is an incredible shooter and would have time to develop the rest of his game in Golden State.
This article is
What is the duplicate article?
Why is this article offensive?
Where is this article plagiarized from?
Why is this article poorly edited?