NBA Draft 2012: Strengths & Weaknesses of the Marquee Wing Players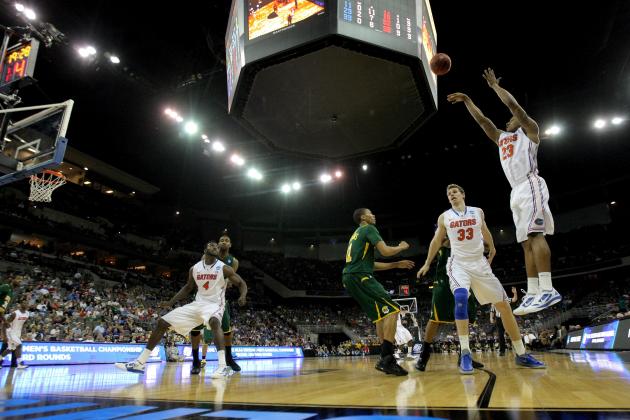 Doug Pensinger/Getty Images

Last week I gave a brief glimpse into what NBA teams are looking for and seeing in the Top 5 prospects in the draft.
Over the next couple of days, I will give quick breakdowns of some of the other top players and what NBA teams have noticed.
The first group is the wings (small forwards/shooting guards). The standard for a top-level wing in the NBA is the ability to score with the jumper and getting to the basket, being able to create his own shot or scoring opportunities, and being able to at least guard his position at an average level.
It is rare to find someone coming out of college who can do all of these, but this group of players have the best chance of succeeding at a high level.
Begin Slideshow

»
Why teams want him – Kidd-Gilchrist is a very good perimeter defender, and has the ability to guard multiple positions. He rebounds well on both ends of the floor, and had the ability to play physical when necessary.
He has a consistent, high motor and is fundamentally sound in most areas. He knows how to finish around the basket off of penetration and in transition.
What he needs to work on – Kidd-Gilchrist is a poor shooter, and it starts with his form, which is one of the worst I have seen from a wing in years. Pair with that the fact that he won't be able to muscle his way to the rim like he did in college and it will make it very easy for defenders to sag off on him.
Defensively, he is likely not going to have a shot-blocker hanging around the basket like Davis did this past season, so he is really going to need to learn how to position himself better on the ball.
Why teams want him – Ross is a very good knockdown shooter from the perimeter and he already has NBA-type range. His size at shooting guard allows him to get many good looks and he will be able to stretch the floor well with his consistency.
He has the ability to finish in a variety of ways around the basket. Ross' length and athleticism also help him on the defensive end, where he can guard 2s and 3s well, and is able to disrupt passing lanes with his long arms.
What he needs to work on – While Ross is a very good shooter, it is mainly of the catch-and-shoot variety. He is not very good at creating his own shot, and he is not a good enough ballhandler to get to the basket consistently.
His court awareness needs to improve on both ends of the floor, especially in helping him defend away from the ball.
Why teams want him – Lamb can score in a variety of ways. He can hit the long-range and mid-range jumpers, and he can get into the lane and finish around the rim with both hands.
He knows how to move well without the ball, including using screens to catch-and-shoot. Lamb is also dangerous in transition, where he has the ability to push the ball himself or run one of the lanes to go to the basket or hit the spot-up jumper.
He has very good court vision and does a good job drawing defenders and hitting the open man.
What he needs to work on – Lamb's energy levels need to become more consistent. He needs to learn to play at a high level, on both ends, at all times. Shot selection can be an issue for him, and he needs to learn to do a better job creating open looks using his dribble.
On the defensive end, Lamb can be a good on-ball defender, but he can get completely turned around off the ball, so he needs to work on his positioning and learning to do a better job reacting to quick movements.
Why teams want him – Rivers' offensive game is tailor-made for the NBA level. He is very good at using his dribble to break down defenders or to create openings for his jumper.
He gets into the lane easily and uses good body control to find ways to get shots off. He is a good ballhandler and should eventually play point guard at the NBA level.
What he needs to work on – Rivers' shot selection has been a major issue, as well as being able to hit his jumper consistently. He needs to show the ability to get open without the ball in his hands, as well as seeing the court better and finding open teammates.
Defensively, Rivers needs to work on his foot speed, lateral movement, and overall consistency.
Why teams want him – Waiters is very athletic, a good ballhandler, and understands how to run the pick-and-roll very well.
He has the ability to hit mid-range and long-range jumpers, as well as getting to the rim and finishing strong. Waiters is an active defender with the ability to pressure the ball well and create turnovers, all of which he can turn into offense.
What he needs to work on – Waiters is an inconsistent shooter and needs to learn what a good shot is. While he is a decent scorer, he isn't great, and he relies on athleticism over skill, which isn't going to get him far.
Defensively, he needs to learn not to take too many risks and to have better court awareness.
Overall, he needs to show that he was more than the 6th man he was at Syracuse.