Iowa Football: Let's Hope Hawkeyes' Throwback Uniforms Don't Look Like This
June 26, 2012

Iowa announced back in April that it would be wearing throwback jerseys for its rivalry game against Iowa State in 2012. That's not entirely out of the ordinary for the Hawkeyes, who have worn throwbacks for a couple different eras in years past, but this will be the first honoring Iowa's 1921 and 1922 teams, which both went undefeated and featured three consensus All-Americans.
In the April announcement, Iowa released the following photo of the Iowa jersey and helmet combination (via BTN.com), which look kind of snazzy: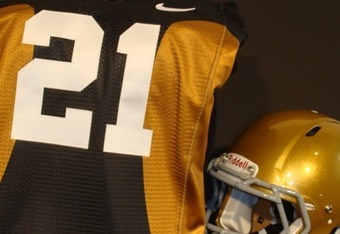 But in a picture sent out by Sports Business Journal writer Don Muret, the full Iowa jersey appears to be on display at this unidentified Iowa apparel store, and it is underwhelming: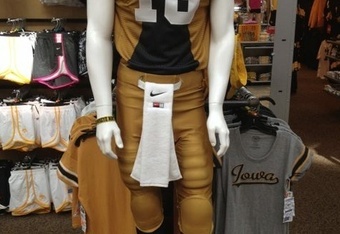 There are two important things to note. While (per the university's release) all of the details of the jersey are accurate, the color of the old goal appears to be dramatically different. Moreover, the prominent white swoosh on the official picture is no longer there on the new picture. We have a request in for comment from the Iowa SID at this point.
But let's remember that just because there are inconsistencies doesn't mean that the new uniform is a fake. For one, it would be an improvement in authenticity if the big white swoosh was either made black or moved away from that prominent breast position on the jersey. If Nike did away with what's on the April picture, kudos to them.
Second, this new photo isn't done with a professional camera or professional lighting; it's just a cell phone camera in some random store with fluorescent lights—where rich colors go to die. Even if that's the exact jersey Iowa's going to wear on that Saturday in September, it could definitely look closer to the official picture in person and on television cameras.
All that said... woof. If the colors in the second picture are more accurate, then regardless of historical authenticity or however Iowa looked like 90 years ago, that's a Purdue jersey, guys. And Iowa and Purdue are the most hated of all rivals in the Big Ten (just ask Purdue's Rivals board). 
Even if the colors are just way off in the picture, it's still a really odd look, down to the armpits shooting out a two-foot long golden blast pattern and the weird T-shape of the black on the jersey. And as for the helmets, bad news: Notre Dame doesn't have an off week that early, so Iowa's plan to borrow the Irish's headgear for the afternoon will need to be scrapped.