2012 NBA Free Agency: Changes to Expect from Boston Celtics in Offseason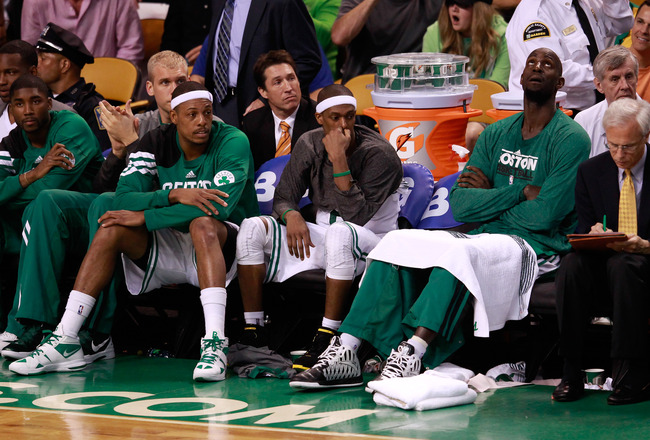 Jared Wickerham/Getty Images
Boston Celtics GM Danny Ainge has a busy offseason ahead of him because as of now, his team only has four players under contract for next season. On top of that, the team's legendary Big Three is about to lose two of its members as both Kevin Garnett and Ray Allen are expected to join new teams for the 2012-2013 campaign.
Long story short, the Celtics' front office has a lot of decisions to make regarding the team's future in terms of free agents, both its own and those on the open market. Lots of holes need to be filled, and there are multiple options for the team to consider, even if it means bringing some people back for less money.
That said, I think we can safely determine what to expect from the Celtics once free agency begins on July 1.
Bye Bye, Kevin Garnett!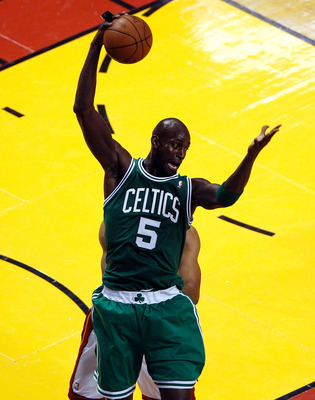 J. Meric/Getty Images
After five years and one championship, chances are that the Celtics are going to part ways with Garnett. The man's scoring as dropped ever since coming to Beantown, and on top of that, he has struggled to stay healthy. He hasn't played a full 82 games since 2005.
Even if his health and scoring weren't issues, Garnett is still 36 years old. Against the Miami Heat in the Eastern Conference Finals, especially in Games 6 and 7, the Celtics looked old and overmatched. With younger options available on the free-agent market, and probably for less money, there's just no room for Garnett in Boston.
Adios, Ray Allen!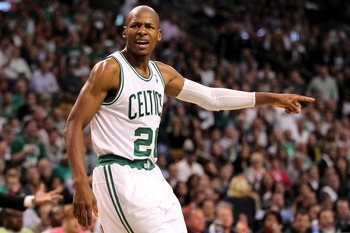 Jim Rogash/Getty Images
Allen has been one of the Celtics' most consistent players since being traded to them from the Seattle SuperSonics in 2007, averaging 16.5 points and shooting an impressive 41 percent from long range in five years. However, like Garnett, Allen is getting up there in years at age 36 and has gone from being a scorer to little more than a three-point threat at this point.
Given his recent ankle surgery and the emergence of Avery Bradley in April, he has become expendable in Boston despite still having a lot of talent left in the tank.
The Future of Jeff Green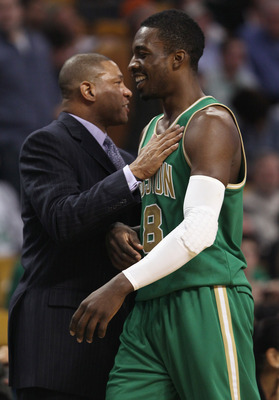 Elsa/Getty Images
Before the season started, Green signed a one-year, $9 million deal and was expected to be a solid contributor off the Celtics' bench. Then, he was diagnosed with an aortic aneurysm and missed the entire season recovering from surgery.
Now that he's an unrestricted free agent, the Celtics need to decide if they want to keep him on the roster. His condition is a definite red flag, but he has proven to be extremely talented when healthy. According to Green's agent, as told to Sam Amick of Sports Illustrated, the former Georgetown Hoya has 12-14 teams interested in him.
That said, it's going to be interesting to see how this situation plays out over the next few weeks.
Omer Asik to Play Center?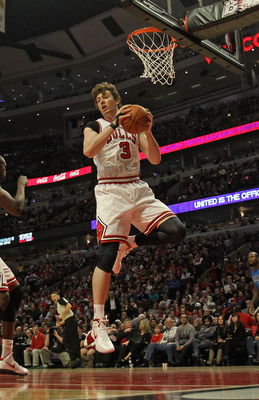 Jonathan Daniel/Getty Images
Now that Garnett is on the way out, the Celtics have a hole at center that simply cannot be fully filled by impending restricted free agent Greg Stiemsma. That said, a move clearly needs to be made.
According to Sam Smith of Bulls.com, however, Garnett is open to coming back if he can play power forward and that could set the team up to make an offer that would sign Turkish seven-footer and restricted free agent Omer Asik away from the Chicago Bulls.
Asik has proven to be a solid big body in the low post in his short NBA career, but hasn't gotten many significant minutes in Chicago playing behind Joakim Noah. A move to Boston would make him the go-to guy at the 5, and he could have plenty of support in the frontcourt if Garnett returned.
This move is a bit of a stretch, but it's just crazy enough to work.
Re-Signing Brandon Bass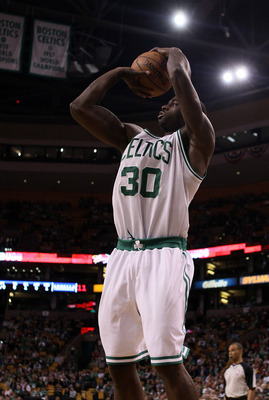 Elsa/Getty Images
Bass came to the Celtics last offseason as part of the sign-and-trade deal that saw Glen "Big Baby" Davis go to the Orlando Magic, and he did a decent job playing the 4 this year. Not only did he score points well, but he also did a decent job in the rebounding department and looked as good as he did during his days at LSU.
Now, Bass is a free agent who will surely receive a great number of offers come July 1. Simply put, if the Celtics are committed to getting younger, they need to completely abandon the idea of bringing back Garnett for the sake of signing Asik and instead use that money to sign the 27-year-old Bass to a long-term contract.
Last season was just the tip of the iceberg in terms of his overall potential, and if he has a breakout year on another team, not fully pursuing him could become a mistake that Danny Ainge regrets forever.
The Pursuit of Jamal Crawford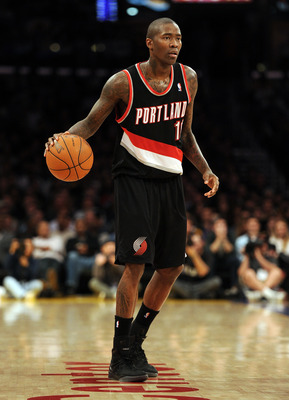 Harry How/Getty Images
Even though Ray Allen is probably leaving and Avery Bradley showed some potential over the final month of the season, the position could use an experienced shooter just to be safe. The Celtics must believe the same because according to Alex Kennedy of Hoopsworld, the team is expected to make an offer to impending free agent Jamal Crawford.
It's going to be interesting to see how the market pans out for Crawford, who put up career lows in both field goal and three-point percentage for the Portland Trail Blazers in 2012. Still, he averaged 14 points per contest, and his struggles can be attributed to those of teammate Raymond Felton and the fact that Crawford himself was unhappy in Portland.
In Boston, Crawford could be on a team that could contend immediately, and he would easily fit in either the lineup or coming off the bench. Since he'll probably come cheap, the Celtics must pursue him as aggressively as possible.
Keep Reading

Boston Celtics: Like this team?