Washington Redskins: Sizing Up the Competition at Wide Receiver
June 26, 2012

Patrick Smith/Getty Images
It's not even a debate. The Washington Redskins have the deepest group of wide receivers in the NFC East. And you know what that means...training camp competition galore in Ashburn!
Here's a look at the competition for reps at wide receiver heading into camp.
(Best- and worst-case scenarios exclude possible time missed due to injury.)
The New Toy: Pierre Garcon
He's the only skill-position player not named Robert Griffin III who is pretty much guaranteed a starting spot in 2012. Why? Mainly because the 25-year-old has been guaranteed $20 million over five years, but also because he's got the most potent combination of speed, athleticism and experience on the roster. 
Offensive coordinator Kyle Shanahan recently stated that Garcon, who had 70 receptions, 947 yards and six touchdowns despite catching passes from Curtis Painter for much of 2011, was the best receiver available on the free-agent market. 
He's polished his game and cut down on his mistakes of late, and he could be primed to break out with Griffin tossing balls his way in 2012.
Best-case scenario: 80 REC, 1,200 YDS, 8 TD
Worst-case scenario: 50 REC, 700 YDS, 3 TD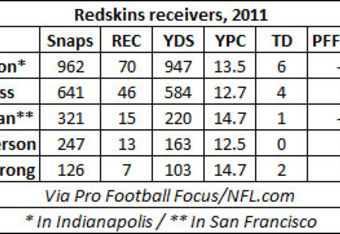 The Familiar Face: Santana Moss
Sure, he's lost a step and he dropped a few too many balls in 2011, but the 33-year-old is healthy again after being hampered by a broken foot in 2011. He's lost some weight and is apparently on a tear this offseason, so expect him to enter training camp as the favorite to start opposite Garcon.
There's obviously no guarantee Moss stays healthy, and there'll be a crowd behind him. He has to eliminate mental mistakes and get back to his 2010 form. 
When's the last time Moss had a lot of support in the receiving corps? And has he ever had a quarterback like RG3? The attention has shifted, and the balls will be delivered more accurately and with more velocity than ever. As a result, don't be surprised if Moss experiences a similar rejuvenation to the one we saw from Steve Smith in Carolina last season.
Best-case scenario: 75 REC, 1,100 YDS, 6 TD
Worst-case scenario: 50 REC, 600 YDS, 3 TD
The Other New Toy: Josh Morgan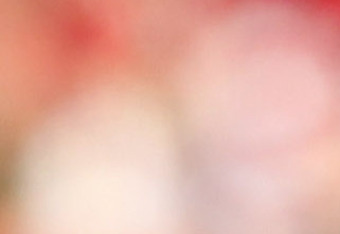 Ezra Shaw/Getty Images
The 'Skins also threw a lot of money at the veteran Morgan, who was selected 31 spots ahead of Garcon in the sixth round of the 2008 draft. The problem with Morgan is that he's yet to prove he can be a quality starting receiver in this league, and he's currently battling back from the broken leg that cost him much of his 2011 season in San Francisco.
That said, Morgan is still young and has the talent to contribute as a solid return man while possessing the ability to turn into a feared deep threat in the right environment.
Best-case scenario: 60 REC, 900 YDS, 5 TD
Worst-case scenario: 25 REC, 350 YDS, 1 TD
The Man of Mystery: Leonard Hankerson
The 2011 third-round pick looked magnificent in limited opportunities before going down with a season-ending injury with just two starts under his belt in November. Before the team invested in Garcon and Morgan and Moss started turning heads in practice again, some pegged Hankerson as the favorite to be the No. 1 receiver in 2012.
But now that they've spent over $27 million in guaranteed money on Garcon and Morgan and seen Moss surpass expectations, there's a chance Hankerson once again has to wait for his turn. Considering Moss' age and Morgan's history with injuries, that might come early, but it's impossible to know.
Best-case scenario: 75 REC, 1,100 YDS, 7 TD
Worst-case scenario: 20 REC, 300 YDS, 1 TD
The Man You Almost Forgot About: Anthony Armstrong
If anyone has become lost in the shuffle, it's probably the veteran Armstrong, who, only a year ago, was coming off an 871-yard season in which he had nearly 20 yards per reception. The problem is that Garcon, Morgan and even Moss are more reliable deep threats than he is.
The 29-year-old benefited greatly from being part of a shallow receiving corps in 2010, but injuries hit him hard in 2011, and now the pool has become significantly deeper. Still, there's no telling who might emerge to become RG3's favorite target.
Best-case scenario: 50 REC, 800 YDS, 5 TD
Worst-case scenario: Aldrick Robinson bumps him off the roster entirely.
My Impressions
I fully expect Garcon to live up to expectations and think that Moss will rebound if he can stay healthy. But it's that battle for the No. 3 spot that intrigues me most. The winner will earn lots of reps in the slot, which is a position that both Morgan and Hankerson can play well. Plus, whoever emerges there will be first in line to step in for the aging Moss if he goes down.
And there's really no obvious favorite. Morgan is slightly bigger and faster, has good hands, more experience and is getting paid more money, but Hankerson erupted in a small window last year in a way that Morgan has never been able to. 
I think Morgan probably has the early edge, but Hankerson could emerge as the better all-around player.