Timothy Bradley: "Let's Put the Belt Vacant and Let's Fight for the Belt"
June 26, 2012

Jeff Bottari/Getty Images
No matter how much someone tries to ignore what other people say about them, in the end, the public opinion slowly makes its way deep into one's head and remains there gnawing away until there is no more room to mentally block the pressure.
After being handed a victory against Manny Pacquiao, Timothy Bradley was instantly booed and labeled nothing more than a "paper champion." Many people believed that Pacquiao clearly won that fight, but for some unknown reason, was robbed of that victory.
Ever since their fight, many public figures, as well as boxing fans, have made it their business to bring justice to the surface. Pressure was applied, and the WBO ended up reviewing the fight again with five new judges. According to them, the win should have been awarded to Manny Pacquiao, claiming that he indeed won most of the rounds.
At first Bradley tried to talk his way out of it, claiming that he had won the fight, and that the judges gave him the victory for a reason. Bradley went on to publicize a very wide spectrum of self-destructive statements, all of which ended up doing nothing but damage to his character.
Now, after the dust has settled, it seems like Bradley cares less about the belt, and more about clearing his name and proving to the world that he did, and could once again, beat Manny Pacquiao.
In a recent interview with The Desert Sun newspaper, Bradley made the following statement:
"I would say let's do the rematch, let's put the belt vacant and let's fight for the belt. You know? I don't have to be the champion going into the fight, and let's just fight for the belt. Let's do that."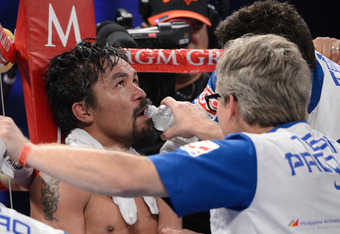 Kevork Djansezian/Getty Images
So, it seems that Bradley simply wants to prove himself by getting another opportunity to step inside the ring against Pacquiao again, as this is the only possible way to silence his critics at this point in time. Giving up the belt to level the playing field is Bradley's way to incentivize the fight to Pacquiao.
As far as giving the belt back, as many boxing fans had suggested Bradley do, he replied with the following: "Why would I do that? There hasn't been anybody in the history of boxing that ever gave up the belt. EVER! In the history of boxing."
I think that even suggesting that Bradley give the belt back is too excessive. He fought to get the belt, and the three judges at the time decided that he had earned it.
What if your employer had decided that for the last two weeks, your work performance was worse than they had anticipated and they decide that they had made a mistake of giving you your paycheck, and asked for it back, would you oblige?
I think that making the belt vacant is just the right thing to do in order to increase the possibility of a rematch. Personally, I do not blame Bradley for anything, and as a matter of fact, I think that he put on a better performance against Manny than any other opponent that Pacquiao had faced in a very long time. Both fighters not only deserve, but need the rematch. Just as Marquez and Pacquiao needed to have theirs, Bradley and Pacquiao now need to do the same.