2012 MLB All-Star Game: Projected Starters at Every NL Position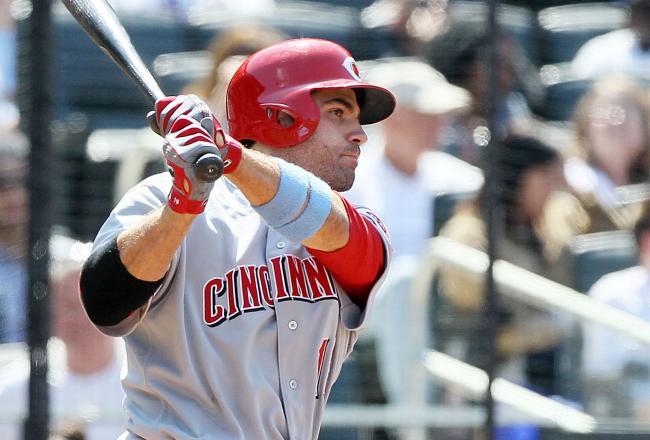 Joey Votto leads all National League players in All-Star voting.
Jim McIsaac/Getty Images
The latest update of MLB All-Star voting results was just released on Tuesday afternoon. In the National League, there isn't much change from the last wave of voting totals. Virtually every player who led at his position continues to do so.
The one change was in the NL outfield, where the Milwaukee Brewers' Ryan Braun leapfrogged over Melky Cabrera of the San Francisco Giants for the third starting spot.
However, the lead at every other position looks pretty solid. Barring an amazing surge in voting at two or three positions, the starting lineup for the NL looks to be in place.
But let's take a look at each position and see which ones might still be up for grabs until online voting ends on Thursday.
First Base: Joey Votto, Cincinnati Reds
This is the absolute lock. Votto is the leading vote-getter among NL players and holds a lead of nearly three million votes over Lance Berkman. Would anyone care to argue this outcome? Votto is the best player in the NL right now.
Second Base: Dan Uggla, Atlanta Braves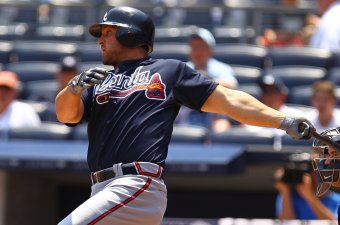 Dan Uggla leads National League second baseman with 11 home runs.
Al Bello/Getty Images
Uggla leads Reds second baseman Brandon Phillips by just over 770,000 votes, according to the latest results. That lead is not going to be overcome in the next two days. Going solely by performance, it's pretty close between the two. Phillips has a higher batting average, but Uggla is ahead of him in OPS.
Third Base: David Wright, New York Mets
How many votes can Giants fans stuff the ballot box with over the next two days? Wright leads Pablo Sandoval by 464,549 votes, which is probably going to hold. And it should. Wright is the best third baseman in the NL, and among the top two players in batting average, on-base percentage and OPS.
Shortstop: Rafael Furcal, St. Louis Cardinals
With a focused campaign by Rockies fans, could Troy Tulowitzki overcome a deficit of almost 260,000 votes? It's irrelevant with Tulowitzki injured and unavailable to play. Among the top five vote-getters at shortstop, the Cubs' Starlin Castro is probably most deserving, but he trails Furcal by almost one million votes.
Catcher: Buster Posey, San Francisco Giants
Here's a position where it could get interesting. Posey leads the Cardinals' Yadier Molina by a little over 215,000 votes. I don't know how many votes can be cast in two days, but people can click their mice a lot. Molina is the more deserving starter, but Posey winning the vote is hardly a crime.
Outfield: Carlos Beltran, St. Louis Cardinals
Outfield: Ryan Braun, Milwaukee Brewers
Outfield: Melky Cabrera, San Francisco Giants
Matt Kemp is the leading vote-getter among NL outfielders and received the second-most votes of any NL player, with approximately 4.12 million. But as the Associated Press' Janie McCauley reports, Kemp isn't going to appear in the game unless he can play in a regular game beforehand.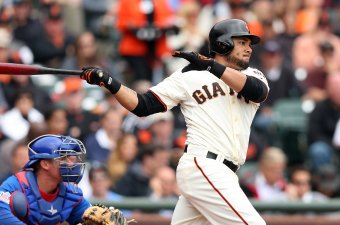 Melky Cabrera is fourth in All-Star voting for National League outfielders.
Ezra Shaw/Getty Images
So will Melky Cabrera get Kemp's open slot, since he has the fourth-highest vote total among NL outfielders? Cabrera also leads the next closest outfielder, the Dodgers' Andre Ethier, by more than a million votes.
Braun passed Cabrera in the latest round of voting and now leads him by over 120,000 votes. If not for Kemp's injury, we might have a tight race for that third starting OF spot. But Kemp's injury kills the suspense.
The Pirates' Andrew McCutchen, seventh among NL outfielders, would be a nice fit in the starting lineup. Not only are his numbers deserving of the honor, but he's a natural center fielder. Such things don't really matter in an All-Star game, though. Otherwise, why wouldn't we vote for each outfield position?
Follow @iancass on Twitter
This article is
What is the duplicate article?
Why is this article offensive?
Where is this article plagiarized from?
Why is this article poorly edited?