Manchester United: Predicting Sir Alex's Tactics Next Season
March 24, 2017
Alex Livesey/Getty Images
After surrendering the Premier League title to rivals Manchester City, the 2012/13 campaign will be one of ever greater importance for Manchester United, chiefly because of the fact that it could be Sir Alex Ferguson's last as manager of the club.
The 70-year-old has courted speculation in recent months regarding the possible end to his tenure with the club.
For nearly 27 years now, the Scotsman has kept the Red Devils amongst the upper echelon of English and European football, leaving a trail of trophies a mile long.
That being said, some things will need to change next season if the side are to shift the scales of English dominance back in their own favour.
Not least of which is the tactics that Sir Alex Ferguson chooses to employ.
This can relate to a wide array of factors regarding the team, all of which we will consider now.
At the time of the football calendar which we find ourselves in, players are bopping around the world, seeking greener and more prosperous pastures in their new surroundings.
As is only natural with some of the bigger name signings, tactics and formation choice will be affected upon their arrival.
Manchester United have only announced two transfer signings of the summer transfer window so far, but considering the window isn't even officially open yet, that's still considerable business to be made.
On 1 July, 18-year-old Nick Powell will complete a move thought to be worth around £3m plus add-ons from Crewe Alexandra.
The other new face is one that will undoubtedly make a good deal greater instant impact.
Shinji Kagawa was long associated with a move to England after it emerged that were he ever to leave Borussia Dortmund, it would be for the Premier League.
Last week, Manchester United announced that, with a transfer fee of £17m agreed, work permit allocated and medical completed, Kagawa is certain to be playing in the red of United next season.
At Dortmund, Kagawa played behind the strikers in "The Hole."
It was in this position that Sir Alex Ferguson probably lacked the most depth last season with injuries affecting the availability of Tom Cleverley, Darren Fletcher and Anderson.
This meant that, for massive portions of the season, it was Wayne Rooney who was called upon to provide ammunition to those up front.
With Kagawa now fulfilling that position as a natural playmaker, Ferguson can freely play Rooney in his most natural position and even utilize a second striker; something which is sure to be seen considering the amount of attacking talent that would otherwise be left on the bench.
Some have commented on the ineffectuality of Ferguson's stubborn usage of the 4-4-2 formation last season.
The setup that has come to be known as eternally "English" (If you haven't seen Mike Bassett: Football Manager, watch that, and then resume reading this piece) has served the Scotsman well in the English top flight, but its efficiency in European competition is now questionable.
With teams edging closer to these "total units" where even defenders can attack freely at times, the old methods aren't as easy to survive on as they once were and although United have never lacked talent out wide or up front, Kagawa comes into a very crucial creative slot.
To be boring, let's use the example of Andres Iniesta at Barcelona. In fact, if it's the Catalan giants we're talking about, Messi, Fabregas, Xavi and numerous others also do a commendable job in the role of attacking midfielder.
The way that Barça play puts a huge emphasis on how important this "catalyst player" is and while Manchester United should never aim to emulate the play of others, utilizing Kagawa in as effective a manner will be critical to success in 2012/13.
Another aspect that needs to change in such a critical time for Manchester United is mentality.
Mind games between Ferguson and his opposite numbers were as common and evident as ever but, for once in his long and illustrious tenure at Old Trafford, it appeared to be Ferguson that came off worse in a number of these key struggles.
Instead of heading out with the offensive guile that has made United the club it is today, the Red Devils seemed to resemble the "Timid Cherubs" more at times.
Perhaps it was the threat of losing all that this club has come to hold dear or maybe it was a lack of confidence in the youthful assets available to the team.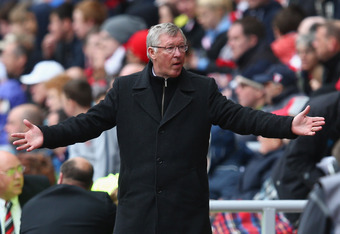 Clive Mason/Getty Images
Whatever it was that made the team that bit more uncertain than usual, it needs to be overcome if United are to regain their usual silverware honours next season.
Unfortunately for Manchester United, the other area which is in need of the most tactical revamping is also the area in which they find themselves particularly limited at the moment.
As things stand, United have, at most, six senior defenders capable of doing a respectable job at either full-back position; Patrice Evra, Rafael, Fabio, Phil Jones, Ezekiel Fryers and Chris Smalling.
If needed, Antonio Valencia can also do a job, so to speak, at right-back, but it's no secret that the Ecuadorian operates at maximum efficiency when playing on the wing.
These days, full-backs are as much an attacking asset as they are a defensive one.
This can be misconstrued at times though.
Just because attacking has become an integral part of the game of any elite full-back, does not then mean that a sweeping notion changes the priorities of that position.
Patrice Evra, the da Silva twins and Phil Jones are all excellent at going forward and pushing the attack forward in whatever way they can.
However, both Evra and the da Silva twins have come under fire over the past 12 months for what has, at times, been a disappointing era for the trio.
Fortunately for Jones, he has the saving grace of being able to say that he's a natural centre-back and, as such, can't garner as much blame.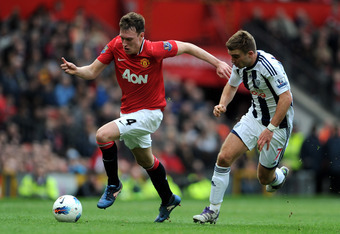 Michael Regan/Getty Images
Fabio has already been linked with loan moves away from Old Trafford, as reported by The Mirror, in order to earn more playing time while Evra's days of first-team football may be nearing their later years, with Gael Clichy most recently beating the speedster out of his place on the French national team.
Considering the deteriorating fitness levels of both Rio Ferdinand and Nemanja Vidic, it would be surprising to see Manchester United not invest in a defender this summer and with Jones, Jonny Evans and Smalling already occupying the central positions, a wide defender would be the logical option.
It's debatable as to whether transfer choices really falls under the category of "tactics," but if Sir Alex Ferguson's men are to function as the well-oiled machine that most know they can, it's vital that the full-back positions are as reliable as they have been in the past.
In a way, full-back has now become the position at which the "most-rounded" player is required.
Sturdy at the back but capable of functioning amongst fluid, attacking motions, it's the full-backs that arguably have the most to do over the 90 minutes of a game these days.
As was touched upon earlier, it will be intriguing to watch how Sir Alex makes use of his forwards this upcoming season.
Wayne Rooney is undoubtedly the most threatening strike talent on the roster but with Shinji Kagawa now at the club, is there any more room for two strikers?
Under Jürgen Klopp, Borussia Dortmund have done well by using a 4-2-3-1 formation.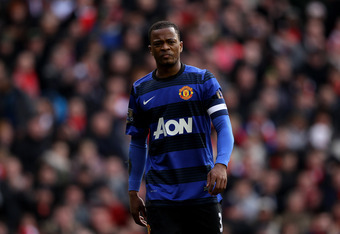 Alex Livesey/Getty Images
Kagawa would operate in the middle of the "3" while Kevin Großkreutz and Jakub Błaszczykowski would act as the wide attackers with Robert Lewandowski acting as sole striker.
If United were to adopt a similar approach, the only way that Danny Welbeck, Javier Hernandez or any other forwards in the side can function alongside Wayne Rooney is if only one central midfielder is played; something I can't see happening and would predict Ferguson is too smart to risk.
With such youth in defence, United need to hand their back four cover through the midfield so that means that either the centre of the park or the strikers will see a decrease in playing time.
This isn't to say that Ferguson won't revert back to a 4-4-2 style formation at times, on the contrary, it's almost guaranteed that he will.
All this means is that in order for Manchester United to reassert themselves as the dominant force in football that they once were, they might need to change just that little bit.
People say that "change is good" but in football, nothing is ever quite that concrete.