Spain's Tiki-Taka Dynasty Is 2 Games Away from Achieving True Greatness
June 27, 2012

Alex Livesey/Getty Images
The public approval rating of Spain's national football team has run an entirely predictable course since 2008—the year they began their tiki-taka takeover of the world.
At UEFA Euro 2008, the romantics among us willed them on. Spain were still cast as the perennial underachievers back then—a nation blessed with generous riches but not the tools to mine them.
Nearly half a century since their one and only success—at the 1964 European Championship—Spain were billed as international football's mercurial nearly men, high on flair but low on fight. Sporting sentimentality called on them to finally deliver.
They did so by winning all six of their matches at Euro 2008 under manager Luis Aragones, and by embracing tiki-taka—a brand of passing football that requires all 10 outfield players to display immaculate technique.
It wasn't a revolutionary approach by any means, but what Aragones had was a group of players who not just embraced it, but for whom it seemed to represent a key to unlocking their potential.
Here's how Sid Lowe reflected on Spain's Euro 2008 triumph, writing for The Guardian:
Aragones has always insisted that with the players Spain have it would be absurd to play any other way [than tiki-taka] and he is of course right. Perhaps the search for Spain's failures in the past was misguided: perhaps they did not underachieve; perhaps the players were not as good as they—and we—thought they were; perhaps this generation is the first one that genuinely has the talent...
As Lowe also pointed out, Spain's long-awaited success wasn't just about playing pretty passing football. Aragones had molded a squad of fabulously gifted individuals into a hardened and tenacious outfit too.
Marcos Senna was the poster child for that element. The Brazilian-born midfielder sat in front of Aragones' defense and played a vital role in shielding them. He was Spain's "water carrier" supreme and one of the key players in their ultimate success.
With Senna to cover their backs, the likes of Xavi, Andres Iniesta, David Silva and Cesc Fabregas were afforded greater freedom in Spain's midfield. Expression was encouraged, and Spain flourished.
In the final, Spain completely outplayed Joachim Low's Germany and won 1-0 through a goal from a young striker named Fernando Torres. It was universally viewed as a triumph for beautiful football and just reward for an approach that had purists kneeling at the altar of tiki-taka.
They weren't just Spain anymore. They were "stylish Spain." And just about anybody who knew anything about football—besides German sympathizers, of course—greeted their Euro 2008 success as a victory for the good of the game itself.
In the intervening two years before World Cup 2010, the core of Aragones' team set about dominating Europe in the colors of Barcelona.
Pep Guardiola took over at Camp Nou for the 2008-09 season and set about building a team that would come to be recognized as one of the great club sides in history. They too stayed true to tiki-taka, but with the notable addition of Lionel Messi's genius to reinforce their point.
Guardiola's Barca won the Champions League in 2009, beating Manchester United in a one-sided final, and cleaned up domestically in Spain too.
They continued their La Liga dominance in in the 2009-10 season and, but for a Jose Mourinho-inspired spoiling masterclass from Inter Milan in the semifinals, would likely have won the Champions League again too.
Vicente del Bosque was now two years into his reign as coach of the Spanish national team. Following Aragones was no small task, but he'd taken to it with spectacular success and would take Spain to the 2010 World Cup having won all 10 of their qualifying matches.
Del Bosque's approach was a variation on a theme. Senna's role was taken by Sergio Busquets, and Spain now operated with another deep-lying midfield alongside him, in Xabi Alonso. Behind them, Gerard Pique had elevated to become the natural partner to Carles Puyol in central defense.
Despite a shock defeat to Switzerland in their opening match, "stylish" Spain and the the church of tiki-taka triumphed yet again in South Africa. Portugal, Paraguay, Germany and Netherlands were all beaten 1-0 in the knockout stages, and Spain were world champions for the first time in their history.
Spain's World Cup final victory against the Netherlands was told as a story of footballing good overcoming evil. "Spain deservedly defeat dirty Dutch" was the theme, and it reinforced the notion that tiki-taka was not just a winning formula, but one that stressed the virtues of football and promoted it in the best light imaginable.
"I saw beautiful things, really," said FIFA president Sepp Blatter, via Goal.com. "Football has become eminently strategic, and it is nice for the viewer that it is not just attack and defend."
Just as they had in 2009, Barcelona followed Spain's major tournament lead to win the Champions League in 2011—once again putting Manchester United to the sword in a Messi-inspired 3-1 final victory.
Said Sir Alex Ferguson after watching his United team yet again come up short, via BBC Sport:
Nobody's given us a hiding like that but they deserve it

They play the right way and they enjoy their football. They do mesmerise you with their passing and we never really did control Messi. But many people have said that.

In my time as manager, it's the best team I've faced.
Tiki-taka was now three years into its reign. And as with any dominant force that stays the course, in any field, there were those beginning to turn against it. The most common accusation was that it was "boring" and overindulgent.
"Why play 10 passes when one will do," was the crux of the tiki-taka backlash, and it seemed to be gathering support with every Spain or Barcelona victory.
When Inter Milan knocked Barca out of the Champions League in 2009, the majority mourned a footballing travesty. But by the time Chelsea went to Camp Nou and beat Guardiola's team in 2012, and Real Madrid subsequently beat Barca to the Spanish title, the consensus appeared to have shifted.
For whatever reason, there were a growing number of football fans ready for a revolution.
It was during the 2011-12 season I dared to join the anti-tiki taka movement. In an article for Bleacher Report, I hailed its mastery, but took the stance of calling for change. "After a thousand listens to a symphony, maybe I'm ready for a three-man punk act?" I wrote, and a good number of readers agreed with me.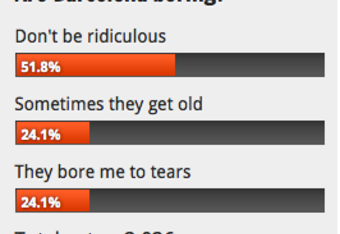 The same sentiment has been the backdrop to Spain's campaign at Euro 2012, where they've even faced chants of "boring, boring Spain." As the Irish Independent points out, the debate as to whether Spain are "brilliant or boring" has become the defining discussion of the tournament. It's gone so far that the Spanish players are being asked to defend their approach.
"Football's so great because not everyone likes the same thing, we don't have to all agree on everything," Iniesta told reporters, via The Daily Telegraph. "For us, the play that we have, the way we have of doing things, is what has led us to our success, to winning titles."
"That's their opinion and just as valid as any other," said Alonso (via Reuters) of the boring tag. "Whatever people say I don't think we are going to change."
Four years on from Euro 2008, Spain's approach is now being magnified through the increasingly prolific use of stats. Pass completion and possession numbers are now a staple of every match report and serve to reinforce their total dominance of the football.
Spain completed a remarkable 779 passes in their 4-1 defeat of the Republic of Ireland. That's roughly a pass every seven seconds. Their possession numbers so far, as per UEFA, have been 60 percent (vs. Italy), 66 percent (vs. Ireland), 64 percent (vs. Croatia) and 55 percent (vs. France).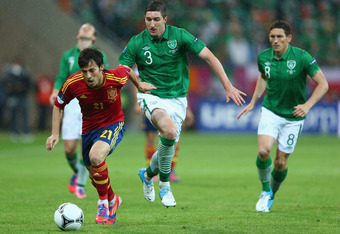 Michael Steele/Getty Images
Heading into their Euro 2012 semifinal with Portugal, Spain have already racked up 2,623 completed passes at the tournament. As Betfair points out, that's twice the number of their semifinal opponents.
Such overwhelming dominance has turned many against them. To that end, you could say an element of Spain's popularity has fallen victim to their success. We've seen them win so often, so convincingly, that some of us are ready for an alternative.
Some of us are jealous. Others, myself included, are motivated more by the notion of seeing a realistic challenge laid down. After all, Euro 2012 will not feel like a tournament if it ends up as a procession.
But that's not Spain's problem. And it's not their problem if we begin to perceive them as boring either. As long as del Bosque's team keep winning football matches, why should they change their tactics? Striker or no striker, no sane football fan in the world would turn down tiki-taka if it meant their team would march to glory.
With that, our attentions turn to Cristiano Ronaldo and Portugal, who have a chance to strike a blow against tiki-taka and perhaps set a tone for battles to come in Donetsk. If they fail, the baton will fall to Italy or Germany in the final.
For the neutrals, the choice is clear—embrace the pass masters for all that they are, or get behind the revolution and whoever happens to be fighting for it.