5 Biggest Trouble Spots on the New York Jets Roster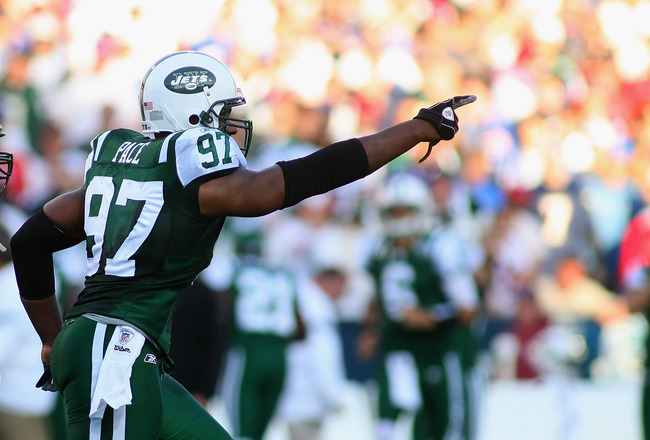 Rick Stewart/Getty Images
Even this far into the offseason, there are still holes on the Jets roster.
Most of them will not be further addressed by the team, such as right tackle and outside linebacker, but there are other less-significant positions that can still be filled before the start of the season.
Here are the five biggest trouble spots on the Jets roster
1. Right Tackle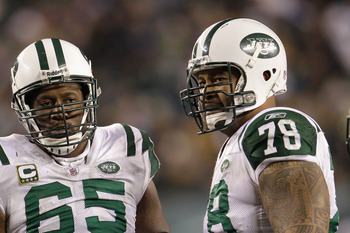 Rob Carr/Getty Images
By now, I feel like I am beating a dead horse, but this is still, without question, the biggest problem area on the Jets.
Around the league, it is common knowledge that Wayne Hunter is a huge liability, but for some reason, the Jets seem to disagree with such a notion and appear to be ready to head into the 2012 season with Hunter as the starter once again.
He will have some competition from two veteran tackles in camp, but Jets fans can assume that Hunter can be the starter on opening day.
I don't expect the Jets to bring in any more outside free agents, but that does not mean Hunter will be the unquestioned starter if he struggles. If it comes to it, Stephon Heyer, Ray Willis or even Vladimir Ducasse will get a chance in the middle of the season (that is assuming, of course, they all make the team).
2. Outside Linebacker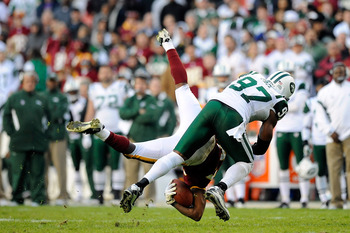 Patrick McDermott/Getty Images
The Jets finally got their big-time pass-rusher in the draft; problem is, they got a defensive end, not a rush linebacker like everyone expected.
Just like last year, Bryan Thomas and Calvin Pace will be the starters at outside linebacker in the base.
In an attempt to make up for their lack of an outside rusher, Coples has been working at outside linebacker in OTAs. Add Aaron Maybin into the mix, and it appears as if Jets will go by a committee approach at the position to try and use each player to their strength.
3. Free Safety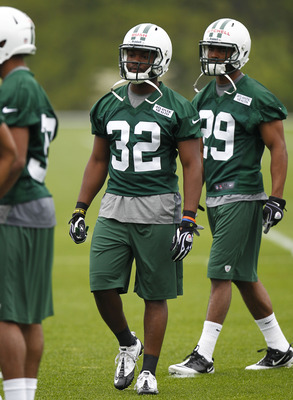 Jeff Zelevansky/Getty Images
Last year, the Jets safeties were picked on all season long by tight ends and slot receivers.
The Jets responded by bringing a ton of bodies via the draft and free agency, but only one player fits the mold of a free safety: Josh Bush, the Jets' sixth-round pick out of Wake Forest.
LaRon Landry does have some starting experience at free safety, but the Jets still lack the ideal Kerry Rhodes-type that can cover tight ends.
4. Swing Tackle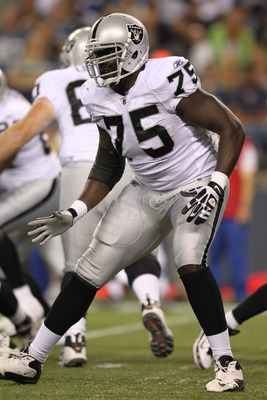 Otto Greule Jr/Getty Images
Making Wayne Hunter the starting right tackle has not only been disastrous so far, but it also removes him from a position in which he was effective as a swing tackle.
If Vladimir Ducasse cannot prove that he can get the job done, the Jets will look to veterans Stephon Heyer and Ray Willis to fill the role.
If the Jets want to go with a more physical, run-first approach this season, they will need to ensure that this position is taken care of in training camp.
5. Backup Tight End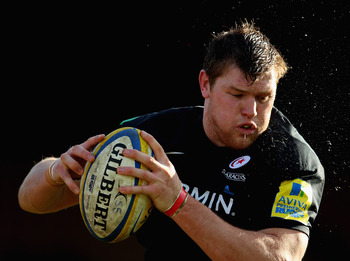 Warren Little/Getty Images
Now that the human penalty machine, Matt Mulligan, is with the Rams, the Jets still have to fill his role.
The first option, Jeff Cumberland, flashed some ability as a pass-catcher before suffering a season-ending injury early on.
If Cumberland can stay healthy, the Jets still lack a blocking tight end. Former rugby player Hayden Smith is the Jets' project player for the position, but this summer is his first time playing American football, and it could be a while before he is ready to see the field.
Just like swing tackle, the Jets need to find a blocking tight end if they want to get back to playing power football.
Keep Reading

New York Jets: Like this team?