Euro 2012: How Portugal Can Shock the Continent in Beating Spain
June 26, 2012

Michael Steele/Getty Images
On paper, it looks almost infeasible that Portugal could make it to their second final in their last three appearances at the European Championships.  After all, the defending champions Spain stand in their way.  
Yet despite Spain's seemingly infallible midfield and stoic defence, there remains some real hope for Portugal to overcome the odds and take their place in the final to face one of Germany and Italy on July 1.
The key, of course, lies in Portugal's greatest player and arguably the most talented footballer in the tournament: Cristiano Ronaldo.
Following an uninspired start, Ronaldo has been nothing short of imperious since leading his team to a demolition of the Netherlands and scoring the only goal in the quarterfinal encounter with the Czech Republic.
Although ordinarily it can be difficult to pinpoint exactly which of Ronaldo's myriad of talents is strongest, in Poland and Ukraine it has been his pace, his shooting and his vision which have enabled Portugal to thrive and reach the semifinal stage.
His goals­­­­­­­­­­­­­­­­­­­­—three in two games thus far­­­­­—have given Portugal the momentum and the form to progress further in the tournament, with Ronaldo as the spearhead.  Should he continue to score and make the right decisions of when to shoot and when to create opportunities for his teammates, Portugal will surely stand a fighting chance against the world champions.
However, Portugal cannot progress based solely on the presence of their star man.  With the absence of Helder Postiga all but confirmed for the encounter in Donetsk, Hugo Almeida will likely have to step in as centre forward as he did against the Czech Republic.  He needs to contribute an awful lot more tomorrow night than he did last time out.
A 6'3" target man, Almeida boasts admirable physical qualities which should enable him to hold up play, introduce others into goalscoring chances and take his own goals when they come.  If Portugal's attack are going to break down the brick wall that is the Spanish back four, Almeida and his ability to hold the ball up will be crucial to any potential success on this front.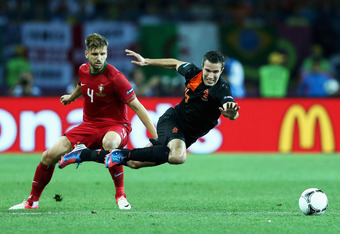 Julian Finney/Getty Images
So far, the Portuguese midfield three—Raul Meireles, Miguel Veloso and Joao Moutinho—have, for the most part, been nothing short of stellar.  They have been solid in front of their back four and, aside from a few "speculative" efforts on Meireles' part, have been creative, strong and incisive in their offensive play, creating goalscoring opportunities for Ronaldo and Nani.
Veloso in particular has caught the imagination with his dogged performances in midfield.  The Genoa midfielder, used mainly as a substitute during qualifying, took the place of the injured Carlos Martins before the opener against Germany. He has since impressed, linking up well with cohort Moutinho and causing havoc for opposing defenses.  
If Portugal end up defeating Spain in midfield, a lot of that victory will come courtesy of Veloso and Moutinho's strong defensive performances and incisive through balls.
Should Paulo Bento's defense fail to hold back Spain's midfield, the end result will depend heavily on the performance of goalkeeper Rui Patricio.  
The SCP stopper has looked a little vulnerable at times throughout the Euros, but a clean sheet against a dogged Czech Republic will give him a significant confidence boost—one he will undoubtedly need should the likes of Fernando Torres find form, or should Fernando Llorente join the fray at any point.
However you look at it, the fact remains that Ronaldo is this team's beating heart, its talisman.  His performance and leadership inspire his teammates; they've taken Portugal at least this far in the European Championships.
If Ronaldo continues his dominant form, don't be surprised if Portugal shock Spain and the rest of Europe by making it to the final.