Seattle Seahawks: 5 Obscure Rookies Who Can Make an Impact in 2012
June 26, 2012

Al Messerschmidt/Getty Images
Throughout the NFL season, teams change. Injuries happen, trades are initiated, and roster cuts are made.
This puts into play the "next-man-up" philosophy, and sometimes players who were not expected to contribute end up doing just that.
For the Seattle Seahawks last year, it was rookies Richard Sherman, John Moffitt, Doug Baldwin and James Carpenter who ended up making significant impacts on the Seahawks season.
While Moffitt and Carpenter projected into the Seahawk starting lineup from the day they were drafted, Richard Sherman and Doug Baldwin took advantage of injuries to players ahead of them; they ended up playing well enough to be considered significant role players for the future of the franchise.
Since injuries are an inevitable obstacle for every NFL team, the question now for Seattle is: What rookies will make an unexpected impact this year? Here are five under-the-radar guys you shouldn't be surprised to see playing significant roles by the end of the season.
(Also, please don't yell at me for excluding Bruce Irvin, Russell Wilson and Bobby Wagner in this article; identifying more obscure rookie backups is my purpose here, not pointing out the obvious.)
Winston Guy, Safety, Sixth-Round Pick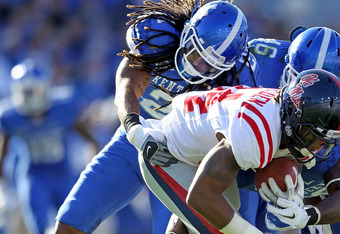 Andy Lyons/Getty Images
Guy is a player who can run like a defensive back yet can hit like a linebacker.
The fact that Guy had 1.5 sacks and two interceptions in his senior year playing safety at Kentucky shows that he is a versatile defender capable of making plays all over the field. His team-leading 120 tackles also indicate his great range and tackling ability.
There is, therefore, no doubt he has the capability to take on a significant role in the Seahawk defense. Not to mention that at 6'1" and 218 pounds, Guy fits perfectly into Pete Carroll's mold of large defensive backs.
With the departure via free agency of starting linebacker David Hawthorne to New Orleans, rookie Bobby Wagner looks to be the starting middle linebacker for Seattle next year. However, if the NFL game proves to be too much for Wagner, Pete Carroll could possibly look into using more three-safety sets, which would incorporate Winston Guy.
Potential for injury may also derail the physical Kam Chancellor or the injury-prone Leroy Hill, which could result in a larger role for Winston Guy, as well. Winston Guy's talent and his potential make him a likely candidate to be an important player on the Seahawks.
Jaye Howard, Defensive Tackle, Fourth-Round Pick
When the Seahawks acquired defensive tackle Alan Branch last year, they knew they were getting a gargantuan run-stuffer to pair with Brandon Mebane in the middle.
However, something that neither of these defensive tackles provide is a consistent pass rush—there were only three sacks between these two players last year.
The player that was brought in to provide interior pass rush, Anthony Hargrove, also produced a mere three sacks. A year later, Hargrove is gone, and ex-Tennessee Titan Jason Jones now wears a Seahawk uniform and is seen as an upgrade to the interior pass rush. Defensive coordinator Gus Bradley wants to use Jones more on early downs, which potentially translates to more sack opportunities.
However, Jones can't do it by himself. While I mentioned before that Mebane and Branch had a combined three sacks last year, Branch actually had all three. Don't get me wrong, Mebane is a very good player, but pass rushing is not his forte at this point in his career, if only because of what the Seattle coaching staff asks him to do.
If Jones were paired with Mebane in pass-rush situations, Mebane probably wouldn't provide much help. This is why, when Seattle goes to sub packages on obvious passing downs, there needs to be another pass-rushing presence in the middle besides Jason Jones.
Jaye Howard, rookie defensive tackle out of Florida, is in line to do just that. At 6'3" and 300 pounds, Howard is lighter than a typical run-stuffing defensive tackle, but is faster and quicker on his feet—perfect for a player whose prime role will be rushing the passer. Howard proved that he can effectively rush the passer in his senior season at Florida when he sacked the quarterback 5.5 times.
While this number would seem low for an edge-rusher, sacks are more difficult to come by for interior pass rushers, so 5.5 sacks is actually a proficient figure for a defensive tackle.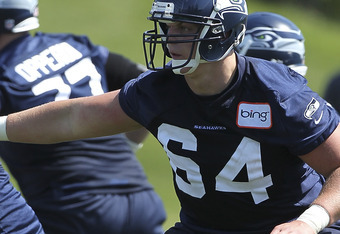 Otto Greule Jr/Getty Images
Seahawk defensive line coach Todd Wash has also been impressed with Howard's quickness and ability to rush the passer on film, which definitely bodes well for Howard's role in the defensive line rotation. Jaye Howard will clearly be given the chance to make an impact rushing the passer this season.
Jeremy Lane, Cornerback, Sixth-Round Pick
Let's face it, Marcus Trufant and Walter Thurmond are injury prone.
While these players' season-ending injuries were viewed initially as a negative for the Seahawks, they also opened the door for Brandon Browner and Richard Sherman to shine.
This means that Trufant and Thurmond will likely be in the thick of the competition for the third cornerback—or nickelback (no, not the band)—this season. However, there is a very real possibility that Thurmond, who has yet to play a full season in the NFL due to injury, and Trufant, who will turn 32 this season and was put on injured reserve last season with a back injury, could get injured again.
So who will be there to provide depth at the nickelback position in 2012? Roy Lewis took on this role last year, but as someone who watched every Seahawk game, I can tell you that Lewis is better off as a core special teamer.
Rookie Jeremy Lane is someone that has the capability to take on this significant role in Seattle.
His 42-inch vertical is a testament to his natural athleticism, and Seahawks secondary coach Kris Richard praises him as a guy who always puts himself in a "really good position" to make plays on the ball (via Seahawks.com). Increased pass deflections and interceptions during practice show that Lane has also improved his ball skills, and he has only allowed one catch throughout OTAs—and that was a terrific one-handed grab by Doug Baldwin along the sideline.
Who knows, maybe Jeremy Lane will get a chance to play nickel even if Trufant and Thurmond are healthy.
Robert Turbin, Running Rack, Fourth-Round Pick
The running back position has become more and more devalued over the years due to two things: the physical pounding associated with the position limits the average career of an NFL running back (2.6 years); the other is that, as the NFL becomes more and more of a passing league, running backs are used less and less.
However, since Pete Carroll has expressed his desire to establish the run, the thing Seattle needs to worry most about is the durability of Marshawn Lynch.
Last year Lynch had a career-high 285 carries. 285 rushing attempts with Lynch's physical running style is sure to take a toll on his body, and that wear and tear will become more evident as his career goes on.
We therefore have to wonder how much longer Marshawn Lynch can hold up while taking this kind of beating. If Lynch happens to succumb to a serious injury this year, then rookie Robert Turbin will have to step in and carry the majority of the load. At 222 pounds, Turbin has the type of body most readily able to handle the beating of a typical workhorse running back.
I'm not saying that Marshawn Lynch will surely get injured next year, but in the not-unlikely event that he does, Robert Turbin will play a significant role in the Seahawks offense.
J.R. Sweezy, Offensive Guard, Seventh-Round Pick
With Russell Okung at left tackle, James Carpenter at right tackle, John Moffitt at right guard, Paul McQuistan at left guard and Max Unger at center, the starting offensive line seems set as of now.
However, what will happen in the event of injury, such as what happened last year when Okung, Moffitt, and Carpenter all went on injured reserve?
Backups like J.R. Sweezy will be forced to step up and contribute.
While Sweezy undoubtedly is still a raw player—he converted from a defensive lineman to an offensive lineman just six weeks ago—head coach Pete Carroll and offensive line coach Tom Cable obviously saw enough potential to use a draft pick on him
Cable describes Sweezy (via Seahawks.com) as "quick and athletic." Sweezy himself feels that he is adjusting to the NFL game and is improving rapidly.
While most of you are probably thinking that there is no way the Seahawks would trust a converted defensive tackle to block against NFL defensive linemen, keep in mind that Seattle has already established this trend: Rookie K.J. Wright started at middle and outside linebacker for Seattle last year when he was viewed as a pass rusher coming out of college; Red Bryant started at defensive end for the past two years when he was drafted as a defensive tackle; and rookie James Carpenter started at right tackle last season, even though he played on the left side in college.
Seattle has shown trust in young players in the past; Sweezy could be next.   
These five players have shown great potential so far in OTAs, but there are probably a lot of fans who have no idea who they are. Don't worry, those fans will find out soon enough. I'm not predicting that these five players will definitely start for the Seahawks this year, but if injury or otherwise gives these players the opportunity for playing time, watch out, because these guys will surely take advantage.