SEC Basketball: How Many Teams Could Legitimately Make the NCAA Tournament?
June 27, 2012

Jim Rogash/Getty Images
The SEC men's basketball summer teleconference on Monday, June 25 was a standard procedure between coaches and media during the offseason. John Calipari made the most news with his statement that he expects seven SEC schools to make the NCAA tournament (via ESPN.com).
Other coaches shared Calipari's excitement. Auburn head coach Tony Barbee is quoted in the article to say "...we're looking at getting six, seven, maybe even eight teams into the NCAA tournament."
Shouldn't we pump the brakes here, coaches?
Sure, the SEC is adding two Big 12 programs with decent college basketball track records (Missouri and Texas A&M), but their use in the conference is primarily for football, not basketball. The SEC is a football conference first and foremost—that much cannot be argued.
One conference placing seven teams in the NCAA tournament is impressive, and it's typically reserved for college basketball's best conferences, like the Big East. Rarely will you see the SEC eclipse five teams in the Big Dance. It's only happened once in the past five years (2008 with six teams).
Just last season, the SEC was lucky enough to nab four seeds. Alabama, Florida, Kentucky and Vanderbilt represented the SEC.
For 2012-13, three SEC teams appear to be headed back to the NCAA tournament: Florida, Kentucky and newcomer Missouri. Four teams would have to join these three stalwarts if the SEC were to live up to these bold predictions by coaches. 
Here, we'll take a look at what four could make the 2013 NCAA tournament.
Devonta Pollard joining Alabama makes things interesting in Tuscaloosa, but losing JaMychal Green and Tony Mitchell kills their chances. It will take a Herculean effort by Pollard to carry the Crimson Tide to the tournament.
An interesting case is Arkansas. The Hogs faltered at the end of last season, finishing the year with their lowest point total, a 70-54 loss to LSU. But with five incoming recruits and another year under head coach Mike Anderson, they may turn some heads. Marshawn Powell and B.J. Young will make one of the better duos in the SEC next season.
If the SEC lands seven tourney bids, the Razorbacks are one of them.
Auburn and Georgia, like Arkansas, appear to be on the mend. Strong recruiting classes for each program have fans excited for the future, but two teams that finished 5-11 in conference play last year probably won't snag a tourney bid.
Seventh place in the conference, however, is doable. Throw in a few upsets for either team, and they could eek out an NCAA tournament appearance.
Losing a coach never helps. LSU is already facing an uphill battle in staying relevant in the SEC. It will be a nice season in Baton Rouge if new head coach Johnny Jones keeps his team near .500.
Andy Kennedy has yet to make an NCAA tournament at Mississippi. That says enough about the Rebels chances to make the Big Dance this upcoming season.
Mississippi State lost Dee Bost, Arnett Moultrie and Rodney Hood. Another new head coach, Rick Ray, will bring in a deep class of recruits—recruits that will determine the success of the Bulldogs next year.
Chalk it up as unlikely for Mississippi State to dance in March.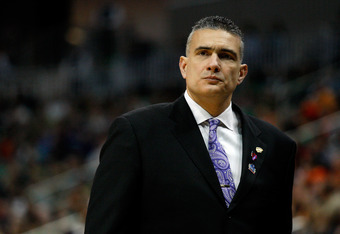 Jared Wickerham/Getty Images
South Carolina brings in a new coach in Frank Martin, and hopefully a winning attitude. They're at least two years away from a legitimate run at the NCAA tournament.
Prove me wrong, Gamecocks.
The most likely fourth candidate for the NCAA tournament is Tennessee. Not much was lost from a team that finished the season on a 9-3 run. The Vols retain six of their top seven scorers from last season, and an offseason can only help young stud Jarnell Stokes. They're in.
The wild card of the bunch will be Texas A&M.
The Aggies went 14-18 in their last season as a member of the Big 12, but two ESPN 100 guards lead a strong recruiting class. This team is closer to tournament readiness than their previous record indicates. Like Auburn and Georgia, they may be able to steal a tournament bid.
Vanderbilt has been a mainstay near the top of the SEC, but they lose five contributing seniors and one junior, all of whom averaged over 17 minutes per game last season. Their road to the NCAA tournament will be a tough one.
So, overall, the SEC has four presumable "locks" for the NCAA tournament in Florida, Kentucky, Missouri and Tennessee. Three bids between the remaining eleven schools sounds attainable, but those three teams would have to overachieve to do so.
Seven bids? Possible, but not probable.