NBA Mock Draft 2012: Underrated Point Guards Who Will Help Teams Right Away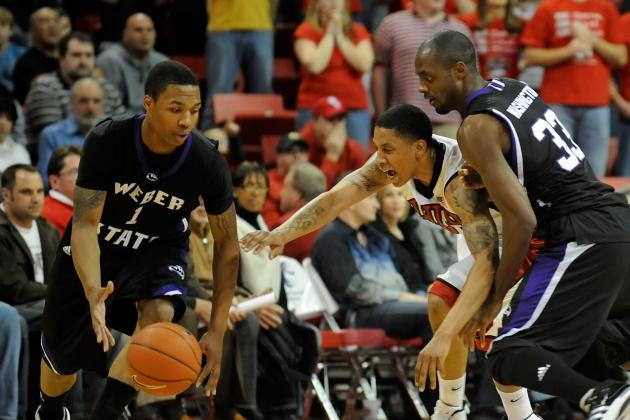 Ethan Miller/Getty Images

If you are anything like me, you love this time of year. Sure, the anticipation is always greater than the actual event, but there truly is nothing like the run-up to the NBA draft.
As this week draws to a close, you will be inundated with countless mock drafts and endless prognostications.
Well, here's another one!
This mock will be focused on how each player will fit each specific team, and I will pay close attention to the point guards.
Enjoy!
Begin Slideshow

»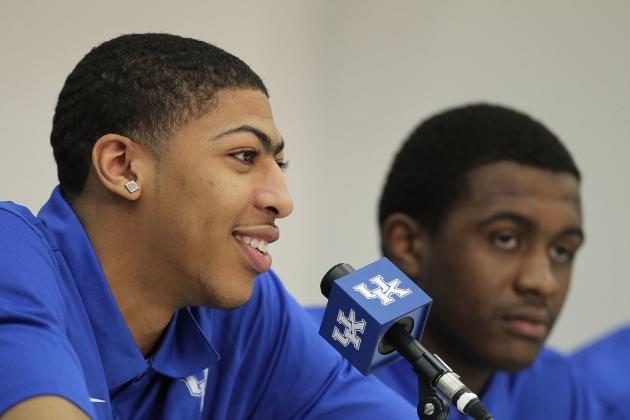 Andy Lyons/Getty Images

Okay, so this is a no-brainer.
Davis was a dominant defender in college, and he helped lead Kentucky to the title in his freshman year.
New Orleans has holes just about everywhere, and most importantly, they lack a team identity. Davis will immediately become a defensive stopper for this team, and his desire to get better will be contagious.
Ideally, he will develop into a mix between Tim Duncan and Kevin Garnett. Personally, I see him as a mix between Alonzo Mourning and Marcus Camby.
Either way, the Hornets should be happy.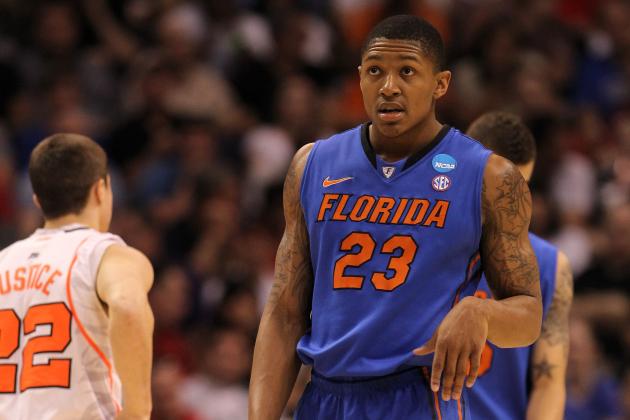 Jamie Squire/Getty Images

The more I see Beal, the more I like him.
Ideally, Washington would love to get him, but he is just too good for Charlotte to pass on.
Beal projects as a Eric Gordon-type of player with unlimited range and great athleticism. He might be a hair undersized for this position, but I like his frame, and I could see him adding more muscle down low to counter this fact.
Heck, Chauncey Billups routinely went toe-to-toe with much bigger guards and came out okay given his lower-body strength.
Beal should start from day one. Charlotte should then be able to package Gerald Henderson in a deal to get more frontcourt help.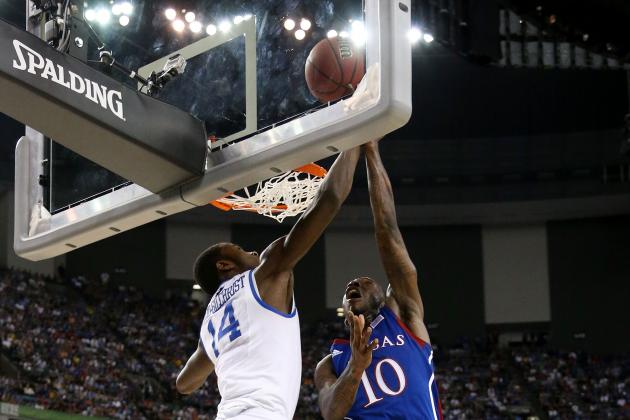 Ronald Martinez/Getty Images

So, why would Washington bring in MKG given the fact that they just drafted Jan Vesely and Chris Singleton last year?
First, Vesely and Singleton are not half the player MKG is. Both are athletic, Singleton is a good defender and Vesely loves to get out and run on offense.
But Kidd-Gilchrist does what each of those players does, and he does it better.
Second, the Wizards are a very young, brash team that needs a leader and an identity. MKG was the leader of a team of young, brash players last year. That team took on his personality and won a title.
Washington would be wise to insert MKG into their rotation and do so immediately.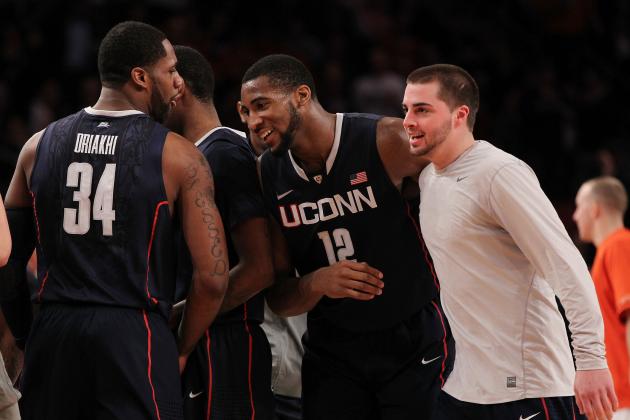 Michael Heiman/Getty Images

Okay, so this one is tricky.
First off, if MKG falls to them here, it would be a no-brainer. Sure, they want to bring back Alonzo Gee, but even so, MKG would provide an identity and would work very well with Kyrie Irving.
They also will be tempted to pick up Harrison Barnes, as the swingman from North Carolina is a very complete offensive player.
But ultimately, they will be just too enamored with Drummond's physical traits.
Drummond ideally would slide Tristan Thompson over to the 4 spot, which will allow the Cavs to keep Anderson Varejao on the bench.
Drummond and Thompson would be a scary one-two punch up front. Both are physically imposing, both love to block shots and both can rebound.
Sure, Drummond could become a huge bust, but he also could become a dominant big man.
Cleveland can afford to take those kinds of risks.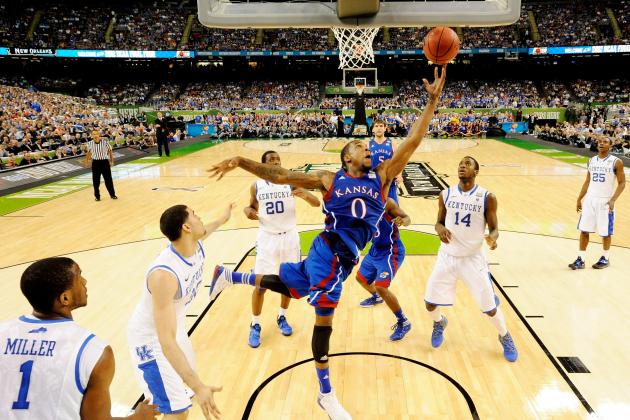 Pool/Getty Images

No doubt Sacramento would love MKG if he fell to them here. They have a young team full of knuckleheads that could use some true leadership.
That being said, Robinson is a nice consolation prize.
Robinson and DeMarcus Cousins will form an imposing front court. Both are great rebounders, and while Robinson struggles to block shots, Cousins has that part of the game down.
Additionally, Robinson's offensive limitations can be hidden on this team that is full of offensive weapons. Moreover, given how many shots Marcus Thornton and Tyreke Evans like to throw up, you will need all the big bodies that you can get to swallow up those boards.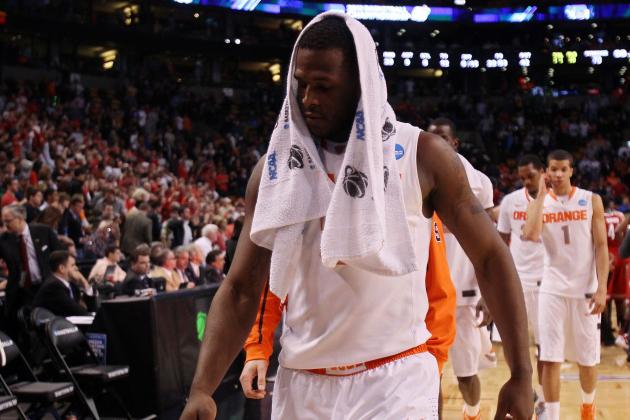 Elsa/Getty Images

This is where the chess game begins.
Portland, who has the 11th pick as well, needs a few things. They need a dominant big man, but they would be reaching here given that Drummond is already off the board.
They also need a point guard, and here is where it gets tricky.
They know that between them and their second pick are four teams. Of those teams, only two could possibly select a point guard: Toronto and New Orleans.
Toronto probably would prefer Harrison Barnes, leaving only New Orleans as a possible suitor for Damian Lillard.
Those are pretty good odds.
Besides, if they need to skip point guard for now, they could probably find a suitable replacement on the free-agent market and instead opt for a big man with their second pick.
Waiters fits Portland well, and he would provide them finally with an heir to Brandon Roy's home.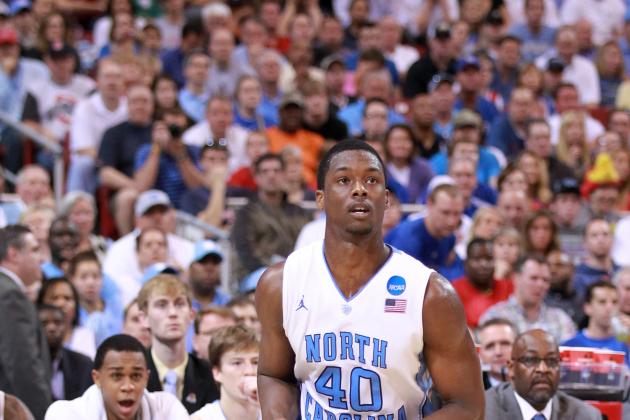 Andy Lyons/Getty Images

Golden State is unique in this draft in that they really don't need another big man. They also are set at point guard and have plenty of depth across the board.
That being said, a defense-stretching small forward who can score in bunches certainly would be a big help.
Barnes is not the best at getting to the hoop, but with this team, he probably will be okay in that regard. Steph Curry is quick enough to set him up, and David Lee and Andrew Bogut should keep the defense honest.
Safe pick for a change.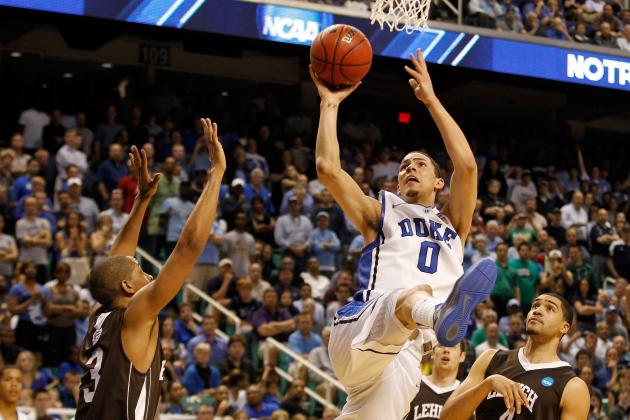 Streeter Lecka/Getty Images

Austin Rivers continues to wow NBA executives. He exudes a confidence that can't be faked, and his basketball intelligence is off the charts.
Toronto also could use a point guard, but I think they will hold onto Jose Calderon for another year and try to address this issue next season.
Rivers could be the type of player that Toronto builds around, and he could be a game-changer for them.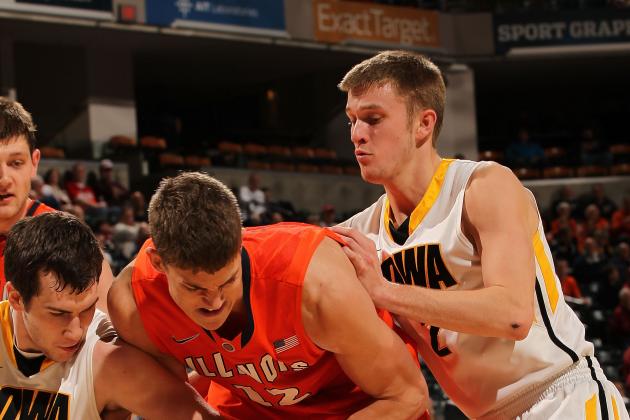 Jonathan Daniel/Getty Images

Okay, so the Pistons don't have great luck with seven-foot projects taken in the lottery, but bear with me here.
The Pistons are desperate to add another big man, and all the options on the table are less than appetizing. Tyler Zeller has a low ceiling, John Henson is way too skinny and Perry Jones reminds me too much of Charlie Villanueva with more athleticism.
Leonard is big, aggressive and athletic.
This might be too much of a risk, but Detroit needs a big man too much to avoid here.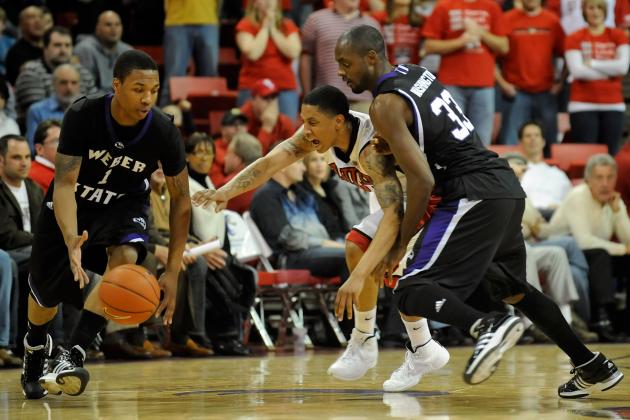 Ethan Miller/Getty Images

So, New Orleans got their big man of the future in Anthony Davis. They should be able to re-sign Eric Gordon with a big deal, and they have some depth on the wings.
Now they need to address their point guard situation. Lillard is by far the best of the bunch. He can score from anywhere on the court, can get to the hoop whenever he wants and is a smart player.
He still has to develop into more of a pure point guard, as right now, he projects as more of a Deron Williams-type of scoring point guard.
The only concern you have is that their backcourt will be very small.
Good thing for them, they drafted a guy that likes to block shots!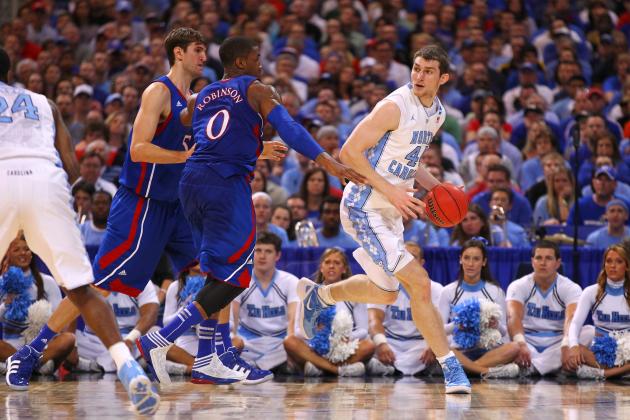 Dilip Vishwanat/Getty Images

This is where the chess game will bite Portland in the butt. They took a chance that Lillard would slip to them, but New Orleans crushed that dream. Now they have to scramble and find a way to fill up their remaining needs.
They really need a big man, and the safest one on the board is Zeller.
Zeller doesn't have an incredibly high ceiling, but what he does, the Blazers will need. Especially if they find a way to address their point guard needs through free agency, Zeller could become a valuable full-court weapon.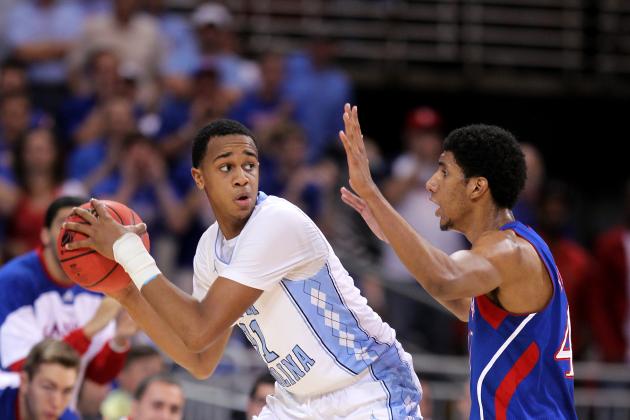 Andy Lyons/Getty Images

Milwaukee ideally would have liked a center here, but with Leonard off the board, they will have to address that later.
Hopefully they can find a way to re-sign Ersan Ilyasova, but if not, Henson is a nice backup plan.
Henson provides Milwaukee with another long body with shot-blocking ability, making their interior suddenly much more formidable.
They also could choose to take a risk on Perry Jones III. But ultimately, they will decide to play it safer.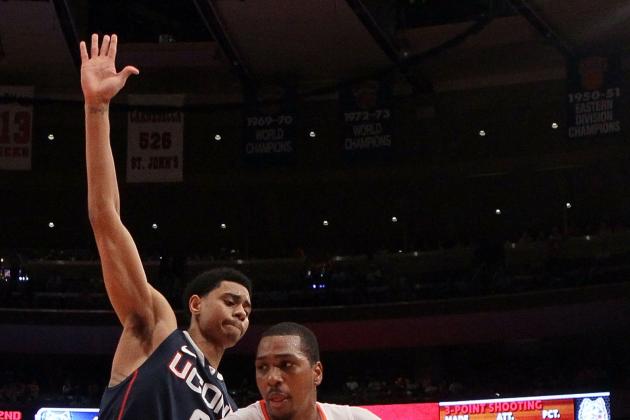 Jim McIsaac/Getty Images

The Suns have plenty of options right here, and a point guard probably wouldn't be a bad choice.
Kendall Marshall could grow into a very strong replacement for Steve Nash. But I think Phoenix still thinks they can bring Nash back and will try to bolster their lineup for him.
Lamb is a freakishly long swingman with the ability to score in a variety of ways. He still needs to add some bulk, but he should be fairly NBA-ready.
Streeter Lecka/Getty Images

Ideally speaking, Houston will try to package these picks in order to move up. But should they stay here, they have some options.
Given that they have two more picks through No. 18, they can take a risk.
Jones has scary upside, amazing athleticism and a very good facing-the-basket offensive game. The problem is that he tends to vanish for long periods of time and can get caught playing fairly soft.
But his talent is just too much to pass up for a Houston team that needs to add athleticism on the wings.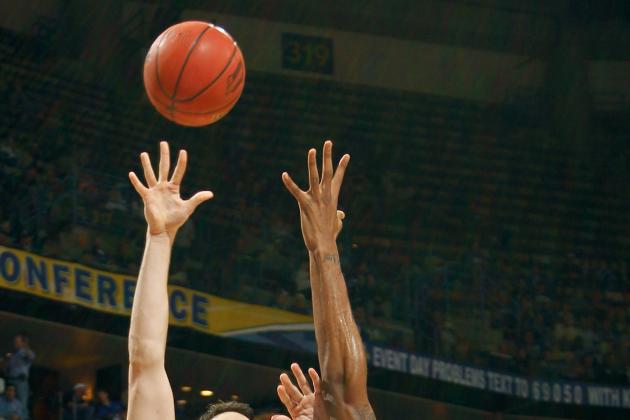 Chris Graythen/Getty Images

In the playoffs, Elton Brand was finally exposed as being over the hill.
The Sixers have loads of guards and swingmen, but they are woefully thin up front.
Moultrie might be a reach here, but he is the best, most athletic true big man available.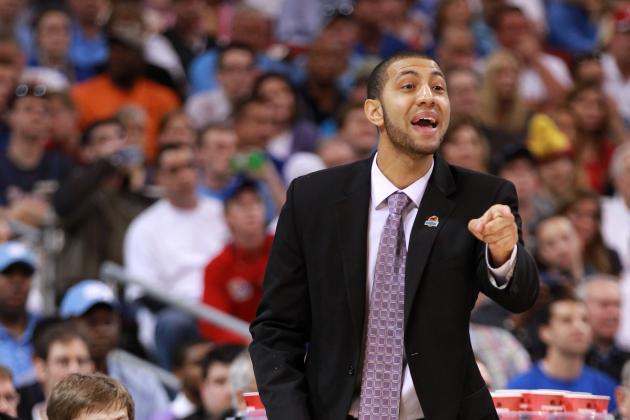 Andy Lyons/Getty Images

The Rockets still could go big here and not have any issues, but Marshall is just too tempting. Additionally, the Rockets could select him with the intention of dealing Kyle Lowry.
Marshall is just the type of floor general they need. He is unselfish, smart and is a natural leader.
On a team full of talented but raw players, Marshall could pull it all together.
I also like him working pick and rolls with Luis Scola.
Andy Lyons/Getty Images

Jones is not a leader.
Jones is not always motivated.
Jones is not mature.
Jones is, however, extremely talented on both sides of the ball, and in the right situation, he could develop into a star.
Dallas, with the one exception being San Antonio, could be the most ideal landing spot for Jones.
The Mavs likely will get Deron Williams in free agency, giving them a potent one-two punch of him and Dirk Nowitzki.
The rest of the squad is composed of solid veterans with good work ethics.
If Jones is willing to learn, he could unlock scary potential on this team.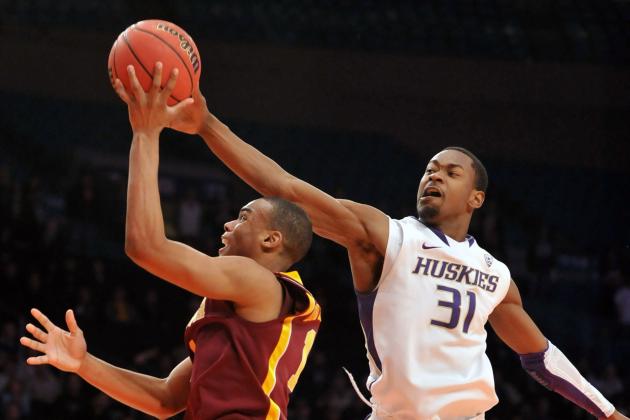 Jason Szenes/Getty Images

Obviously I still think Houston is going to package these picks in order to move up, but I digress.
Ross is a long, athletic shooting guard who brings a fairly versatile offensive game and defensive potential to the mix.
With Kevin Martin about to enter his last year under contract, the Rockets need to start working on a contingency plan in case they can't re-sign him.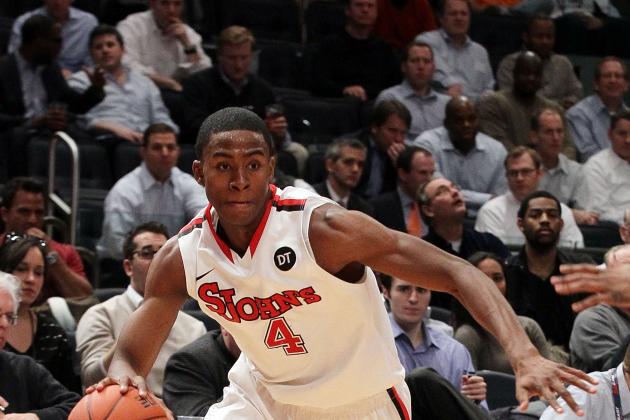 Jim McIsaac/Getty Images

Orlando truly needs to add athleticism on the wings and a slasher as well.
Moe Harkless will never be a great jump shooter, but he can get to the rim. He also is a solid defender who has an NBA body.
If Dwight Howard stays, Harkless could be a nice pairing on both sides of the ball.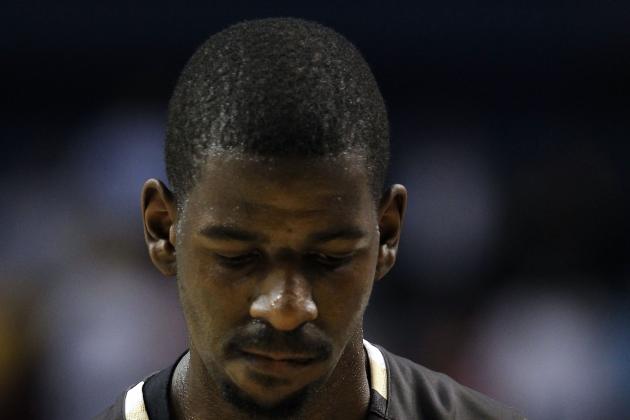 Jamie Squire/Getty Images

This is a somewhat of a tricky spot for Denver.
On the one hand, they really like Kenneth Faried and could use point guard depth. On the other hand, though, any point guard at this spot would be a reach.
Nicholson allows them to either use Faried as an energy guy off the bench, or they can use Nicholson to add offensive fire-power.
Nicholson is being compared by some to David West.
I like that comparison, and Denver will love having the option of either a scorer like Nicholson or a defensive stopper like Faried.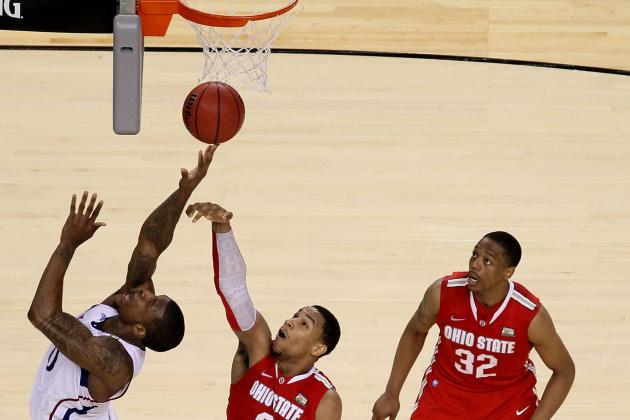 Ronald Martinez/Getty Images

The Celtics no doubt are licking their chops over this one.
Sullinger saw his draft stock take a tumble based on injury concerns. But he is the type of player who can come in and make an immediate impact.
Armed with a great post game, tremendous rebounding ability and a high basketball IQ, Sullinger might be the ideal draft pick for Boston.
He also reminds me a ton of Glen Davis, whom the Celtics no doubt missed this year.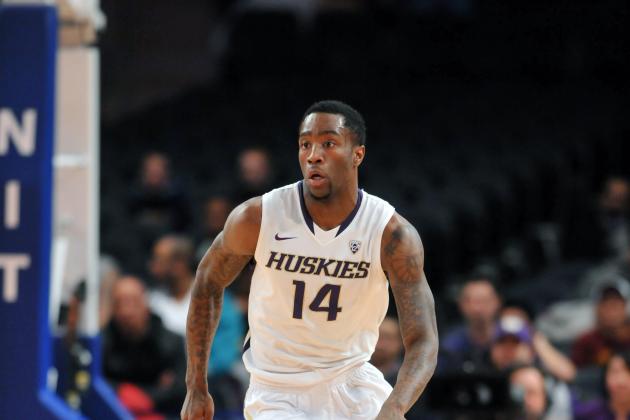 Jason Szenes/Getty Images

The Celtics desperately need a backup for Rajon Rando.
It might seem curious to bring in Wroten given that he, like Rondo, struggles with his perimeter shot. But he adds length and athleticism to an aging team.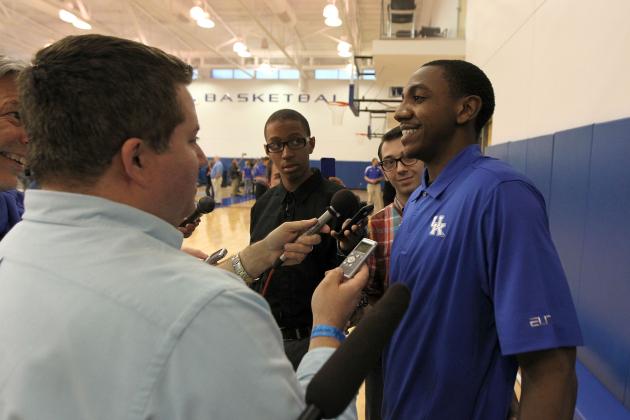 Andy Lyons/Getty Images

There are two fairly viable options for Atlanta here.
One, they can bring in a backup point guard to bolster their backcourt. Or two, they can bring in a big like Fab Melo.
I really could see this going either way, but I love the idea of two Teagues sharing the point guard duties.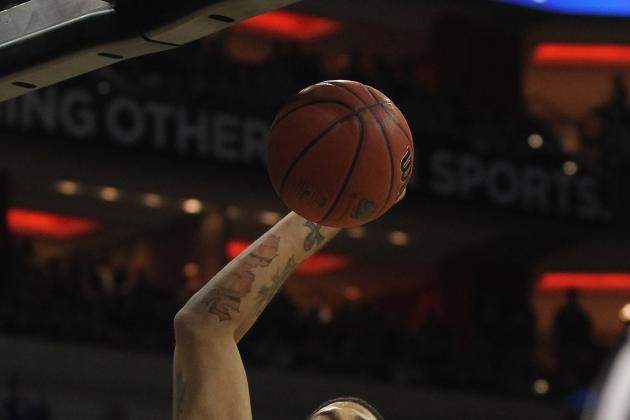 Jonathan Daniel/Getty Images

If I read another article about Royce White being a "head case" just because he is afraid of flying and occasionally has panic issues, I am going to brain someone.
The fact of the matter is that White is a heck of a ballplayer with great court vision and all the intangibles you want.
Cleveland will be thrilled if he falls to them.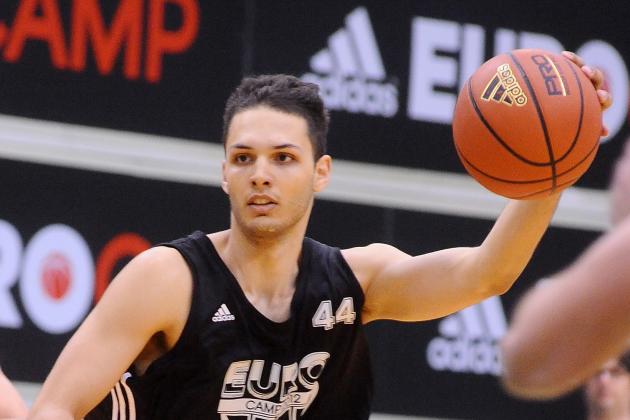 Roberto Serra/Iguana Press/Getty Images

The Memphis Grizzlies are about as close to a complete team as there is in the NBA.
That means two things: One, they can concentrate on their depth, and two, they can take a flier on as a project.
This late in the draft is the ideal place to take a project.
I'm not overly knowledgeable about Fournier, but I have been told that he is an explosive offensive player with a nice mid-range jumper.
Even if he doesn't come to the States right away, he will be someone to watch.
Jamie Squire/Getty Images

The Pacers had a nice run last season that should lead to another good year this season and for the immediate future as long as they keep most of their roster intact.
That being said, it never hurts to have a few winners around, and that is what Green is.
Green is a great leader with intangibles off the charts, a nose for the ball and supreme passing skills. Moreover, he will give you whatever you need. If you need boards, he will crash them. If you need defense, he will buckle down.
The Pacers have a few of these guys already, such as Tyler Hansbrough, but one more couldn't hurt.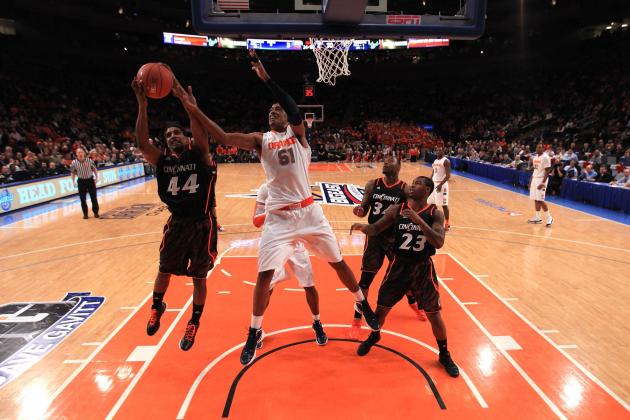 Chris Trotman/Getty Images

Miami is coming off of a championship and is geared up for another run.
That being said, they don't have a ton of guys under contract.
Melo would be a nice guy to have around, especially if they find themselves going up against Hibbert again.
At the very least, he has six fouls to contribute.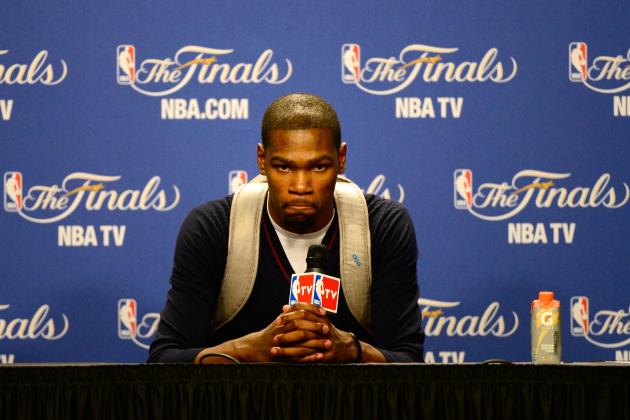 Ronald Martinez/Getty Images

The Thunder, even more so than the Grizzlies, are a complete team.
That being said, when Russell Westbrook and Kevin Durant aren't in the game, they can struggle to score.
Additionally, they could use another long, athletic body to throw at some of their elite competition.
Taylor is a long, athletic defender who can shoot lights-out.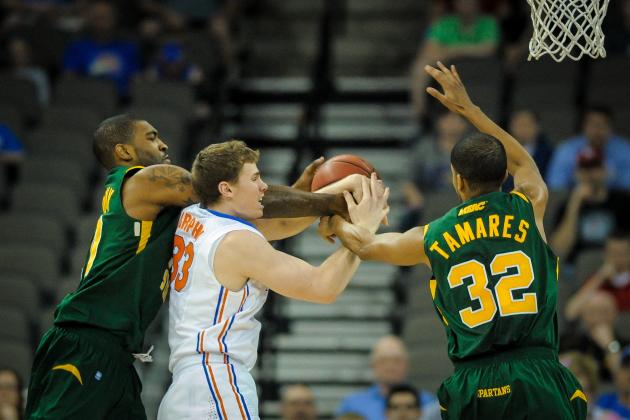 Eric Francis/Getty Images

The Bulls can afford to load up on projects here, and Kyle O'Quinn could be a nice addition.
He truly saw his draft stock sky-rocket during Norfolk State's huge NCAA tournament upset.
He is big, strong and likes to play physical.
In this Bulls system, he could be a monster, and the Bulls have time to let him develop.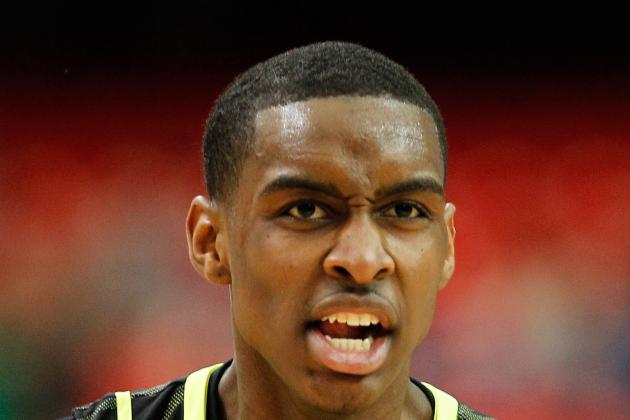 Streeter Lecka/Getty Images

The Warriors need to stockpile athletes, and Miller fits the bill here.
Not a very polished offensive player, but he plays with a lot of energy and has good size.
Golden State has good size up front, but they need to get more athleticism on the wings and Miller certainly helps with that.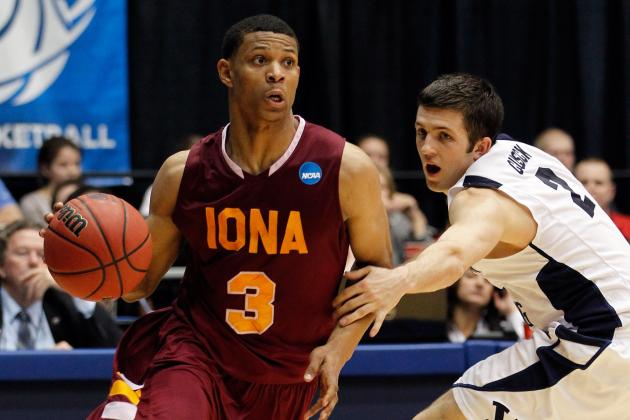 Gregory Shamus/Getty Images

My Pistons will be crushed, but Machado makes sense here.
The Bobcats are building their offense around Kemba Walker and should use this pick to deal D.J. Augustin for a big.
Some might be concerned by the fact that Machado played against weaker competition, but during drills you can certainly see that he belongs in this league.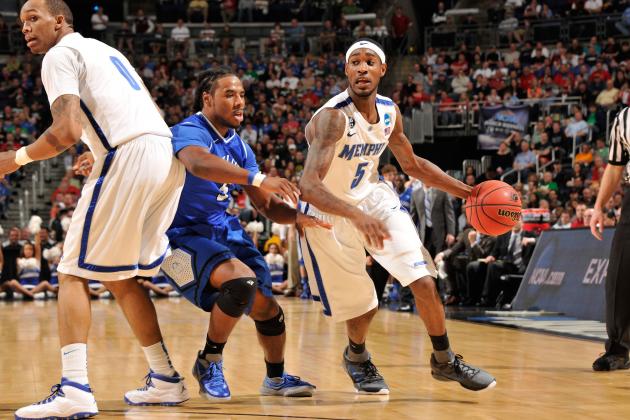 Jamie Sabau/Getty Images

The Wizards need to keep bringing in offensive, athletic weapons for this potentially potent lineup.
Barton is good, and he has excellent size for a guard.
Barton probably isn't starting material, but as part of a second unit with Chris Singleton and/or Jan Vesely, this could be a fun group of kids to watch in the years going forward.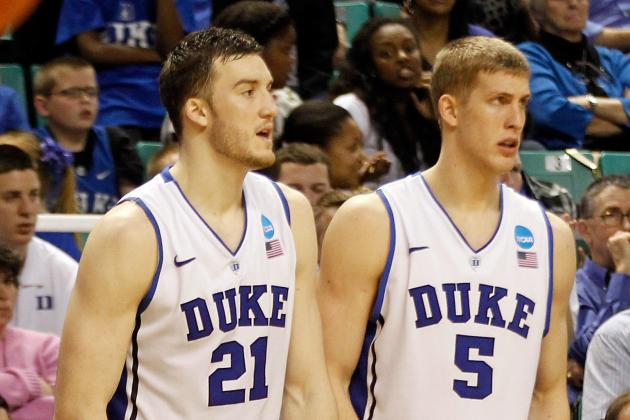 Streeter Lecka/Getty Images

The Cavaliers' frontcourt is starting to take shape, but they need more gym rats.
Plumlee has good size, and he comes from good stock.
He is an ideal practice player, and someone that will continue to challenge their young core, especially if they are able to land Andre Drummond in this draft.
Imagine Drummond, who sometimes shied away from contact, mixing it up with Plumlee every day in practice?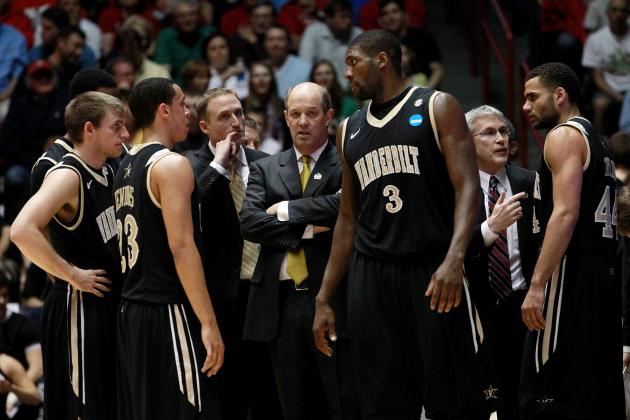 Ronald Martinez/Getty Images

How do you take pressure off your young point guard?
Give him lots of shooters that can bail him out after penetration.
Jenkins can shoot the lights out, and would work well with a suddenly big team and a point guard in need of more targets for assists.
He could still stand to add some strength, but who doesn't? At this spot in the draft, the Cavs need to focus on creating depth at all positions.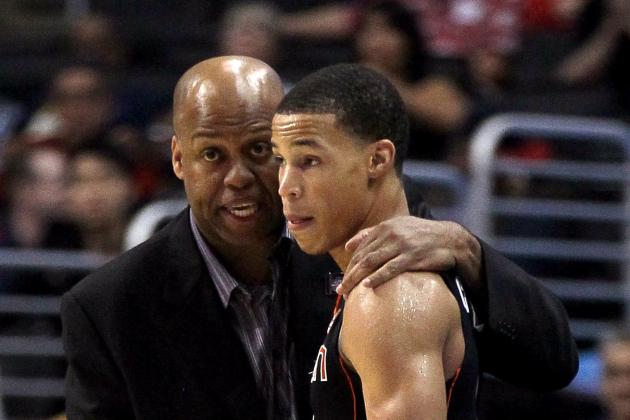 Stephen Dunn/Getty Images

It feels weird having a Beavers player on a mock draft, but Cunningham can ball.
Golden State could use another scorer, and Cunningham can do it all.
Cunningham still needs to grow into his frame, and could get bullied at the next level.
But he is long, quick, and amazingly athletic.
This could be one of the top five sleepers in this draft, and a feast or famine type of prospect.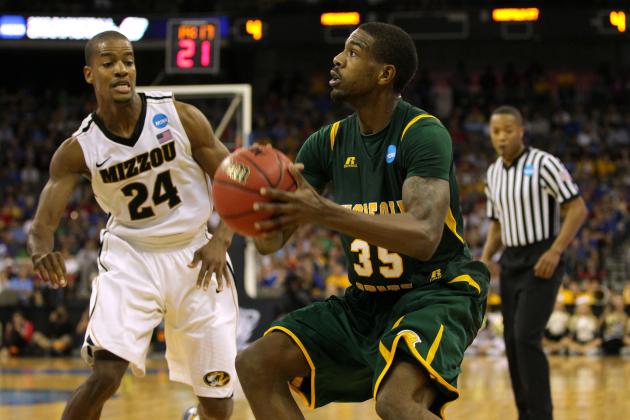 Doug Pensinger/Getty Images

Kim English's college career ended in heartbreak.
Luckily, he should get into the regular rotation in Sacramento, especially if the team deals Tyreke Evans.
Unlike Evans, English does not get to the hoop. What he does is shoot the rock, and he does so with gusto.
Some have argued that his game is fairly predictable and he might not have a long career.
But to me, English needs to just do what he does, and he will do well.
More specifically, he needs to just focus on shooting, add some strength, and become a stronger defender.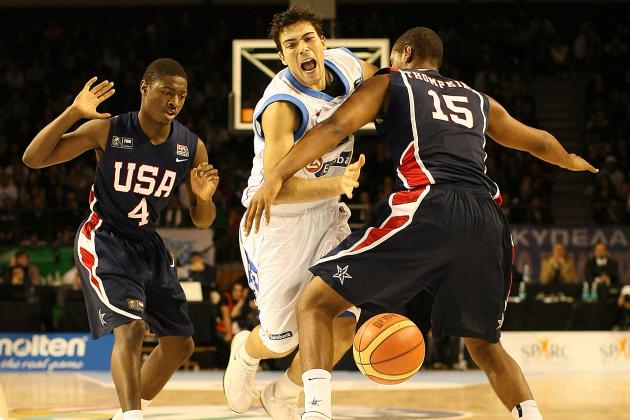 Hannah Johnston/Getty Images

Decent size, good offensive game and he just so happens to be European?
Sign Toronto up!
All joking aside, Papanikolaou is not your prototypical Euro player.
He likes contact, and while he is a smart player, he is more of a Brian Cardinal type in regards to toughness.
The one red flag you have is his shot, but Cardinal developed this part of his game, and there is no reason to think that Papanikolaou can't also.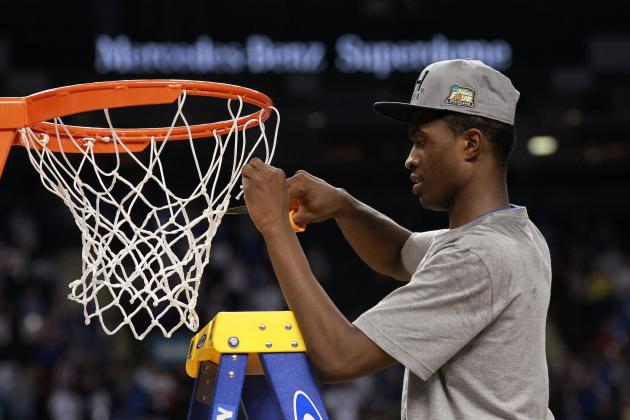 Ronald Martinez/Getty Images

And yet another Wildcat is off the board!
Underrated player who will fit in nicely in George Karl's system.
If MKG and Terrence Jones were the sizzle at Kentucky, Teague was the steak.
He wasn't overly flashy, he just got the job done.
For me, he is the perfect guy to back up the speedy Ty Lawson to show the defense a new look.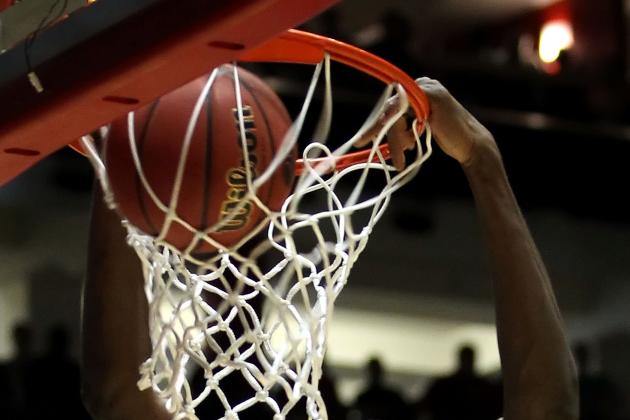 Christian Petersen/Getty Images

Call this wishful thinking.
This man is a beast!
Ezeli is still very raw offensively, but he likes contact, he can block shots, and he can score around the hoop.
How he fits Detroit is with his defensive mindset. In a lot of ways, he is like a seven foot version of Jason Maxiell, but without the 10-15 foot jumper.
Trust me, you are going to want this guy on your squad.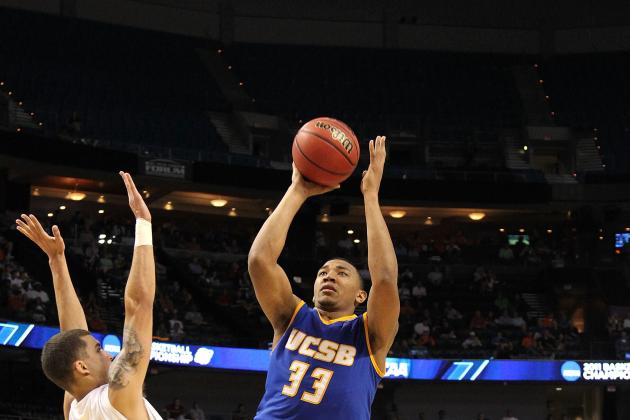 Mike Ehrmann/Getty Images

Portland needs guards, plain and simple.
And while Johnson doesn't have experience playing against elite competition, he has great size as a guard, with freakishly long arms and a nose for the ball.
Portland is probably going to be given a slight face-lift this off-season, but they still need to bolster their bench and Johnson should be the type of hungry grinder that the fans fall in love with.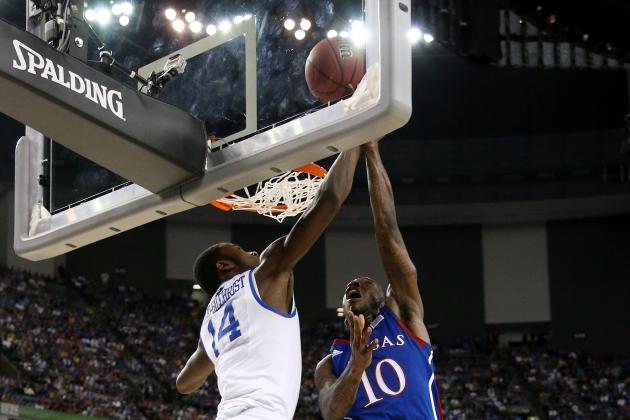 Ronald Martinez/Getty Images

Tyshawn Taylor could be the steal of this draft.
He is used to playing on a huge stage, as his entire college career he was in the spotlight.
He doesn't have an elite offensive game, but he makes up for it with a great defensive mindset, a high basketball i.q., and savvy court-sense.
Hopefully the Blazers address their point guard position earlier than this. But if not, Taylor could develop into a starter at some point.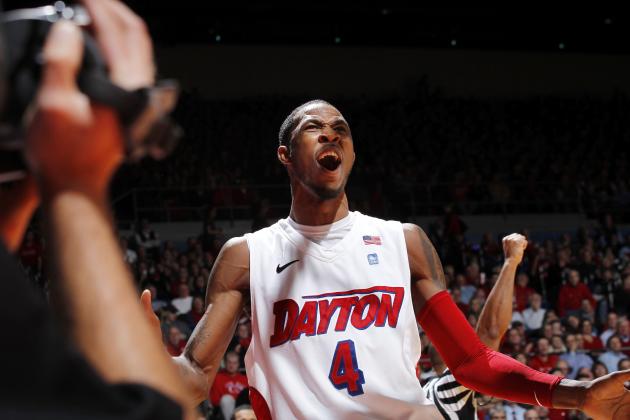 Joe Robbins/Getty Images

Let's stockpile some athletes, Milwaukee!
Johnson is super athletic, quick, has a great leaping ability and can score.
He also has great range on his jumper and the length to develop into a very good defender.
He might be a reach here as some have him going much later, but I like how versatile his game is and I think he has only scratched his potential.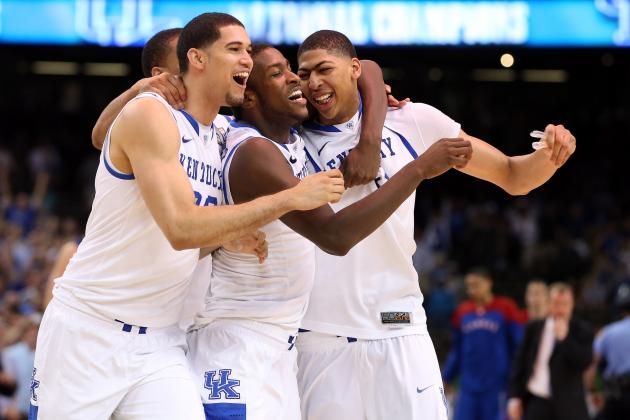 Jeff Gross/Getty Images

Let's start saving up in case Josh Smith bolts.
Okay, so Miller was a sixth man in college that never really had to carry his team.
But he is a very good scorer, can shoot from well beyond three point range, and can get to the hoop.
Personally, I don't think he will ever be much of a defender, but that's okay in the right system, and he could be a nice reserve in Atlanta.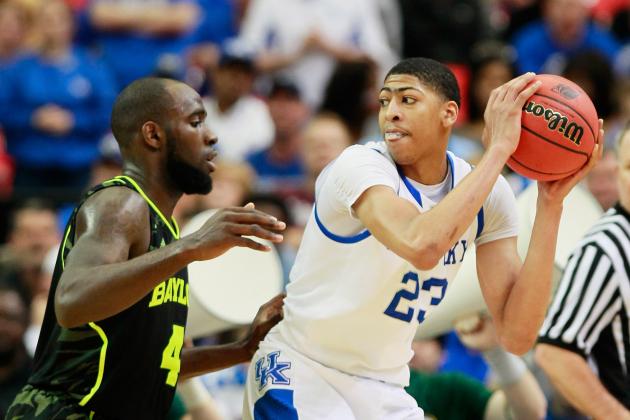 Kevin C. Cox/Getty Images

Raw athlete with a high motor. Sign me up!
The Pistons have been lacking with athletic wings for awhile.
Sure, Tayshaun Prince can still defend his position, but you can't play him 40 minutes a game.
The Pistons need some guys that can run the floor, play with high energy, and finish on the break.
I would love to be a fly on the wall in practice when Acy and Jonas Jerebko go at it!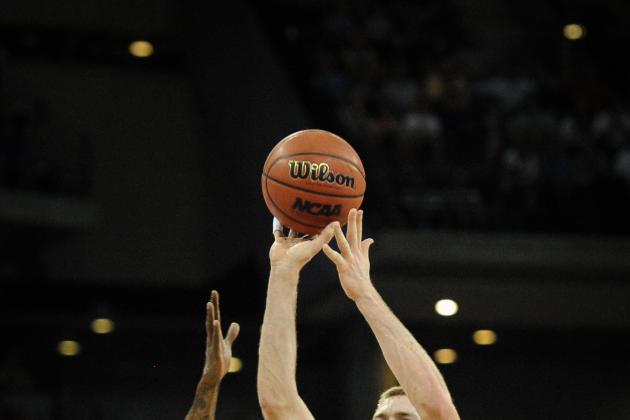 Eric Francis/Getty Images

Smart player who can score. Think that would help Philly?
Some people see Hummel and think he will be another Kyle Morrison type of player that struggles to find a niche in the NBA.
I think he could be a Gordon Heyward type that finds a way to score and contribute on a nightly basis.
At the very least, you need guys that are professional scorers, even if they do play below the rim and lack elite athleticism.
Jamie Squire/Getty Images

If for no other reason than he has more tattoos than most 10-year vets!
The problem with Crowder is that he is just too small.
If Festus Ezeli is a seven foot version of Jason Maxiell, then Crowder is a Paul Millsap type that just so happens to be shorter than some point guards.
However, the history of this league is filled with guys that made a career out of being this size and playing physical.
Reggie Evans, anyone?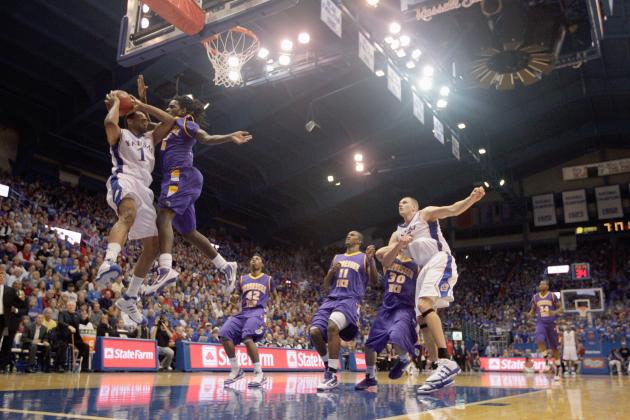 Jamie Squire/Getty Images

A small forward who can shoot. Do you think Utah would like him?
I personally love Murphy's game as he reminds me of a Rip Hamilton with more range on his jump shot.
The problem is that he is an inch shorter and he plays small forward.
If Utah can find a way to use him as a situational shooter, he could hang on in this league.
Especially if he develops his defense.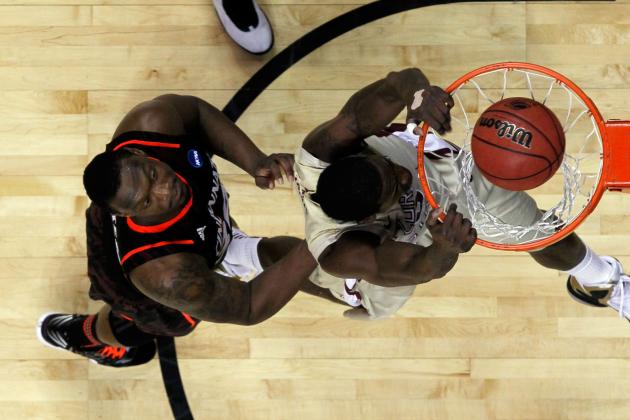 Kevin C. Cox/Getty Images

A big man who likes to play defense. The Knicks need more of them.
Seriously, the Knicks finally figured out last year that they need to play at least some defense to win in this league.
But Tyson Chandler can't do it all himself.
Bernard James loves the physical side of the game but like Chandler, is limited offensively.
That really is okay; the Knicks just need him to come in and clear out some people and set some wicked screens for Jeremy Lin.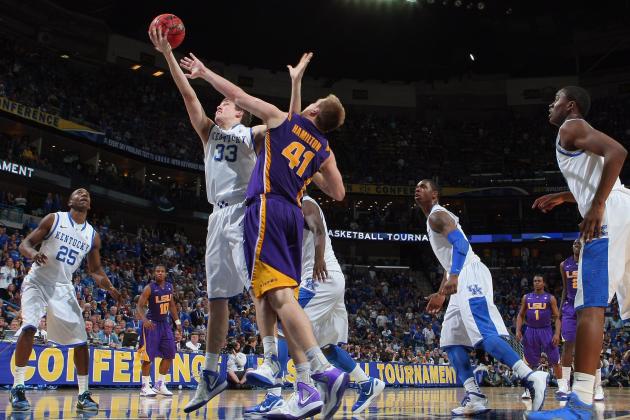 Chris Graythen/Getty Images

Just in case Dwight bolts.
All joking aside, Justin Hamilton will probably never be a starter in this league.
But he likes to get his nose in on defense, he has the beginnings of a good post game, and he is a smart player.
However, despite his size, he really isn't that strong and lacks elite lower body strength.
He will get pushed around for awhile, and how he responds to that will determine whether or not he sticks around.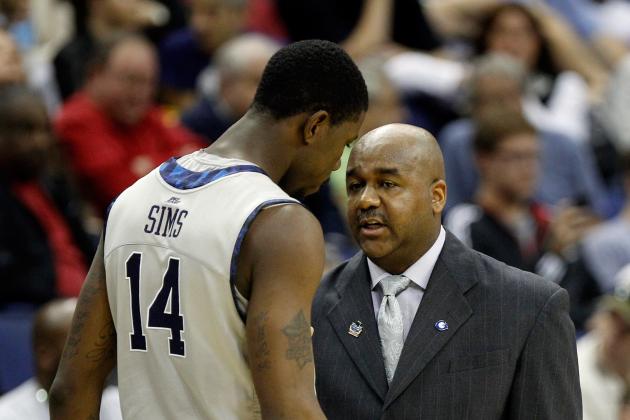 Rob Carr/Getty Images

A center from Georgetown, huh? I've heard of those.
Georgetown has quite the track record with big guys.
Obviously, Sims will never be confused with Patrick Ewing.
But if he could develop into an Othella Harrington type of player, he could have a nice career.
Besides, are there really that many better options this late in the draft?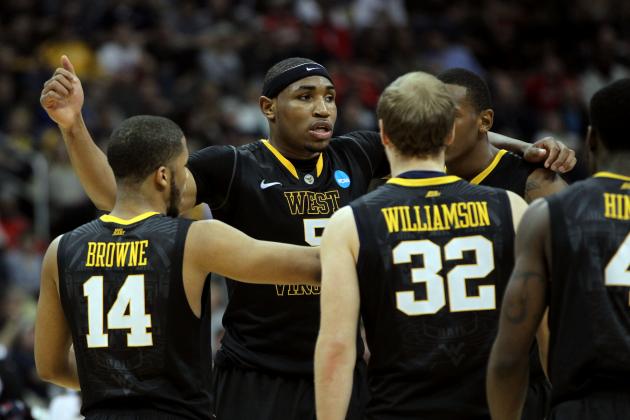 Gregory Shamus/Getty Images

Slightly undersized power forward who likes to take up space. Yeah, the Celtics have had luck with those types.
In this mock I have them taking Sullinger in the first round, and Jones is a similar type of player.
The biggest difference is that Jones is actually quite a bit smaller, and projects as a better rebounding Corliss Williamson.
Truly the definition of a 'tweener.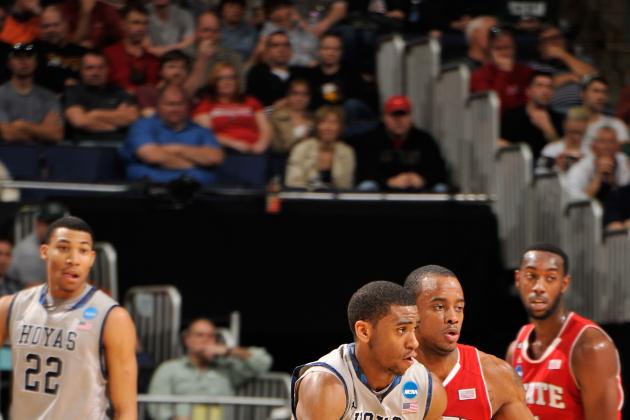 Jamie Sabau/Getty Images

Kind of a skinny kid, but he can score in a variety of ways.
But besides his lack of strength and size, he also struggles with the ball in his hands.
Ideall, Thompson should pattern his game after James Jones and become a guy that hangs out on the three point line and fires daggers.
But at least Jones wasn't a defensive liability.
Plain and simple, Jones needs to get bigger.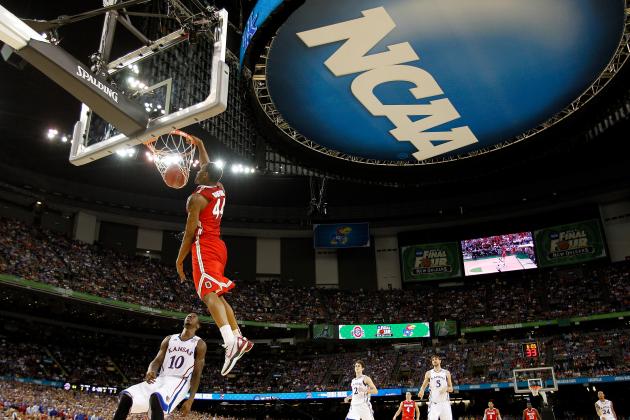 Chris Graythen/Getty Images

Great scorer. He could be an absolute steal!
Take it from me, it pains me to write such great things about a Buckeye, but I watched Buford torch my beloved Wolverines for years.
He lacks ideal height for a shooting guard, but he makes up for it with great intelligence, unlimited range, and a sneaky ability to get rebounds even in traffic.
Some people have Buford going earlier for that very reason.
Personally, I think his lack of height gives teams pause and he tumbles.
But Buford is another one of my five favorite sleepers in this draft.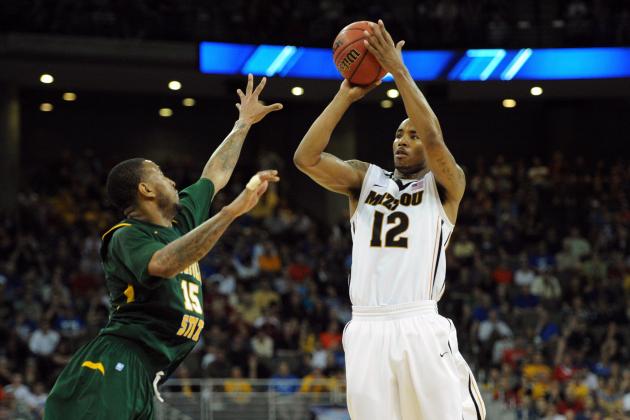 Eric Francis/Getty Images

Sure, Philly has plenty of guards. But Denmon is special.
He was the primary guard option for a team that spent much of the year hovering around the top position in college basketball.
And while they were unceremoniously bounced out of the tournament, Denmon had a season to be proud of.
He is a smart player that can score from anywhere on the court.
His problem is that he can't play point guard, yet lacks a shooting guard's size.
But there are plenty of guys that made long careers out of being smart and scoring with ease, despite their stature limitations.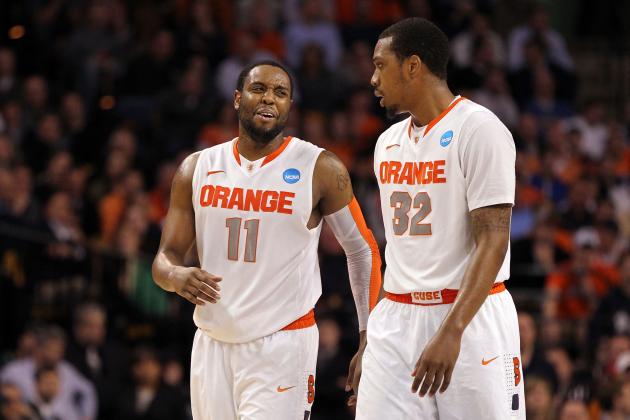 Jim Rogash/Getty Images

Athletic wing from a great program. Sounds like a fit!
Dallas is an old team that needs athletes in a major way.
Joseph definitely provides athleticism, length, and the ability to fill the lane on the break.
The problem is that he can't shoot the ball very well, and he lacks great strength or defensive instincts.
In time, he could be a good pro.
But right now, he projects as a situational athlete, who sadly are a dime-a-dozen.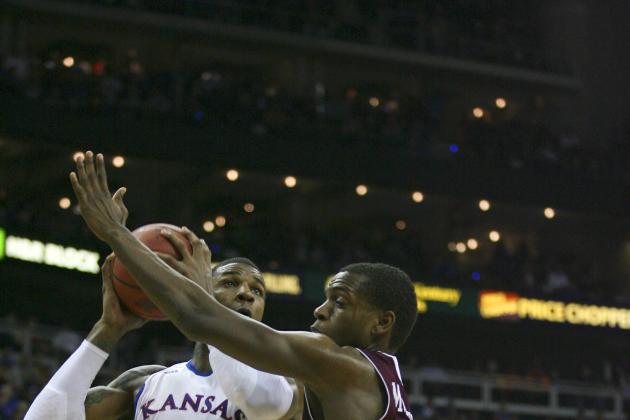 Ed Zurga/Getty Images

His stock has slipped, but he can still ball.
In a lot of ways, he reminds me of Josh Howard.
He is a good athlete with long arms and a skinny frame.
He also can score up to about 18 feet, and loves running off of screens.
But he doesn't really create his own shot, he lacks deep range, and he needs to add bulk.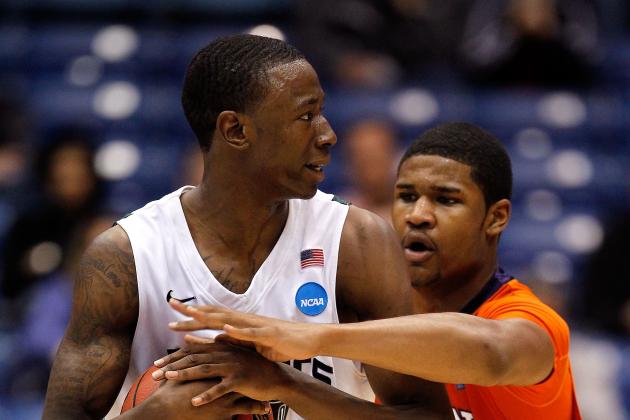 Gregory Shamus/Getty Images

At this point, Brooklyn just needs more big bodies.
In some ways, Moore is like Kris Humphries.
He can block shots, run the court, and grab rebounds.
However, in some ways he is like John Henson.
He lacks strength, bulk, and his lower body is ripe for getting boxed out.
In college you can weight 220 pounds and be a defensive presence.
In the pros, you will get eaten up by some shooting guards with that build.
Christian Petersen/Getty Images

Very, very underrated talent.
Johnson-Odom is just about everything you want in a shooting guard.
He can defend with intensity, he runs the court well, and he has good range on his jump shot.
The problem, of course, is that he is about three or four inches shorter than he should be for this position.
That being said, he has just too much talent to slip out of this draft, and Minnesota could use more options at shooting guard, especially if Wesley Johnson turns into a bust.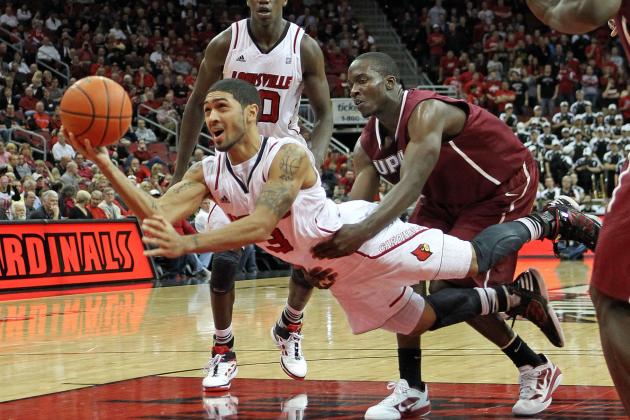 Andy Lyons/Getty Images

Smart player from a small school. Why not?
Young is a strong, athletic player that can score and could develop into a very good defender at the next level.
He rebounds extremely well for a guard and has good range.
So what's the problem?
He played for a small school against weak competition and used his physicality to do what he wanted.
He won't be able to do that in the NBA.
But why not take a flier on him this late?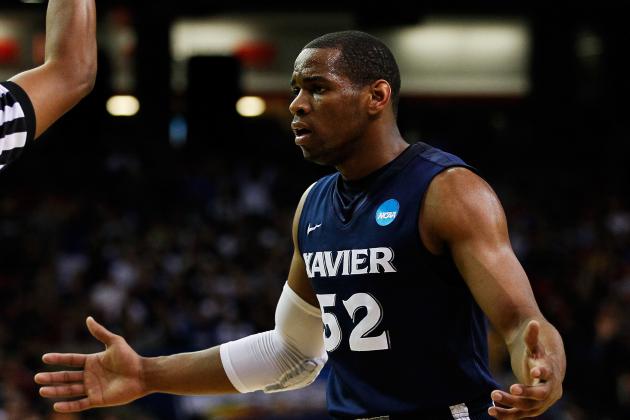 Kevin C. Cox/Getty Images

Speedy point guards gave the Lakers fits. Now they get their own.
Holloway is a Ty Lawson clone. He can get to the hoop whenever he wants, he is a good passer, and he loves the position.
He isn't an elite shooter, and that will hurt him at the next level.
If he wants to avoid being a poor man's T.J. Ford, he will have to develop that three point range.
That being said, you can't teach speed.