Anthony Davis vs. Greg Oden: Breaking Down Each Player's College Scouting Report
June 26, 2012

Jeff Gross/Getty Images
For prospective players, the NBA draft is a day of high tensions, great expectations and uncontrollable emotion. For scouts and general managers, the NBA draft is a day of calculated risk, educated hope and the potential for regret or reward.
Such is the process of building a franchise.
The risk does pay off in some instances, as the selection of unproven players such as Kyrie Irving can often prove glorious. Unfortunately, even the sure-fire picks can backfire: just ask Portland how the Greg Oden experiment ended up.
In 2012, the first overall draft pick has once again been decided before the event itself. This time around, it is Kentucky's Anthony Davis—a player who shares a resemblance to Mr. Oden himself.
Here's a breakdown of how Anthony Davis' prospect scouting report compares to that of Greg Oden.
Dominant Interior Defense
Both Anthony Davis and Greg Oden made a living in the paint, altering shots and corralling rebounds en route to all-American recognition. To put it simply, a shot-blocking number means absolutely nothing when you evaluate the two players as they alter more shots than any statistic could show.
Greg Oden's scouting report was filled with those type of comments. Anthony Davis' current scouting report is as well.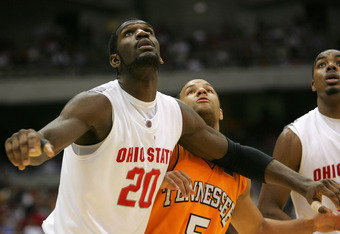 Ronald Martinez/Getty Images
The reason behind these comments, however, is entirely different. Oden was a giant of a man, combining unparalleled strength with gargantuan size. Davis, meanwhile, gets by on his height and length while lacking any muscle at all.
Soft in the Paint
Believe it or not, both of these players were criticized for being soft. Yes, even Oden.
Anthony Davis' criticisms are rather obvious; his frail frame is a major concern for scouts who envision him being posted up against a player such as Andrew Bynum, DeMarcus Cousins, Dwight Howard or Kevin Love. While his length does help him in recovery, this isn't the college game where players will make the mistake of going into him upon finding separation.
These are intelligent players who will know how to handle the presence of an elite shot-blocker.
For Greg Oden, many were frustrated with what appeared to be a fear of contact. He was considered to be "too nice," with some fearing that his dominance in the paint failed to translate to the NBA level. Nevertheless, his NBA-ready body, much like Davis' length, was far too great to pass up.
Weak in the Post
Although Greg Oden was able to score an impressive 15.7 points per game, his low-post scoring abilities were questioned. He was very stiff with his right hand due to a wrist injury he suffered earlier in the season, thus failing to convince scouts that he was ready to dominate on the offensive end of the floor.
Anthony Davis is in a similar position, as his offensive game is very weak in comparison to that of his defense. While his mid-range jump shot is stronger than most prospects at his position, his back-to-the-basket skills are far from respectable.
Until he bulks up and actually offers himself a chance at fighting into position for close buckets, Davis may have to rely on his offensive rebounding skills for points.
History of Injuries
And here's where Davis and Oden depart.
In the moment, we were all shocked to see Greg Oden suffer from such a consistent slew of injuries. The fact of the matter is, we should have seen this coming. After all, he did enter the NBA while slowly recovering from a fractured wrist.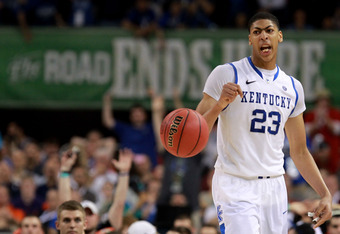 Ronald Martinez/Getty Images
Davis, meanwhile, may have a frail body and weak-looking legs, but he's as healthy as can be—a major advantage over the fallen Ohio State superstar.
Killer Instinct
Oh, the ever-elusive killer instinct. The trait that separates the Kobe Bryants from the Tracy McGradys. The quality that separates the 2012 LeBron James from the LeBron James of 2003-2011.
The virtue that has Austin Rivers poised to come off of the board as an undeserving lottery pick.
While the trait is often delegated to scorers, defensive stoppers are just as much in need of the mindset. For an example of a player with this mindset, evaluate the career of Dikembe Mutombo—a man who made a living blocking shots, snaring rebounds and pursuing the ball with a tenacity that very few will ever match.
Very few doesn't exclude all, though, which is why Anthony Davis is a candidate to reach such a level—a level Greg Oden was never expected to reach.
While Oden was an excellent shot-blocker and dominant rebounder, many felt he was too soft in the paint. They also felt that his passion was lacking and the killer instinct simply didn't exist in him. While one might suggest he could incorporate that into his game, he wouldn't have—you're either born with it or you're not.
LeBron James found his. Greg Oden didn't appear to have it at all.
What Could Have Been? What Will Be?
At the NBA level, one can only imagine what Greg Oden might have been able to accomplish. He was a physical specimen with unlimited upside. The truth is, though, that his skill set may have limited him to being a 15-to-20 point per game version of Emeka Okafor.
Then again, what's that to complain about? Sounds like an All-Star in the making.
As for Anthony Davis, his offensive game will enable him to tally more than enough games with double-digit points to satisfy the average viewer. His elite rebounding and shot-blocking skills are set to offer a blend of Serge Ibaka and a young Marcus Camby.
All in all, Anthony Davis is going to be an elite player on the defensive end of the floor due to his combination of skills, focus and length. Even if Greg Oden rings throughout our memories, Anthony Davis is a new player in a new era of ball.
Time to see how far he can take it.