NHL Rumors: Why Flyers Should Resist Trading for Bobby Ryan or Rick Nash
June 26, 2012

Christian Petersen/Getty Images
The Philadelphia Flyers made a necessary trade already this offseason, adding Luke Schenn in exchange for James van Riemsdyk.
What they don't need to do is get a happy trigger finger and sacrifice young talent to add players like Bobby Ryan or Rick Nash.
The Flyers' purported interest in Ryan has gone back as far as the team's interest in Schenn—maybe longer—but Ryan isn't worth the price it would cost the Flyers, as Pierre LeBrun of ESPN reported last week:
Any deal with the Flyers from the Ducks' perspective would have to center around Brayden Schenn, a source told ESPN.com Thursday, as Anaheim is desperate to find an upgrade at the No. 2 center position. My sense is that the Flyers have very little interest in moving Schenn. They view him as way too valuable to do that.
And the Rick Nash deal probably fell through when van Riemsdyk was sent to Toronto, according to Ryan Dadoun of Pro Hockey Talk:
The Philadelphia Flyers might have abandoned the possibility of going after Nash when they traded James van Riemsdyk to Toronto. Columbus was reportedly counting on van Riemsdyk to be part of a potential Nash deal.
Neither Schenn nor youngster Sean Couturier should be sacrificed to bring in Ryan or Nash. Thankfully, however, Sam Carchidi of the Philadelphia Inquirer has reported that the Flyers aren't interested in moving the team's young studs for either player:
The Flyers, I'm told, do not want to trade any of their coming-of-age young forwards, such as Sean Couturier, Matt Read, and Brayden Schenn. That will make a deal for Ryan more difficult—and makes the free-agent rout seem like the logical alternative.
Here's what the Flyers need to do. First off, they need to sign Matt Carle unless they think they can land Ryan Suter or Jason Garrison. But both seem unlikely, and risking Carle signing elsewhere while the Flyers bid on Suter and Garrison is a risk Philly shouldn't take.
After that, bringing back Jaromir Jagr for another year and signing restricted free agent Jake Voracek should be the priority. Jagr is valuable as a presence both on the ice and in the locker room for a young Philly squad. And with the trade of Sergei Bobrovsky, the Flyers need to add a backup goalie.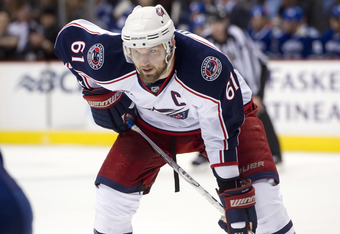 Rich Lam/Getty Images
One way or another, when they turn to free agency, they should have enough money to try and lure Zach Parise if they are so inclined. Or, they could target P.A. Parenteau or Jiri Hudler to bolster the offense, especially if Jagr doesn't return.
Even Alexander Semin is an option, though his inconsistency and lack of passion make him an unappealing option in my opinion.
I'm not a huge Nash guy, so I think he should be avoided altogether. However, if the Flyers can make a deal for Ryan that doesn't involve Schenn and Couturier, adding the consistent 30-goal scorer would be a huge win for the Flyers.
It would certainly be hard to argue with a postseason that saw them upgrade both their offense and defense through trades that didn't mortgage the future.
But as things stand now, the team need not concern itself with Ryan or Nash.
Hit me up on Twitter—my tweets hit the mark more often than Spain's passing.