GQ's "The Many Talents of Kate Upton" Video Has Everything
June 26, 2012

Kate Upton continues her intrepid pursuit to destroy the Internet with her jiggly awesomeness. 
The latest is a video montage of Sports Illustrated's swimsuit cover model performing a myriad of activities for GQ Magazine. 
By activities, I mean skateboarding, hula-hooping and generally running around the beach in a skimpy bikini. 
I am sure my words have no real meaning to you at the moment, so I give you the link to the GQ Magazine by Terry Richardson. Be warned NSFW looms at the 1:14 mark. 
Here is the YouTube version from Terry TV. Again, NSFW comes at the 1:14 mark.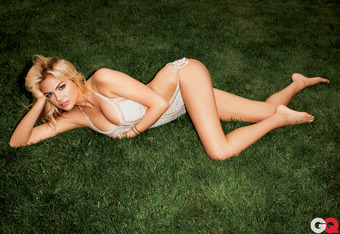 This is when a sultry Upton comes out of a swimming pool armed with nothing more than a skin-tight white t-shirt. 
Let me say that the shirt she is wearing covers up nothing of a braless Upton who is, at this point, drenched. 
I'm now guessing those of you at work are watching the minutes slowly drain off the clock. 
If anything was going to shut down the Internet, this would be it. I would also like to throw a gem of an idea out into the ether. 
Upton running in slow motion on the beach had me thinking back to Baywatch. My million-dollar idea is UptonWatch, a show I will let you create in your own imaginations. 
You can also catch more of the bombshell in this month's cover of GQ Magazine. That would be all you need to run, not walk, to the magazine aisle at your local store. 
Follow me on Twitter for sexy, lots of sexy.