Brandon Crawford: How the San Francisco Giants Can Get His Bat Going
June 26, 2012

Doug Pensinger/Getty Images
The San Francisco Giants offense lacks a true star on the level of Matt Kemp, Ryan Braun or Joey Votto.  They do not have one player with an on-base plus slugging percentage (OPS) over .900, nor do they have a player with more than 10 homeruns.
Instead, they have a group of very solid hitters in Melky Cabrera, Buster Posey, Pablo Sandoval, Brandon Belt, Angel Pagan and Gregor Blanco.
To make up for their lack of true star power, the Giants need to get production from each spot in the lineup.
Second base was a huge weakness at the start of the season, but Ryan Theriot has stabilized that spot recently by hitting .319/.350/.362 (batting average/on-base/slugging) since his return from the disabled list.
Therefore, shortstop remains the biggest offensive weakness that the Giants currently have.
While a blockbuster trade for someone like Starlin Castro would be a great way to stabilize the position, such a move is highly unlikely.  Thus, the Giants need to get more from their current shortstop, Brandon Crawford.
Crawford, 25, does some things very well.  In 116 career starts, he has saved about 7 runs with his glove, according to both Defensive Runs Saved (DRS) and Ultimate Zone Rating (UZR).  He had some problems with routine plays earlier in the season, but that is likely just a blip on the radar given his excellent range and throwing arm. 
Crawford doesn't have great speed, but he's a been a positive asset on the bases even though he isn't a threat to steal. 
Where Crawford falls short is with the stick.  In 462 career plate appearances at the big league level, Crawford has hit just .215/.281/.303.  Crawford has to start hitting better than that to stay in the big leagues, despite his fielding and baserunning abilities.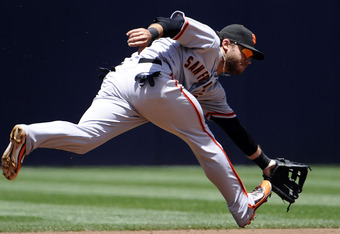 Denis Poroy/Getty Images
How can the Giants get Crawford going?
One solution would be to move him out of the eight spot in the lineup.  Hitting eighth may be encouraging Crawford to expand his strike zone, which helps explain why his walk and strikeout rates are going in the wrong direction this season. 
The Giants could take a page out of Tony La Russa's book and hit the pitcher in the eight spot, with Crawford hitting last.  If Bruce Bochy doesn't want to try something radical like that, he can hit Crawford in the seven spot, move a veteran hitter like Theriot down to eighth and move Belt's .380 on-base percentage into the two-hole.
Moving Crawford to a different place in the lineup will not help fix his swing, however.
Crawford is almost always late on fastballs, which is causing him to make a lot of weak contact to the opposite field.  It seems like he hits a foul ball down the left-field line in every at-bat.  He may just have a slow bat, or it could be that he is starting his swing too late.
One way to improve his swing would be to change the way he loads his bat.  Right now, when Crawford loads his bat off of his shoulder, he is wrapping it towards the pitcher, lengthening his bat path.
If you watch Josh Hamilton hit, he gets himself started by jerking the bat back towards the catcher into a good hitting position, helping him to avoid wrapping the bat around his helmet like Crawford does.  A trigger like that would help Crawford have a shorter path to the ball, and that would help him start to make authoritative contact.
The Giants do not have an in-house replacement who would be an upgrade over Crawford, and a trade is going to be difficult to pull off given the limited supply of available shortstops and the seemingly unlimited demand from contending teams.
Moving Crawford to a different spot in the order would help some, but getting his swing fixed would help a lot more.