NBA Draft Rumors: Warriors Reportedly Unable to Move Up In Draft
June 26, 2012

Thearon W. Henderson/Getty Images
The Golden State Warriors have been trying to move up in the draft to put themselves in position to select one of the elite small forwards in the 2012 NBA draft, but that is apparently off the table. 
Bay Area News Group's Marcus Thompson reports that the W's do not have enough pieces in play to move up from the seventh spot. 
Golden State has been attempting to swap the No. 7 overall pick and small forward Dorell Wright for a chance to move up in the order, presumably to draft either Kentucky's Michael Kidd-Gilchrist or UNC's Harrison Barnes as a replacement for Wright. Unfortunately for the Warriors, he just doesn't have enough appeal. 
Wright had a disappointing 2011-12 campaign after a breakout season with Golden State in 2010-11, and his expiring contract alone is not enough to hold significant interest. A team that can pick either MKG or Barnes isn't going to want a small forward who averaged 10.3 points, 1.5 assists and 4.6 rebounds per game with a PER of 15.07.  
In the words of an unnamed league source, "Dorell Wright isn't enough. The offers in the top five are better."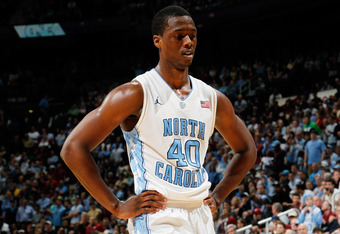 Kevin C. Cox/Getty Images
The Warriors won't trade starting shooting guard Klay Thompson, and their other three picks in the draft all come at No. 30 or later. If Golden State wants to move up at all, it will have to package its lower picks and move up into the middle portion of the first round while retaining the No. 7 overall selection. 
Interestingly enough, there is a slight chance that Barnes may be available when the team's first pick rolls around. If he is, the Warriors will not hesitate to draft him. Otherwise, they will be looking at Dion Waiters of Syracuse or Damian Lillard of Weber State.