The Top 30 Prospects in the 2012 NBA Draft
June 27, 2012

Ronald Martinez/Getty Images
The NBA draft is always unpredictable, and if anything, this year seems more tumultuous than usual.  There are two apparent reasons for this.  
The first is that the 2012 NBA Draft only has one surefire top prospect.  After Anthony Davis, it's hard to project who the next best couple of players will turn out to be.  Usually there are at least a few collegians who have separated themselves from everybody else.  In 2012 there is only Davis.  
Because of the uncertainty up top, there is a decent chance the players picked in the top five of the 2012 draft might have less of a long-term impact than the players taken between No. 15 through No. 20.  This is highly abnormal. 
The second major reason why the 2012 draft is so unpredictable is because there are nine freshmen who potentially will be picked in the first round.  Freshman are traditionally the hardest college prospects to gauge—their talent and youth is enticing, but often their upside never comes close to fruition. 
Having a lot of talented freshman in a draft always increases its volatility.  It is very hard to project how good these nine freshmen will become.  It is possible we are undervaluing them, but we also might be regarding them too highly.
The lack of clearly superior prospects, and the nine highly touted freshman—along with the normal uncertainty every draft brings—makes the 2012 selection process very shaky.  We should not necessarily agree with the projected draft position of many of the players we are hearing so much about. 
With that in mind, I give you the top 30 prospects in the 2012 NBA Draft.  It varies dramatically at points from the way Thursday night will actually play out, but that is because I am not concerned about where a player will get drafted, but only how good of a player he will potentially be.  
The 2012 draft is likely to teach us yet again that how we regard a player before he plays a pro game is very different than how we will view the same player a few years later.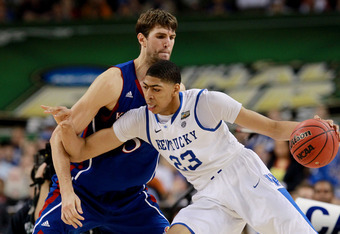 Ronald Martinez/Getty Images
1. Anthony Davis, Kentucky
The consensus No. 1 pick, and seemingly a future Hall of Famer.  His length and skill set should make him a dominant player in the league within a year or two.
2. Bradley Beal, Florida
As a freshman guard at Florida he improved as the year went on, and possesses a potentially elite mix of athleticism and shooting prowess.  
3. Dion Waiters, Syracuse
In somewhat limited minutes at Syracuse, he showed an exceptional ability to drive to the hole and use his strong physical frame to finish.  He has the the tools to become an excellent scorer in the league. 
4. Andre Drummond, Connecticut
A big man, who judged by his physical traits alone would be worthy of the first pick.  He had an underwhelming freshman season, but has too much potential to be ranked lower than here.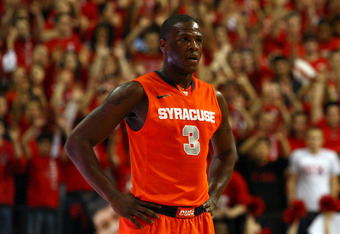 Chris Chambers/Getty Images
5. Michael Kidd-Gilchrist, Kentucky
Davis' college teammate had an almost equally spectacular freshman season.  He lacks the superior athletic ability of the players listed in front of him.
6. John Henson, North Carolina
Very long and defensively gifted.  If he can stay healthy he will potentially make several All-Defensive teams.  
7. Tony Wroten, Washington
An incredibly exciting freshman prospect with excellent athleticism and passing skills.  He badly needs to improve his shooting, but will have plenty of time to work on that.
8. Quincy Miller, Baylor
Another skilled, enigmatic freshman.  Further mystery surrounds him because of an ACL injury he has yet to fully recover from, but he is a potentially excellent pro player.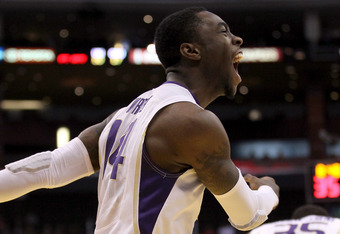 Stephen Dunn/Getty Images
9. Damian Lillard, Weber State
Dynamic scoring point guard with great efficiency in how he plays.  Questions of how his game will translate against pro competition.
10. Jared Sullinger, Ohio State
Red-flagged by NBA doctors, he is one of the safest bets to become a good pro if he can remain healthy.
11. Terrence Jones, Kentucky
Incredible body and fluidity for a forward, but was slightly underwhelming at Kentucky.

12. Jae Crowder, Marquette
Big East Player of the Year does all the little things well and should excel defensively at the next level.  Could be a steal in Round 2.

13. Will Barton, Memphis
Skinny, highly skilled all-purpose wing with great potential if he can stay healthy.  Might slip to second round.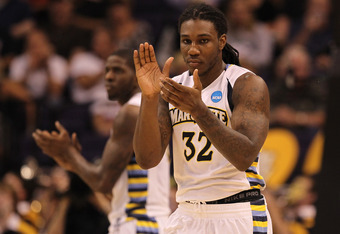 Jamie Squire/Getty Images
 
14. Draymond Green, Michigan State
Unique forward with excellent pedigree and intelligent playing style.

15. Thomas Robinson, Kansas
Seemingly overrated, a good rebounder and energy guy, but he lacks a high ceiling.

16. Tyler Zeller, North Carolina
A highly productive center who should, in the very least, be solid at the next level.

17. Moe Harkless, St. John's
Another freshman possessing great athleticism.  He jumped in and starred at St. John's right away.

18. Marquis Teague, Kentucky
He shares many of the positive traits of his older brother.  Potentially a very good NBA point guard.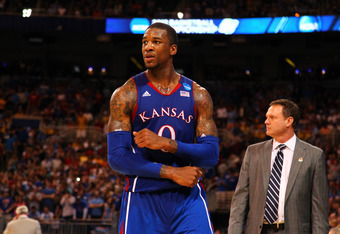 Dilip Vishwanat/Getty Images
19. Jeremy Lamb, Connecticut
A smooth player who looks the part of an NBA wing.  Some questions about his assertiveness on the floor.
20. Royce White, Iowa State
Big man with great passing skills.  The type of player that could successfully play point forward.
21. Harrison Barnes, North Carolina
A highly touted player who, on closer inspection, seems vastly overrated.
22. Andrew Nicholson, Saint Bonaventure
Extremely productive college big man that has flashed signs of both an inside and outside game.
23. Evan Fournier, Poitiers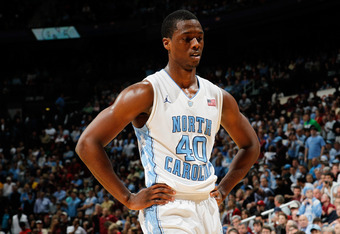 Kevin C. Cox/Getty Images
Young French guard has showed scoring prowess against high-level competition in Europe.
24. Terrence Ross, Washington
Another multi-faceted wing with enough skills to turn into an excellent pro.

25. Kendall Marshall, North Carolina
An excellent passer and facilitator from UNC.  The question is if he can do anything else.
 
26. Perry Jones, Baylor
Superb athleticism and length, but the results never looked that great on the floor.  Needs to apply himself better to be a good pro.

27. Meyers Leonard, Illinois
Sophomore center with enough skills to maybe have a long career in the league.

28. Marcus Denmon, Missouri
Super efficient shooting guard with a point guard's height.  Given the opportunity, seems almost certain to succeed at the next level.
29. Austin Rivers, Duke
Highly touted freshman guard with good bloodlines.  Unclear whether his style of play will be effective in the pros.

30. Miles Plumlee, Duke
Athletic big man never put up impressive numbers in college, but has enough size and energy to be a solid rebounder in the NBA.